[wp_eStore_cart_when_not_empty]
---
[wp_eStore_add_to_cart id=4]
[wp_eStore_subscribe:product_id:4:end]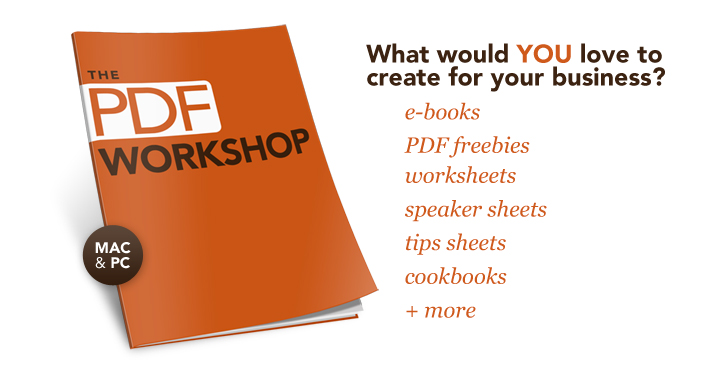 How would it feel by December 7th to have in your lovely hands (well on your computer) a beautiful PDF that you created all by yourself?*
*(with a little help from a digital publishing and online business pro).
---
Is this you?
• You need a freebie for your newsletter opt-in that looks great, matches your brand, and engages your ideal clients, but don't know where to start?

• You are so tired of creating ugly documents that bring on flash backs to 4th grade computer class when your teacher showed your work as an example of what not to do?

• You feel jealous every time you download other digital course worksheets and see how luxurious they look?

• You keep wasting time and getting completely frustrated trying to create e-books and other PDFs because you haven't taken time to really learn Pages or Word?

• You want to create your own digital products: and diversify your income, but you don't want to do it alone. You know that you work better with some accountability and a group to cheer you on.
Let's turn you into the online business pro you're meant to be.
The PDF Workshop is a five week digital workshop that will teach you how to conceive, write, design, and produce your own PDF documents in iWork Pages (Mac) or Word 2010 (PC).
You Will
• create beautiful, branded PDFs for your target market that will increase engagement with your ideal clients and help you grow your list 

• boost your online business confidence by learning branding, content creation, design and marketing skills that you must have to get noticed online.

• save money: you'll learn skills to create all kinds of PDF documents. Think about the possibilities: e-books, workbooks, course materials, speaker sheets, all nicely branded and made by you. You won't need to hire someone like me (unless you want to) to do this for you ever again. My custom design fee alone for a small PDF like you'll create in this workshop is more than the cost of this course.
The Workshop Includes:
• workbooks in PDF format and video screen casts, which you can download and keep to review forever

• homework assignments with personal feedback from me to keep you accountable and on track

• scheduled group write-in and design-in times because it's more fun when everyone's doing it

• 6 live group Q & A calls, you bring your questions and I'll answer, all calls will be recorded

• secret forum, where you can ask questions, engage with other participants while the workshop is live

• 2 customizable templates (cover and interior pages) to start you off in style
Here's a sneak peek at one of the templates!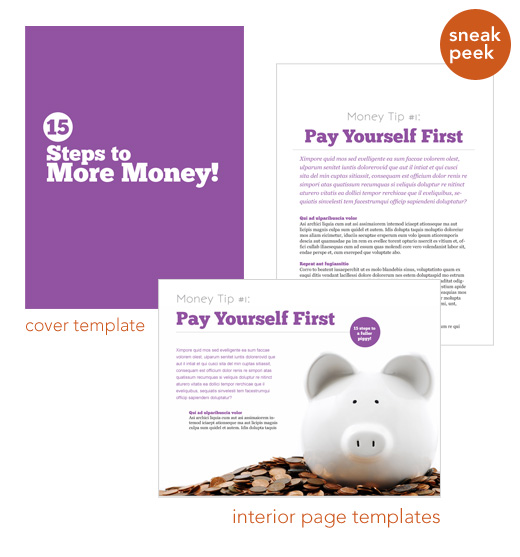 Requirements to take the course:
Mac users need to have iWork Pages '09 installed. PC users will need to have Word 2010 installed. If you don't yet have it you'll need to purchase it for the workshop. You'll also need to purchase or source any stock photography, illustrations, and fonts that you want to use in your documents.
Jewels Branch Creative Guarantee
If you participate fully in the PDF workshop and take advantage of all the calls, complete the worksheets, watch the screen casts, turn in your homework for feedback, and you aren't satisfied, I'll gladly refund your money after a short exit interview. Why do I require an exit interview for a refund? Because I'm committed to your online business success. In our exit interview I will help you figure out where you are getting stuck in the PDF creation process. Knowing that will help you move past this obstacle as you are building other parts of your online business.
[wp_eStore_add_to_cart id=1]
---
Workshop Content
Pre-work
, Module One: Planning for Success
Module One is all about figuring out what would you love to create for your business during The PDF Workshop. On October 28th you'll receive Module One and you can get started brainstorming topics and narrowing down your ideas before the workshop begins.
In Module One, you will:
1) Brainstorm topics for e-books, freebies, and other documents by fully exploring the connections between your business intentions and expertise, and your client needs.
2) Set yourself up for success in the workshop by definitively answering the question "What should I write about? (during the workshop)" and committing to follow through.
– – – – – –
Module Two: Creating Content
The workshop launches on November 4th and it's time to start creating your awesome content.
In Module Two, you will:
1) Plan your writing schedule and start writing. Put it on the schedule to make it real.
2) Decide on a specific format for your content. Just so you know, there is no best "magical" format!
3) Explore options for recycling and adding value to your content. Because you have way more content already there for the picking than you think.
4) Learn how to edit and structure your content for readability, better design, and brand consistency.
– – – – – –
Module Three: Design Fundamentals
You'll continue to write and edit your content while learning the design fundamentals you need to make your content shine.
In Module Three, you will:
1) Explore color, fonts, photography, and illustration basics for designing documents and learn the impact of these choices on your brand.
2) Gather all the design ingredients you'll need to make PDFs that visually match and strengthen your brand. If you don't yet have a visual brand you'll get a head start on that process, as well.
3) Learn basic design rules for documents and publications.
4) Learn how to design covers and interior pages for the greatest impact.
– – – – – –
Module Four: Software Training
It's time to go deeper than you ever have before into Pages (Mac) or Word (PC). You'll come out of Module Four with super skills.
In Module Four, you will:
1) Learn the ins and outs of Pages '09 and Word 2010 by watching screen cast videos that show step-by-step how to: add pages and sections, format text and paragraphs, use text boxes, create shapes, use templates, use color, place images, and more.
– – – – – –
Module Five: Design Implementation
Now it's time to take your fancy software skills and design fundamentals and translate your brand into a beautiful design.
In Module Five, you will:
1) Learn how to translate your brand colors, fonts, and visual elements into one of the provided templates.
2) Design and polish your interior pages, cover, and about me pages until they shine.
3) Learn how to use those pages to create your own branded template so that all documents you create from now on have a consistent brand look.
– – – – – –
Module Six: PDF Production
You've made it to the end of the process and it's time to put your baby out in the world, PDF-style!
In Module Six, you will:
1) Learn how to critically review your document for often overlooked content and design mistakes.
2) Learn how to output your PDF optimally.
3) Create a promotional plan to present your PDF to the world.
4) Learn how to create interactive PDFs.
– – – – – –
**For Modules One – Six you'll have homework assignments to turn in. You will receive support from me and other participants throughout the workshop in our secret Facebook group, on our weekly Q & A calls, and during write-ins and design-ins.
– – – – – –
Bonus Module Seven: Finish It Week
The workshop is officially over (no more homework!) but you'll still have a week of support (December 9-14) and feedback from me in our Facebook group and our last group Q & A call. This is your chance to catch up, get any final questions answered, and end the workshop with a bang.
– – – – – –
Module Forever
Once the live portion of the workshop is over, you're invited to become part of the Jewels Branch Creative Alum Circle. In this free secret group you will continue to get support from fellow and past workshop participants. As a Jewels Branch Creative Alum, you'll also get in on one free group Q & A call each month, so you can continue to create awesome content for your audience with a dash of support from me.
[wp_eStore_add_to_cart id=1]
---
Praise from workshop participants
On a scale of 1-10, I give this course a 20! If there was ever a perfect course in terms of gaining full spectrum knowledge, structure, organization, and creative excitement, this really is IT.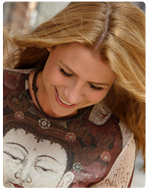 "By learning how to make a really professional looking e-book, I gained more confidence + pride in what I have to offer, and how important my gift is to the world. This seems simple, but trust me, it's already ripple-effecting in the bigger picture of how I see my place in the world, and how I perceive myself as a teacher.
I will absolutely recommend this course 100% to anyone I know who is SERIOUS about creating a truly professional looking e-book for their website. Christie teaches things you never even knew of to want to learn, yet after you learn it you know you can't go without it! And her hands-on years of experience in the publishing field gives students an 'edge' so that their e-books or business materials enter the digital world looking AMAZING.
On a scale of 1-10, I give this course a 20! If there was ever a perfect course in terms of gaining full spectrum knowledge, structure, organization, and creative excitement, this really is IT."
~ ROSA CONTI, Writer, Coach, and Inspirational Teacher
– – – – – –
"From Christie I learned not just information, but how to deliver information effectively. This course is the epitome of good design. Attention to detail, and making detail sing, is obviously her strong suit. Not only did I benefit from the class but she gave so generously that I have plenty of material to study further. This course will continue to give even after the class ends" ~ Rebecca S. Mullen of Altered Spaces
– – – – – –
"I loved how organized all of the materials were. I loved the Facebook group and the class support that was available there. I loved the bonus material! It's really helped me decide on what I want my brand to "look" like. I chose my colors, fonts, etc. all during the process of taking this course." ~ Abby Murphy of Primarily Plant-Based
---
Do I hear a "Yes, but …."
What will I actually be able to accomplish in 5 weeks? I've got a job, kids, husband, dog, life, and business you know!
What you'll be able to accomplish is really up to you! (And I know all about the kids, husband, business, life to work around!).
Here are some things participants in the summer session of The PDF Workshop worked on (in just 4 weeks):
• 39 page handbook for their wellness program (writing and design)
• 135 page nutrition manual (design)
• 12 page cookbook to sell for charity (writing and design)
• 32 page opt-in freebie (writing and design)
• 13 page opt-in freebie (writing and design)
• 8 page, first module of their digital program + creation of template to use for designing additional modules (writing and design)
• 19 page workbook (designed after watching just 1.5 hours of how-to screen casts)
photography, writing and design for their first e-book
choosing fonts and colors for their brand
I'm not a writer
You may not be. But you are an expert at what you do. Chances are you can talk about that thing you do for at least 2 hours without even taking a breath and in those 2 hours there is enough content to fill several websites, e-books, and courses. The PDF workshop will help you find that expert within, organize her thoughts, and get them into a format that your audience can use.
 
I'm not creative
You don't have to be (but I think you are). I'll be walking you through all the design choices that go into making a PDF that matches your current brand, from typography to color palettes, to using photography and illustrations. Like with everything else there are basic, easy to follow rules. Plus, I'll be providing templates to give you a jumpstart with all the structural aspects of creating a document.
 
I don't know how to make a PDF
You will when you are done with this workshop.
 
I don't have time
I hear you. I didn't have time to create this workshop, either, in fact it took me about 2 years of procrastinating and dragging my feet. But I got tired of not showing up fully in my business, of having a an empty website that didn't show my brilliance completely.  I got sick of myself and decided to start serving my ideal clients fully. You have time to make this a priority, to get busy this November creating the documents that will support your ideal clients and help you step up your business confidence.
I don't know what I want to create
The pre-work alone will get you over that hump. We'll brainstorm about all the knowledge you have that could be put into a PDF. You'll have more ideas than you know what to do with once we're done and I'll help you sort them out if you need it, during our first group Q & A call.
 
It costs too much
You're getting in on a really great deal here. You'll be learning skills that you can use over and over again in your business. And as a I mentioned above, you won't need to hire a designer. If you did decide to hire a designer you could expect to pay $500+ for a custom designed PDF. To hire me would cost you even more.
and "What if…?"
Life gets in the way
This happens to the best of us. Life (good and bad) derails your ideas, projects, and the courses you've signed up for. I know this, that's why all the materials are provided in downloadable format. You can take them with you and review even after the live portion of the class is over. Plus, once the live portion of the workshop is over, you become part of the Jewels Branch Creative Alum Circle group and can continue to get support from fellow workshop participants as long as you want.
I'm traveling and will miss part of the workshop
That's not a problem. All workshop materials (worksheets, calls, how-to videos, templates) are available for download during the workshop and you'll have access to download these materials.
[wp_eStore_add_to_cart id=1]
---