Women Branching Out Interviews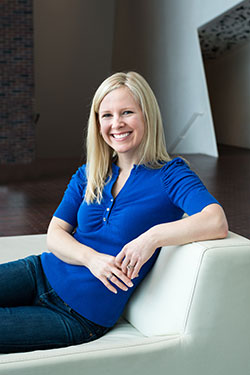 Very excited to have wellness coach and certified tobacco treatment specialist Cara Citrowske of Kick It Catalyst™ with us today.

Cara helps women quit smoking. To date, she's helped over 500 women (and hundreds of men) kick the habit and become smoke-free hotties.
Welcome Cara …
Tell us about your business. What do you do, who do you love to serve?
Do you remember that bad boy you liked who you knew was bad for you but you just couldn't resist him? Well, for many women, the bad boy is nicotine. My business is Kick It Catalyst™ and I love helping women gain the confidence to break up with cigarettes and become smoke-free hotties™.
---
Why did you decide to focus on smoking? 
Smoking actually decided to focus on me. In 2006, my husband and I moved back from Turkey (he's in the military) and I went to a job interview to be a corporate wellness coach. I have a Master's Degree in Education and a bunch of health certifications so I thought, "I got this."

Then, the interviewer told me the job would focus on tobacco cessation and asked me what I knew about it. I paused and blurted out, "Well, nearly every woman in my family smokes and I have nagged my mom to quit for the past 25 years." I am not really sure if that counted as being qualified but I got the job (I would soon become very qualified).
Fast forward a few years later. After helping nearly 1000 "strangers" break their addiction to tobacco, I lost my aunt to lung cancer and another very close family member was diagnosed with it. I started following one of my health mentors, Kris Carr, and through one of her Facebook posts, I learned about a multi-passionate entrepreneur, Marie Forleo. She teaches people how to create socially-conscious online businesses and I said, "I'm in!"
I knew creating Kick It Catalyst would be the way I could help other families avoid losing loved ones to tobacco like I am.
---
---
When someone hires you to help them quit smoking what can they expect? What makes your approach to kicking smoking different from other approaches?
When you sign up for the Kick It Kickstart, I am 100% committed to your success. Crabby, sad, excited. I'm here for you no matter what. You will get a series of 1:1 coachings (phone or Skype) for 30-90 days depending on your needs. You'll learn the real reason you want to be smoke free, how to kick cravings without gaining weight, and what you absolutely must do to prevent relapse. Oh yeah, you also get spoiled with surprises along the way.
My coaching program is different because it combines evidence based tobacco treatment with cutting edge behavior change techniques so you gain the confidence to break up with cigarettes and become a smoke-free hottie. No fear tactics or nagging included. If you want want to learn more about how I can help you, I am happy to offer 15 minute freebie coachings. You can sign up for a Kick It Quick Hit today.
---
Is there a secret to success for ladies who want to quit smoking?
Yep and I'll tell ya when you sign up for the Kick It Kickstart (and it's not willpower!)
---
What changes have you seen in the lives of your clients after working with you to quit smoking?
I'll let my hottie, Angela, answer this one.
Cara has supported me 100% in a way that I have never experienced before. I can't really share my fears and challenges with my friends or family – they don't smoke and just don't understand the love hate relationship I had with cigarettes.

Cara was totally in my corner and provided me with a whole new way of looking at the relationship I had with cigarettes and the way to let it go. Cara has been there for me to celebrate little successes and showed me how to build upon those and make the mental and physical transformation into a smoke free hottie.

There is absolutely no way I would be feeling the freedom and certainty I have now without her insight, compassion and encouragement and I know I will never go back to the pack mentality. I want to add that my family and I have faced a huge upheaval in the past few weeks that has injected an enormous amount of stress and tension into our life. But I haven't smoked. And that is a total previously unimaginable miracle that I know has been achieved because of Cara and her program."
---
How has the experience of coaching others through this challenge impacted your life?
It's not nicotine but through coaching my hotties, I realized I'm a sugar addict. The "eat half a bag of cookies, throw the rest away, and then dig them back out of the trash" kind of addict. I couldn't believe something could have that much control over me. It's very similar to what my Hotties go through EVERY day. It's shown me compassion, forgiveness, and persistence. I am proud to say I've been sugar sober since April 15 (my longest stretch yet!).
---
How has having your own business empowered you?
Quite simply, I am learning there really isn't anything I can't accomplish as long I am willing to ask for help and put in the work. This shift in perspective benefits my work and my family life.
---
What change do you want to bring about in the world as a result of your work?
While training at the Mayo Clinic Nicotine Dependence Center to become a Certified Tobacco Treatment Specialist, I was shocked to learn that if you try to quit smoking on your own, you only have a 5% chance of success and most people relapse within 3 days. Those statistics suck. I said, "enough is enough". There has to be a better way.
This issue is so much bigger than bad breath and wrinkles. There are smart, creative, passionate women like my mom and aunt who are getting sick and dying because of cigarettes. I want every woman to know that if you want to be smoke-free, I am the girl to get you there.
---
What did 9 year old Cara want to be when she grew up?
A doctor. I guess I found a different way to help people heal.
---
Cara Citrowske is the Kick It Catalyst™. She has a Master's Degree in Education with a Concentration in Kinesiology and Health Promotion from the University of Texas at San Antonio, is a Wellcoaches Certified Health and Wellness Coach, and a Certified Tobacco Treatment Specialist trained by the Mayo Clinic Nicotine Dependence Center.

She's helped over 500 women (and hundreds of men) end the pack mentality and become smoke-free hotties™. She created her business with the intention of ending the fear of failure, promoting gratitude, and creating a system to end tobacco addiction that actually works. She's also a military wife and mom of two who stays sane with the help of yoga, green juice, and her ability to laugh at herself. You can find her at her website and on Facebook and Twitter.
---
What habit have you kicked or would like to kick? Comment below.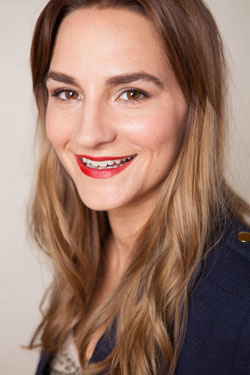 Happy to have personal shopper and wardrobe stylist Hanna Ashbaugh of Hanna Lee Style here on the blog today.
Hanna helps professional women discover what styles of clothing work best on their body types. Then, she transforms their wardrobes and closets so that they can look polished in 20 minutes or less.
You can purchase Hanna's custom body type guide, Sexier You, on her site. Hanna will use your personal measurements to create a custom Sexier You guide so that you know which style of clothing will work best for your specific body type.
Along with helping her clients look their best, Hanna also works as a print and commercial stylist helping magazines and companies like Tostino's Pizza Rolls, Pepsi-Co, and OfficeMax show up in style.
---
Here's Hanna
Tell us about your business, Hanna Lee Style. What do you do, who do you love to serve and why?
I am a personal shopper and wardrobe stylist.  I help busy, professional women have the wardrobe and tools to look polished in 20 minutes or less. I help buy mix and match pieces, so their wardrobes make sense and they can get dressed easily. 
---
What are busy professional's closets suffering from?
Lack of cohesiveness! Most women I work with are buying a piece here or there when they're out – it's not planned, so then, when it gets back to their closets, it doesn't make sense and therefore, never ends up worn. Comes full circle- what do I wear with this or that.  It's why dressing can be difficult for people without the time to shop.  Shopping for a cohesive wardrobe takes time and a plan.
---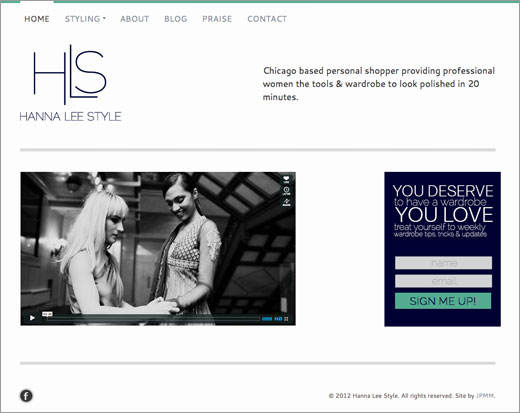 When someone hires you to be their personal shopper what can they expect to happen?
They can expect to have fun and it be an easy process. I'll teach them what colors help them glow. Which styles most flatter their figure. And they can expect a lot of compliments! When women wear the best colors & styles for themselves, a new woman can appear. It's why I love what I do!
---
What changes have you seen in the lives of your clients after working with you to refine their wardrobes?
Love lives have excelled, endless compliments about weight loss (when none has occurred but their clothing actually fits correctly), improved confidence in their work life. Ease. Getting dressed in the morning effortlessly without worry.
---
What are the biggest surprises your clients have when you take them out shopping?
When women try on something they would never try on and see themselves looking great- they're always surprised. The "I would have never chosen that and it looks great.." I love those quotes. It happens often- and it should, it's why they hire me. 
---
When did you decide you wanted to be a personal stylist?
During college my brother asked me what I really wanted to do. No hesitation for me – I wanted to be a personal shopper.  
---
How would you describe your own style? What do you love to wear?
I'm a mix of classic, simple and romantic. I feel my best in wardrobe that accentuates my body. I love wide leg pants or maxi skirts with a tucked in tank. Simplicity is great. The classic style comes in with my love for chunky gold jewelry; I got that love from my grandma.  
---
How has the experience of styling others impacted your life?
I love my life, that's the greatest impact! I love being with people helping them with a task they truly dislike. It's a great feat to really love what you do every day and ask yourself often "is this really my job?" To me, that's amazing.
Wardrobe (and how you look) can be such an intimate experience. I don't take that for granted. I feel grateful that men and women have invited me into their lives and their closets.
I never quite understood how people didn't like to shop, it was hard for me to grasp. And, when clients told me they were nervous, I couldn't quite get in their shoes about it and recently when I began shopping for my wedding dress – I finally got it. A total "aha!" moment for me. It was a chore for me to go shopping for my wedding dress; I had so much other stuff I would have rather been doing. And, going to these boutiques, I felt the nerves.
For my clients, shopping is a chore and it's time consuming. And, these are people that know how they look makes a difference in their lives. Whether that difference is in a board room or a dating scenario, they know wardrobe makes a difference. They need to look put together for their jobs. People listen to you differently when you're dressed confidently.
---
How has having your own business empowered you?  
I love living a life of passion. Having my own business hasn't been easy. Sometimes, it's difficult to take a day off, you're almost always working. But when you really love what you do- that's empowering. 
---
Hanna Ashbaugh is a Chicago-based personal shopper and wardrobe stylist. You can find Hanna at her website Hanna Lee Style and on Pinterest, Facebook, and Instagram.
---
Comment below: What's your style? What do you love to wear?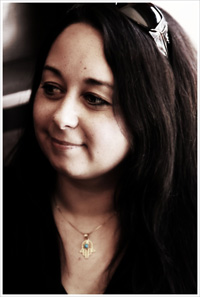 Happy to welcome freelance journalist, novelist, and dedicated foodie Tracey Ceurvels of The Busy Hedonist to the blog today.
At The Busy Hedonist Tracey shares delicious recipes (and wine pairings) along with stories about cooking, dining, and living in New York City, and beyond. She offers writing courses, restaurant recommendations, and weekly dinner plans.
If you're looking for the best specialty food shops in New York City (think cheese, spices, chocolate, and more) Tracey created an app, NYC iFoodShop App, to show you the way.
Her book Sabrina Loves Soho is inspired by Tracey's walks through NYC with her daughter.
Here's Tracey …
Tell us about The Busy Hedonist. What does being a busy hedonist mean and how do you best love to share your philosophy with the world?
Being a busy hedonist is about enjoying life now; it's about taking that trip you've always wanted to; eating at your favorite restaurant; cooking dinner and enjoying it with friends and loved ones.

What experiences have influenced your approach to cooking and life?
I've always been an adventurous soul—as a young person I wanted to travel and learn about new cultures, which included eating different foods. During high school I traveled to Japan for a sister city cultural exchange and to France, both of which had a major influence on me and my outlook on life and food. Although each culture is so different, each has a special reverence for food that I just love—there's a definite enjoyment factor. French cuisine is celebratory and taken very seriously while Japanese cuisine is simple yet ritualistic and ceremonial. Both of these approaches toward food have worked their way into my life over the years.
---
What inspired you to create The Busy Hedonist Weekly Dinner Plans?  What's included in the weekly plan?
I love to cook and when I had my daughter in 2008, there were some moments I thought I'd never cook dinner again. Before she came along, I loved figuring out what to make for dinner, shopping leisurely on a weekend day and spending hours in the kitchen. That was no longer possible once I had an infant in tow. Yet still I wanted to cook and to eat fresh, seasonal and non-processed food. So I devised a way to do so by planning out meals each week, along with a shopping list. I found that organization was important and having certain staples on hand made it easier to whip up a fresh dinner. Now I help other busy people, whether they're moms or business owners. One of my customers is both, and she said that it's a bit like Christmas when she opens up my recipes on Sunday morning. That was such a wonderful compliment.
---
Do you have a signature dish, that everyone always asks you to make?
I'd have to say bouillabaise, which is a French/Mediterranean seafood stew. I just love the ingredients in this dish: orange, saffron, white wine and tomato, plus the seafood, of course. It's such a simple dish to make, but so elegant. And with a bottle of wine and a baguette, it's a great meal. I once tried to woo an ex with this dish and it worked for a short time, though ultimately he loved the Italian version, which includes angel hair pasta, more than the French version, and this was just one of our differences.
---
What's one of your favorite travel and food experiences?
It's very hard to pick just one, so here are several: dining on the beach in Cannes with fireworks going off overhead; eating local food on the Amazon river in Peru; a restaurant in Paris that serves only one appetizer, one entree and one dessert—there are no choices but the food is impeccable; eating my way around Rome; an all truffle dinner in Assisi, Italy; eating fish tacos on the beach in Belize with great friends. There are so many!
---
You write for magazines, newspapers, fashion and lifestyle companies, and you've written your own children's book Sabrina Loves Soho. What can we expect to see next?
I am working on a cookbook based on shopping at New York City's specialty food stores. I am constantly amazed at the ingredients I come across and I am constantly inspired by my discoveries. I am also writing a second novel. The first one is now in the hands of movie producer who'd like to turn it into a movie. I also plan on doing more travel writing this year, so I'll be heading to Paris, France, Tulum, Mexico and to a culinary festival in San Antonio, Texas.
---
How has creating your own business empowered you?
I love that each day I wake up I get to do exactly what I love doing, including cooking, writing, creating new recipes, exploring a new food shop or planning a trip somewhere to write about the food—and it's something I've created for myself. The more I've stepped into "this is what I do and this is what I love doing" the more it's all worked out. I'd love to tell other women (and men) that they, too, can create a career/lifestyle that they love.
---
What excites you most about the woman you've grown up to be and the possibilities ahead?
I love that I can be a good role model for my 5-year old daughter, that I can (hopefully) show her that can create what she loves in her life, too.
---
Tracey Ceurvels worked at several top Boston and NYC restaurants and hung up her apron to use her degree in journalism plus her love of food to write about her favorite subjects: traveling, cooking and dining. Her articles have appeared in many publications, including The Boston Globe,The New York Times City Section, The New York Daily News, Dean & Deluca's Gourmet Food Blog, Hauteliving.com, The New York Sun, Relish, Time Out, Citysearch.com, Papermag.com, among other publications.
Tracey loves finding the best places to eat in NYC and around the world, plus cooking and creating recipes in her NYC kitchen, using the abundant ingredients she finds in NYC's specialty food stores. In fact, she created an App: NYC iFoodShop—A food lover's guide to shopping in NYC. Tracey was twice awarded fellowships in fiction from The Ragdale Foundation, where she worked on her novel, The Patisserie of Dreams. Originally from Boston, Tracey now lives in New York City. You can connect with her at The Busy Hedonist and on Facebook, Twitter, and Pinterest.
---
What do you do to embrace your busy hedonist and enjoy life right now? Comment below.