Women Branching Out: Hanna Ashbaugh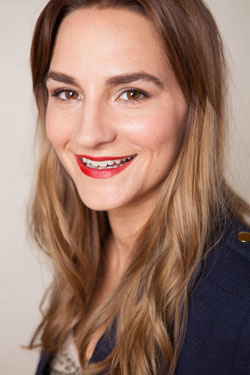 Happy to have personal shopper and wardrobe stylist Hanna Ashbaugh of Hanna Lee Style here on the blog today.
Hanna helps professional women discover what styles of clothing work best on their body types. Then, she transforms their wardrobes and closets so that they can look polished in 20 minutes or less.
You can purchase Hanna's custom body type guide, Sexier You, on her site. Hanna will use your personal measurements to create a custom Sexier You guide so that you know which style of clothing will work best for your specific body type.
Along with helping her clients look their best, Hanna also works as a print and commercial stylist helping magazines and companies like Tostino's Pizza Rolls, Pepsi-Co, and OfficeMax show up in style.
---
Here's Hanna
Tell us about your business, Hanna Lee Style. What do you do, who do you love to serve and why?
I am a personal shopper and wardrobe stylist.  I help busy, professional women have the wardrobe and tools to look polished in 20 minutes or less. I help buy mix and match pieces, so their wardrobes make sense and they can get dressed easily. 
---
What are busy professional's closets suffering from?
Lack of cohesiveness! Most women I work with are buying a piece here or there when they're out – it's not planned, so then, when it gets back to their closets, it doesn't make sense and therefore, never ends up worn. Comes full circle- what do I wear with this or that.  It's why dressing can be difficult for people without the time to shop.  Shopping for a cohesive wardrobe takes time and a plan.
---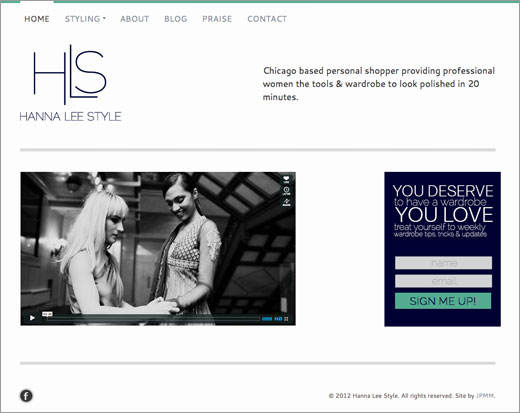 When someone hires you to be their personal shopper what can they expect to happen?
They can expect to have fun and it be an easy process. I'll teach them what colors help them glow. Which styles most flatter their figure. And they can expect a lot of compliments! When women wear the best colors & styles for themselves, a new woman can appear. It's why I love what I do!
---
What changes have you seen in the lives of your clients after working with you to refine their wardrobes?
Love lives have excelled, endless compliments about weight loss (when none has occurred but their clothing actually fits correctly), improved confidence in their work life. Ease. Getting dressed in the morning effortlessly without worry.
---
What are the biggest surprises your clients have when you take them out shopping?
When women try on something they would never try on and see themselves looking great- they're always surprised. The "I would have never chosen that and it looks great.." I love those quotes. It happens often- and it should, it's why they hire me. 
---
When did you decide you wanted to be a personal stylist?
During college my brother asked me what I really wanted to do. No hesitation for me – I wanted to be a personal shopper.  
---
How would you describe your own style? What do you love to wear?
I'm a mix of classic, simple and romantic. I feel my best in wardrobe that accentuates my body. I love wide leg pants or maxi skirts with a tucked in tank. Simplicity is great. The classic style comes in with my love for chunky gold jewelry; I got that love from my grandma.  
---
How has the experience of styling others impacted your life?
I love my life, that's the greatest impact! I love being with people helping them with a task they truly dislike. It's a great feat to really love what you do every day and ask yourself often "is this really my job?" To me, that's amazing.
Wardrobe (and how you look) can be such an intimate experience. I don't take that for granted. I feel grateful that men and women have invited me into their lives and their closets.
I never quite understood how people didn't like to shop, it was hard for me to grasp. And, when clients told me they were nervous, I couldn't quite get in their shoes about it and recently when I began shopping for my wedding dress – I finally got it. A total "aha!" moment for me. It was a chore for me to go shopping for my wedding dress; I had so much other stuff I would have rather been doing. And, going to these boutiques, I felt the nerves.
For my clients, shopping is a chore and it's time consuming. And, these are people that know how they look makes a difference in their lives. Whether that difference is in a board room or a dating scenario, they know wardrobe makes a difference. They need to look put together for their jobs. People listen to you differently when you're dressed confidently.
---
How has having your own business empowered you?  
I love living a life of passion. Having my own business hasn't been easy. Sometimes, it's difficult to take a day off, you're almost always working. But when you really love what you do- that's empowering. 
---
Hanna Ashbaugh is a Chicago-based personal shopper and wardrobe stylist. You can find Hanna at her website Hanna Lee Style and on Pinterest, Facebook, and Instagram.
---
Comment below: What's your style? What do you love to wear?