So excited to have Michele Lisenbury Christensen of The Hot Love Revolution on the blog today.
Michele is a coach, love doctor, mama, entrepreneur, author, and more, and she's on a mission to help happy, well-loved women save the world. 
Michele serves up steamy advice to help couples communicate better, make more love, and discover and explore monogamy as the hottest place on earth.
Here's Michele …
Tell us about you and your business. Where are you located in the world? What do you do and who do you love to serve?
I'm Michele Lisenbury Christensen, and I love love. My Hot Love Revolution is a community where I offer provocation – starting with the name itself – for women and their partners to create the aliveness they really want, in the relationship they've already got. 
The people I coach and teach in my classes are more likely to wear funky boots or clogs than stilettos, but they don't want to go through life without feeling turned-on and deeply connected. I really love working with sassy women and the nice guys who adore them… because we (Kurt and I are like that!) have some unique challenges and opportunities that are a lot of fun to unpack.
Oh… and I live in Seattle in the 1942 cottage my husband and I renovated into a Craftsman with the covered front porch and meditation room that I'd seen in my dreams.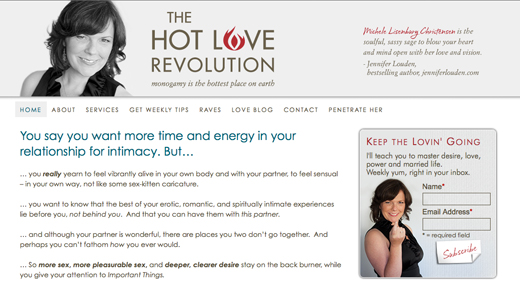 Why do you think it's so important for women (and men) to be turned on in their relationships?
Happy women are the heart of the positive changes our world needs. When a woman is depleted – when her heart isn't overflowing – she doesn't have the oomph to make the difference she otherwise could. Women's pleasure pleases everyone. I want to do something about climate change, about human trafficking, about the quality of our schools, about food security… and helping women be nourished is my answer to all of those.

The same goes for men, too… but I speak more about the women for two reasons: 1) a man being happy doesn't automatically make his wife happy in quite the same way. A happy woman makes a happy home. End of story. 2) because women are so oriented toward taking care of other people and looking after themselves LAST, if we don't focus on women learning to be nourished, turned-on, and juicy, it won't happen.
– – – – – – – –
What is one myth about monogamy that you're helping bust?
The myth of either-or: either you can have security or you can have sensuality. This myth tells us that the hottest sex is with a "bad boy" or a stranger or some unnamed partner in your future… Not with the husband you have.

This myth says familiarity removes the mystery, and the turn-on along with it. And it says that when you turn up the turn-on, the security goes out the window, because libido is a wild and dangerous thing, like a fire hydrant that just sprays all over the place. 
All of that is untrue. Our libidos thrive when we focus them at home and bring back to our partners the desires and curiosity the rest of the world might pique in us. Security can be verrrry sexy. And you can ENTIRELY rewrite the sensual, romantic, emotional, and communication scripts you've been reading from with your partner, and create a very dynamic NEW relationship with the same ol' partner.
– – – – – – – –
How has your own experience with marriage changed your perception of monogamy?
There was a time between our 5th and 10th anniversary when we were practically celibate and I thought to myself, "I CANNOT go the rest of my life without turn-on, without feeling that aliveness and excitement of anticipation and energy and feeling so intensely desired and desirous."
At that time, I thought time together and the build-up of resentments and differences and shared drudgery that are naturally a part of just about every marriage were the culprits, and that this process was natural. I was afraid I'd have to divorce Kurt to get what I wanted. I contemplated "opening" our marriage so I could be with other people, but he was not (as so many people – especially men – are not) open to that at all.  Understandably. I'm all for customizing our relationships, but playing with multiple partners requires a ton of skill and is a meaningful risk, not to be undertaken lightly, especially when children are involved. 

My perception today – having buckled down and said, "No, I will NOT go the rest of my life without that excitement… NOR will I give up on this marriage" is that marriage is a very powerful crucible for personal growth if you make those two commitments. I've walked through that fire, and continue to do so.
– – – – – – – –
What's one we can all do today to strengthen our connections with those who are most important to us?
Behold them. We can get sidetracked by our to-do list, by comparing our partners and other loved ones to other people, by our own agenda of what we want them to do or become. But when we really stop and just SEE the magnificence of who they are (even though there are many magnificent things they are NOT), we're awed, and we are also more available to whatever goodness and intimacy are there in the moment.
You'll see your partner's humor. Or kindness. Or methodical brilliance. You'll see your daughter's originality. Or independence. Or vulnerability. Or joy. Each of those things is a gift and begin with them – especially if you can then articulate what you see – deepens connection immediately.
– – – – – – – –
How has running your own business empowered you?
2013 is my 17th year in business. Business itself is an art form, and I am an artist of business. That knowledge is empowering. I have recreated my business many times over the past 17 years and I may recreate it again in the future.

I feel so empowered to have a career track that doesn't require someone else's permission or hire or promotion to go do what I want to do next. I've also geared up and back down again, taking my income to 6-figures plus and down to $50,000 last year when I had a baby. It's totally mine to do with as I please and THAT is real freedom.
– – – – – – – –
What excites you most about the woman you've grown up to be and the life you live?
This sounds wacky to me, but the answer that comes up is the way that I'm softer and messier, in this grown-up, almost-40 version of me, than I ever was in my fantasies. I thought I'd be on this direct upward trajectory (a perfect 45′ angle!): more money, more fitness, more great boots (well, I do have more great boots!), the house, the kids… And it didn't work that way.
My marriage was awful and I was miserable for a few years. We healed that and had a baby and were so happy. Then I lost a baby at 13 weeks gestation. Both my parents almost died in the same year. My business partnership fell apart. We've had money worries in a way we'd never had.

Life has put me through the wringer. And the result? I'm more tender, more compassionate, more vulnerable, more wide-open to the pain and the pleasure of life than I could've imagined 10 years ago. My ego's aspirations were grand, but the reality of my life is even better.
– – – – – – – –
Michele Lisenbury Christensen instigates everyday sensuality using yoga, brain science, and candid tales of personal trials and triumphs. In the past 15 years, she's co-crafted a playful smokin' 12+ year marriage, had two happy kids, and been a trusted advisor to more than 2000 couples, business owners, and high-level corporate leaders around the world. Toe-curling pleasure on a daily basis gives Michele the rocket-fuel to serve and scintillate her clients and her readers at The Hot Love Revolution. She delivers daily instigations to more aliveness via Twitter and Facebook. She posts her favorite latest beauty on Pinterest, too.
– – – – – – – –
What are you going to do today to strengthen your connections with those who are most important to you? Leave a comment below!
My husband, Jamie, always makes fun of Christmas with my folks because my side of the family is a study of extremes when it comes to holiday gift giving. We buy really practical stuff for each other like socks, shampoo, and tooth brushes, and then really fun, silly, completely impractical stuff like a case of sardines or a Whoopee cushion.
If you know me well, you'll know I have a hard time treating myself. When Jamie asked me what I wanted for Christmas, I sort of panicked. I didn't really know what I wanted. 

So, I asked my friends and colleagues to tell me about their work. What products and services did they create or sell that would be great gift for ladies like me this holiday season.
Here's a list of all kinds of fabulous gifts created by lots of fabulous ladies!
Compiling that list was a good start. It help me stop and think about what I really want for Christmas, and please no Whoopee cushions this year! The list I gave my husband (below) is 100% me: practical, with a bit of whimsy, and a big dash of business.
---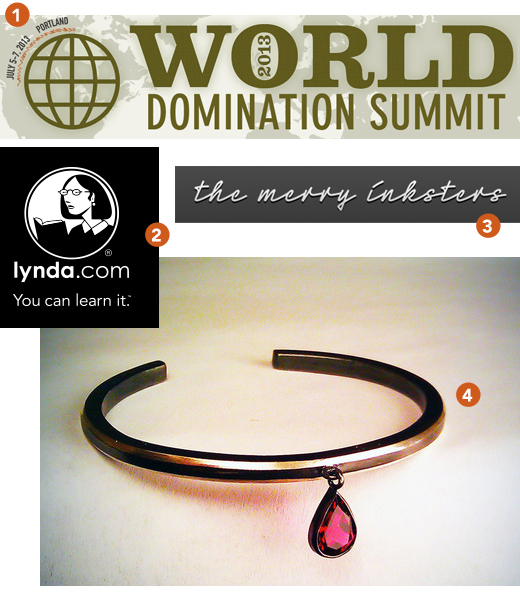 Hello hubby, put us on the wait list for January, please! Come July I want to be in Portland. $506.95 per person.
I could live on Lynda.com. I'd spend my days learning all kinds of new software and business skills and photography tricks. Gift subscriptions start at $25/month.
I write a lot and I want to write more. I know I need accountability and a community to keep me motivated when the writing gets tough. Membership is $26.95/month (if you sign up by December 31, 2012). December 17th update: The Merry Inksters is also offering a 3 month gift membership for January-March, 2013.
To remind me daily of all my superpowers, especially for those times when I don't think I have any. $350
---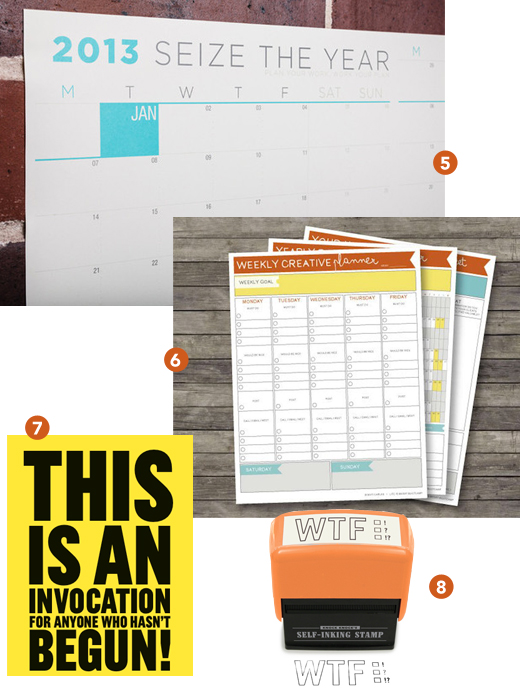 Yes, I would love to seize the year and to be able to see all that I have planned out for 2013 at a glance. $30
Life is completely messy, but I have a feeling Mayi's planners would make the mess so much more fun. $40
If you haven't yet watched this video http://ashow.zefrank.com/episodes/1 from Ze Frank you must. I'd love a poster to remind me that I will be fine, that I don't need cheese, and I just need to start this sh*t up! $25
I would just like to be able to use this when I need to. You know, when things are getting a little surreal, and I can't say anything out loud. This would come in really handy. $9
What gifts, practical and not-so-much, would you love to see under your entrepreneurial tree this year?
I love getting to know online business ladies who are product makers, crafters, creators, artists, writers. Every day they are putting in the hard work and time it takes to see their ideas come to life. They are making books, clothing, jewelry, workshops, and more … just for you (and me!).
I asked my maker friends to tell me about their creations, to show me what they've been busy putting out in the world this year. I hope you are inspired to check out their work this holiday season and then go on and create those things that are in your heart.
---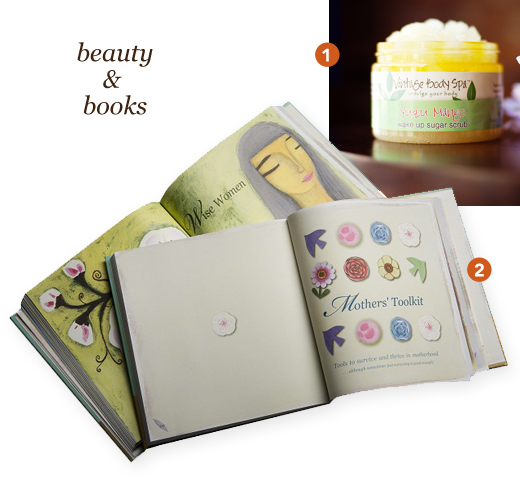 1. Wake Up Sugar Scrub from My Vintage Body Spa by Alyssa Middleton: Natural, organic and fair trade ingredients to pamper and treat all us busy entrepreneurs!
2. Purple Leaves, Red Cherries by Tania Elfersy and Andrea Katzman. An award-winning gift book for new moms and mothers of young children.
---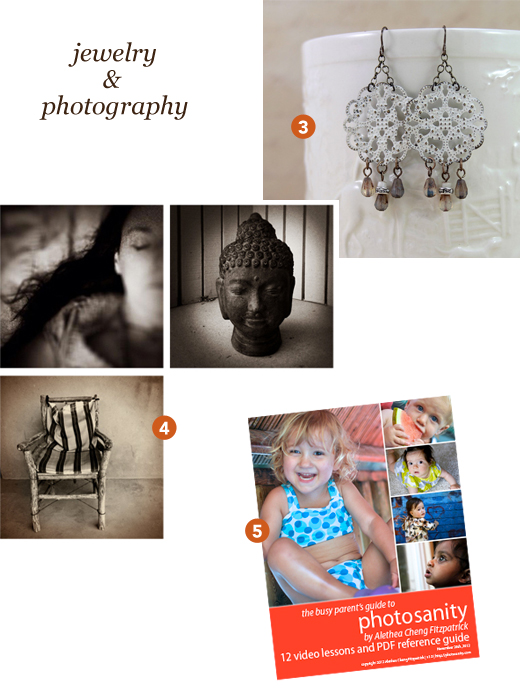 3. White Dangle Chandeliers from Christine Marie Studio by Christine Thatcher. Bold bohemian jewelry.
4. Fear*less Photography retreats with Catherine Just.
5. The Busy Parent's Guide to Photosanity by Alethea Fitzpatrick. Start capturing the fleeting moments of your children's lives in brilliant photos.
---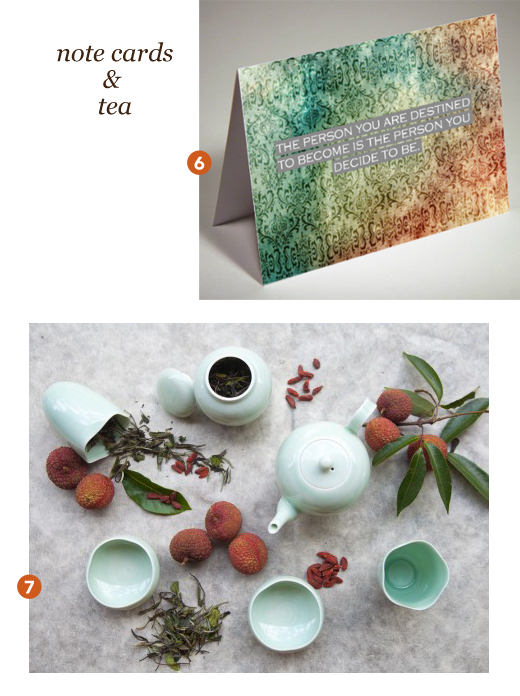 6. Republic of Freedom Cards for the Non-conformist by Heather Thorkelson. Six different designs.

7. Celadon Collection from Tranquility Tuesdays by Charlene Lewang. Personally sourced Chinese tea and handmade teaware.
---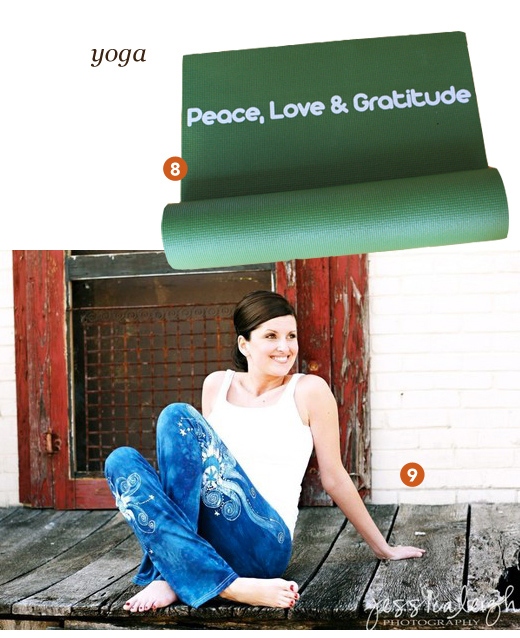 8. Peace, Love and Gratitude Yoga Mat from Widsom Mats by Jamie Kanner. Eco-friendly, non-toxic yoga mats with peaceful quotes.
9. Batik Yoga Pants in Blue on Blue from Batikwalla by Victoria Dresdner.
---
Who are your favorite makers, creators, artists, writers, workshop leaders? What's on your wish list from them this year?