Brand and Be Seen: Fitness Coach
Brand and Be Seen is a series of blog posts offering brand style guides for fictional brands to inspire you to create your own beautiful brand. Feel free to use the font combinations and color palettes as you wish. Happy branding!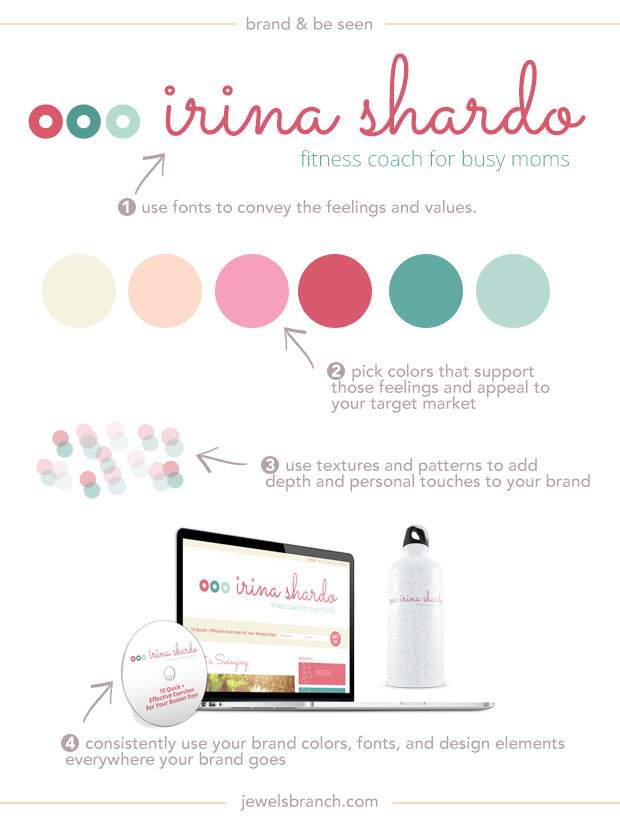 About the Brand
Irina Shardo is a fitness coach for busy moms. Many of her clients want to have a regular fitness routine, but are having trouble finding time in their busy lives.
Irina wants her customers to know that she has been where they are: happy to be at home with their kids, but unhappy with their exercise routine. She loves to use her scheduling and logistics skills, learned while running a busy office, along with her fitness coaching skills to help moms find time for exercise in and around being the kind of moms they want to be.
Irina has always signed her name with tiny circles above the "i" and loves pink. She believes pushing your kids on the swinging and chasing soap bubbles is exercise and works to help moms find fun ways to incorporate more movement like that into their days.
Details:
Logo: Sacramento
Tagline: Open Sans
Colors: #f2f0d7, #ffd2c0, #f18bac, #ce415a, #519b91, #a8d2c4
Confetti Texture: Photoshop brush, search for "confetti brush" on Creative Market (affiliate link).

---
Learn how to choose fonts and colors to best tell your brand story and build a website to match in The Brand Workshop or work one-on-one with Christie Halmick of Jewels Branch to brand your business and website.