Women Branching Out: Melissa Dinwiddie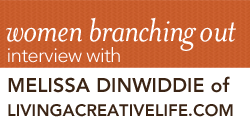 Melissa Dinwiddie of Living a Creative Life talks about the starving artist myth, recharging by doing the work you love, marketing yourself as an artist, improvisation, and her upcoming Play, Flow, Write, GO! playshop.
Play, Flow, Write, GO!
September 27, 2011
1:00-2:30pm Pacific Time/PST (recording available)
A playshop in improvisational art for the soul for anyone who needs a creative recharge. The playshop combines a live teleclass on September 27, a recording of the call (so you can participate even if you can't make it on the 27th), tutorial videos, and an opportunity to share your work from the playshop in a special art show on Melissa's blog. Find out more here.
Melissa Dinwiddie is an artist, singer/songwriter and inspirationalist who's known for getting creative people sparked, stoked and creating. She shares her inspirational posts, videos, classes, group and 1:1 coaching and other offerings at Living A Creative Life.