Online Resource Roundup: January 2014
Check out this awesome list of online classes, programs, and resources offered by entrepreneurial women to help you live your best life. If you have an online offering available that supports women entrepreneurs please share in the comments. If you'd like to be included in future roundups, please fill out this form for consideration. Thanks!

---
Spotlight
This month we're shining the spotlight on …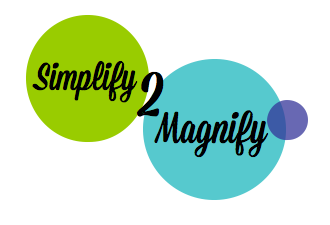 Simplify 2 Magnify
With: Shannon D Caldwell
Price: $29.00
Description: Simplify 2 Magnify is a month-long action-shop designed to clear out and clean up your everyday spaces (physical + mental) in order to make room for new developments, i.e. your BEST life. The project kicks off Wednesday, January 15, with an audio download discussing the process and your first action email.
More Info
Sales Close: January 17, 2014
Congrats, Shannon!
---
And now, on to the full list…have fun, grow, learn, explore, live!
~~~JANUARY~~~
Business Growth & Personal Development
Be Your Own Guru
With: Laura Gates and Sarah H. Nicotra
Price: $497
Description: Be Your Own Guru is a 9-week journey with Laura Gates and Sarah H. Nicotra to connect with your inner guidance and align with your soul's path. This class is designed to help you both tune into and interpret inner knowing while moving into action towards the life you want to create. Sarah and Laura will guide you along the way.
More Info
Sales Close: January 11, 2014

---
Video Rockstar University
With: Share Ross
Price: $477
Description: Video Rockstar University is the ONLY online video training that helps you get past all the obstacles to being on camera, refine your message, and learn the "behind the scenes" stuff about how to create professional-looking videos without a lot of expensive equipment. Your message will change the world.
More Info
Sales Close: January 13, 2014

---
---
---
---
---
---
Soul Work & Creativity
Tribal Bliss-Dance and Vision- a movement journey
With: Paulette Rees-Denis
Price: $49.00
Description: Tribal Bliss starts January 12th, with Paulette Rees-Denis and Lynea Gillen. This is a course for you if you want to sparkle, move, dance, stretch, shake, write, shine, dig in, breathe, create, and move some more…combining Tribal Bellydance, African Dance, writing, yoga, healing, therapy, trance and meditation.
More Info
Sales Close: January 16, 2014
---
~~~Ongoing~~~
Business Growth & Personal Development
---
Abandon Your Inner Bully: 5 Ways to Give Yourself a Break
With: Joanna Z. Weston
Price: Regularly $15, but only $5 through January 15
Description: Are you sick of treating yourself worse than your worst enemy? Through five daily emails, "Abandon Your Inner Bully" supports women with a history of depression, who are sick of tearing themselves down and are ready to do something about it.
More Info
---
The B Word for Artists
With: Laura C George
Price: $450
Description: The B Word for Artists is designed as an all-encompassing course giving artists the tools they need to build an online presence from the ground up. (Psst – that "B Word" is "business"!) If you're overwhelmed with building a business around your art and don't know what to do next, this is the program for you!
More Info
---
---
---
Creative Ambrosia
With: Victoria Prozan
Price: $99
Description: Creative Ambrosia is your ambassador to kick@ss creativity! Start getting your imagination in gear with creative inspiration from OUTSIDE the internet bubble. Something different. Something high-quality. Something thought provoking. Something innovative. Click to read all about how Creative Ambrosia will feed your imagination!
More Info
---
Developing Discipline University
With: Trish Funk
Price: $99
Description: Your six week course that will guide you step by step through mastering self discipline in your life for good. Lives too short to live it with the "I wish I…..". You can move mountains, you just have to start with one rock.
More Info

---
Free Your Mind
With: Beth Cline
Price: $49
Description: With the Free Your Mind program, create awareness around the energy you bring. Begin to identify your thought patterns and belief systems that may be holding you back. Learn to intentionally choose your thoughts, and believe in the power of them.
More Info
---
Golden Basket Club
With: Shirley George Frazie
Price: $9 – $97
Description: Starting or growing a gift basket business? Need help with gift baskets or want to learn more about this creative enterprise? Golden Basket Club is your source to make gift baskets for fun or profit. Videos, product sources, marketing support, monthly Q&As, weekly tips, one-to-one support, and much more is here for you.
More Info
---
Pricing for YOU: How to find the right price for your products + services
With: Nahanni Faith Hartwood
Price: $19.00
Description: As an entrepreneur, pricing can feel really hard! There's a lot of conflicting info out there, and it's easy to get stuck on what to charge. In Pricing for YOU, I teach you quick, simple methods for tuning in to your intuition to find the right price (that you feel good about!) for your products + services. Video workshop + pdf.
More Info
---
---
The ZAP!
With: Helene Scott
Price: $297.00
Description: When you unleash your unparalleled spark, you become a magnet to your people. Make it easy for them to find you. Without a doubt the most effective way to STAND OUT online is by infusing YOU into your website/brand/message. In this 1:1 session we roll up our sleeves and unleash yours.
More Info
---
Finances
Easy AirBnB
With: Jack Middleton
Price: $99
Description: AirBnB is one of the fastest growing websites in the world. It's also your opportunity to turn your spare room, empty caravan or garden shed into extra cash. The EasyAirBnB online training will show you how to optimise the income you can earn, an easy way to supplement your income whilst growing your business.
More Info

---
Personal Finance Transformation
With: Trish Funk
Price: $129
Description: Your six week course to transforming your relationship with your finances.
More Info

---
Health & Beauty
---
---
---
Lighten your Load
With: Chivon John
Price: 19.99
Description: Are you tired of saying that you're fine, when you really want to admit that you're not? Lighten your Load is a 21 day self-paced ecourse designed to help you burn your cape, bring ease back to self-care and your permission slip to take inspired action to make yourself the priority.
More Info

---
Life & Relationships
---
---
---
My Organized Chaos
With: Jo Ebisujima
Price: $497
Description: Busy moms, I can help you organize your kids so that they become more independent and helpful around the home. Freeing up your time so you have more time for the fun stuff! Having more independent kids and a more organized home will also reduce stress, reduce fights and bickering and promote a helpful and more caring atmosphere.
More Info

---
Soundboard Session
With: Renee Pena
Price: Free
Description: It's a 20 min session where we talk about whats on your parent mind on any education issues come up for your young child.We tackle one problem and come up with a practically and customized solution.
More Info

---
Soul Work & Creativity
Creative You 8 Week Online Course
With: Kathie Holmes
Price: $97.00
Description: Supporting women in achieving their dreams of owning their own business. Our course delves deep to identify your unique creative ability and then takes you through step by step to create your online business. In addition, you will be fully supported through our exclusive Facebook Mastermind Group.
More Info

---
Temple of Tales: Persephone and Your Power
With: Hayley 'Haloquin' Addis
Price: £59
Description: A four week video-ritual journey into magic to guide you in stepping into your true self and your power to change the world! Become Queen of your life with Persephone, able to choose the shape of your life every day, to know what matters and to weave more of what is truly important to you into your life ever moment.
More Info

---
Share and spread the word about these awesome courses!
If you'd like to be included in the next roundup, please fill out this form for consideration. Thanks!