Women Branching Out: Barbara Coon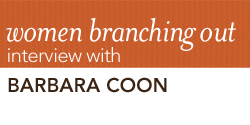 I'm so happy to introduce you to Barbara Coon. In this Women Branching Out Interview we talk about Barbara's CranioSacral practice in Seattle, how Barbara creates a calm environment for her clients and self, and her upcoming Living Energy Retreat teleclass.
Living Energy Retreat
The Living Energy Retreat starts Tuesday, October 4, 2011 at 7 p.m. PST. This 12 week teleclass offers a consistent weekly healing space to bring calm joyful living to busy women over achievers.


A free sneak preview of The Living Energy Retreat is available Tuesday, September 27, 2011 at 7 p.m. PST. More information here.
Barbara Coon offers Intuitive CranioSacral healing for women and children ready to feel more fully present, more energetic, and more attuned to their body's needs. She's known for her gentle calm presence that cultivates a focused connection for healing. Private sessions, group energy healing teleclasses and The Living Energy Retreat are available online as well at her private Oasis Garden Sanctuary in Seattle.