Women Branching Out: Irene Gutteridge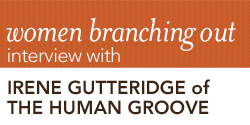 A knee injury started Irene Gutteridge's journey down the path to mind-body teaching. In this Women Branching Out interview we talk about her background, her practice (which incorporates Feldenkrais and Somatic Experiencing modalities), and how she's branching out to offer her skills online. Watch Part 3 to see Irene walk me through a Somatic Experiencing exercise.
You can learn more about Irene's work at her website: The Human Groove
Part 1: Irene talks about how she got introduced to the Feldenkrais method. She explains a bit of the background of both Feldenkrais and Somatic Experiencing.
Part 2: Irene talks about how she works remotely with her clients and what kind of client issues she deals with in her online practice.
Part 3: Irene talks me through a Somatic Experiencing exercise.
Irene Gutteridge is a Certified Feldenkrais and Somatic Experiencing Practitioner. She has a Bachelor's in Exercise Science and a Master's in Research in the Health Science. She uses her training and academic knowledge to help people learn self-care, resilience and awareness through movement. She lives and practices in Whistler and Vancouver, British Columbia, Canada and is also available for online sessions via Skype.
If you liked this interview please share! I'm always on the lookout for inspiring women entrepreneurs to interview. To nominate someone for this series, contact me.