Brand and Be Seen: Family Law Firm
Brand and Be Seen is a series of blog posts offering brand style guides for fictional brands to inspire you to create your own beautiful brand. Feel free to use the font combinations and color palettes as you wish. Happy branding!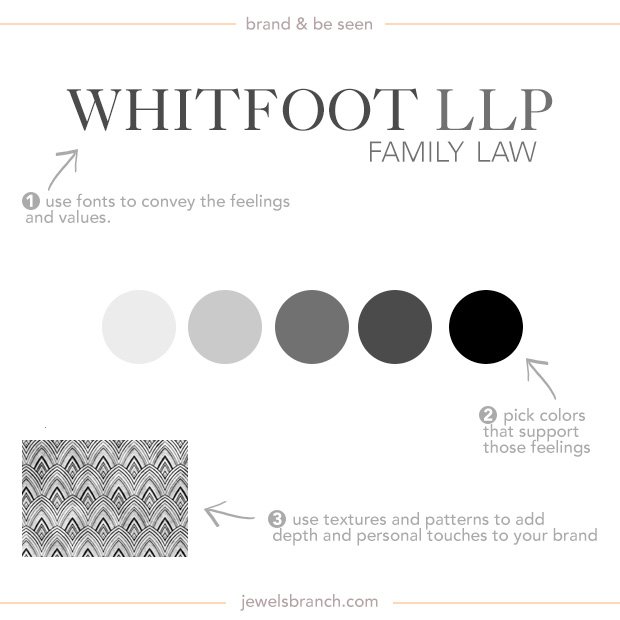 About the Brand
Whitfoot LLP is a law firm that helps families with estate planning. Many of their clients are making these decisions because they are older and wanting to get their estates settled before they start experiencing major health issues.
They want their customers to know that they understands their concerns about keeping as much of their estates intact as possible. They want their clients to feel confidence, competency, and wealth radiating from their branding.
They are a very traditional company. Their choice of gray tones for brand colors and very traditional looking fonts is a nod to the seriousness of the topics they help their client with and the care they take in handling these issues for their clients.
Details:
Logo: Caslon 540
Tagline: Univers Light
Colors: #e7e7e7, #5e5e5e, #3a3a3a, #000000
Texture: Photoshop vintage patterns, search for "vintage patterns Photoshop" on Creative Market (affiliate link).
---
Learn how to choose fonts and colors to best tell your brand story and build a website to match in The Brand Workshop or work one-on-one with Christie Halmick of Jewels Branch to brand your business and website.