My work often calls for clean, crisp designs and fonts, so when I get the opportunity to mix it up a bit I love to try out fun, decorative fonts. Today let's look at some fonts that add a bit of zip to the design without being overwhelming.
Since there's no official designation for fun fonts, you can find them by searching sites like FontSquirrel and MyFonts for fonts labeled or categorized as: comic, display, hand drawn, novelty or funny.
These fonts work best when used for short bits of text: headlines or photo captions, for example. If you plan to use them for longer paragraphs of text plan to use larger font sizes and plenty of space between lines of type. This will make it easier to read.
The following fonts are ones I choose often to add a spark to my designs without going completely overboard. They are free for commercial use via FontSquirrel.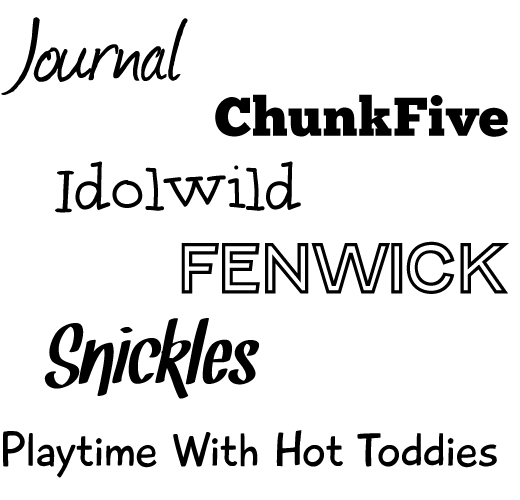 Go give these a try: Journal, ChunkFive, Idolwild, Fenwick, Snickles, Playtime With Hot Toddies.
Next week I'll introduce you to some over the top, funky, free fonts that are designed to steal the show.