Online Resource Roundup: July 2015


If you'd like to be included in the next roundup, please fill out this form for consideration. Thanks!
Click to share these fabulous resources on Twitter!
---
Spotlight
This month we're shining the spotlight on …
Summer Sojourn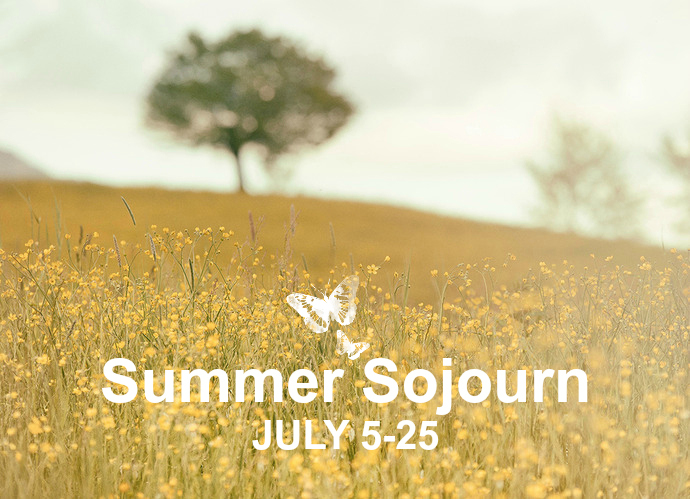 With: Cigdem Kobu
Price: $75
Description: The Summer Sojourn is a 21-day virtual retreat that guides you to slow down, feel grounded and recharge. It is an intimate experience of creativity, deep rest, mindfulness, self-compassion, and real transformation through introspective journaling, reading, intuitive storytelling, mandala making, and meditative exercises.
More Info
Join By: July 5, 2015
Congrats, Cigdem!
---
And now, on to the full list…have fun, grow, learn, explore, live!
~~~JULY~~~
Business Growth & Personal Development
10 Day Twitter Challenge
With: Joanne Greco
Price: $17
Description: It can be confusing to understand how Twitter can help grow your blog or business. Plenty of bloggers and business owners don't understand how to reach their target audience on Twitter. By not tapping into the 300 million monthly users on Twitter, you may be leaving money on the table.
More Info
Join By: July 5, 2015

---
Write Joyfully
With: Parrish Wilson
Price: $50+
Description: This is a full-day online workshop for a small group of soul-driven entrepreneurs. You'll experience my signature writing process which will have you writer quicker, with greater ease and a lot more heart. Each participant will have a 1:1 editing session with me where we will look at your strengths and patterns as a writer.
More Info
Join By: July 20, 2015

---
Soul Work & Creativity
Collective Soul Online, Level One
With: Paulette Rees-Denis
Price: $449
Description: Gypsy Caravan Tribal Bellydance® Ready to dive in to your sweet dancing soul? Want to dig in deep to pursue your dance dreams and desires? Connect with your body, mind, and spirit for a total Tribal experience? Four weeks of weekly emails, full of dance moves, with PDFs, videos, visualizations, meditations, journaling prompts!
More Info
Join By: July 31, 2015

---
Life & Relationships
Summer Strategy Kit
With: Kelly Pietrangeli
Price: Free
Description: The Summer Strategy Kit is designed to help busy mothers make a game plan for the summer school break. It contains 26 printable PDF's to help you get clear about what you want out of summer, then make it happen. There are also great charts for the kids like Screen Time Trackers, Summer Reading Chart and Rules & Rewards.
More Info
Join By: August 7, 2015

---
Health & Beauty
Lilly's Table Meal Plan Summer Camp
With: Lilly Steirer
Price: $12/month or $32 for the summer
Description: Celebrate seasonal food with the adventure of an online Meal Plan Summer Camp including weekly in-season meal plans, secret recipes, Meal Plan Google Hangouts, a private Facebook community, Batch Cook-a-Longs, + more. Strap on your virtual back pack and tackle the "what's for dinner" mountains with a bunch of local food lovers.
More Info
Join By: September 2015

---
~~~ONGOING~~~
Business Growth & Personal Development
---
---
---
---
---
---
---
---
---
---
---
The 7 Day Site Building Challenge
With: Kimberly Gosney
Price: Free
Description: Imagine if your website was up and running by this time next week. How phenomenal would it be to have yours all ready to go by this time next week? Everything you need and nothing that takes your eyes off the prize of having your own website! In just 7 days you'll master the basics of using Headway Themes in this free challenge.
More Info

---
21 Days from Chaos to Order – The Clutter Free Movement
With: Vatsala Shukla
Price: $49
Description: A 21 day Clutter Challenge with a difference – we get rid of the clutter and you do the Inner Work required to understand your inclination to clutter and hoard with the support of a Coach and other participants.
More Info

---
50+ Ideas for Working From Home While Caring For Your Children
With: Flesche Hesch
Price: $24
Description: Have you ever asked yourself: "How do I work from home + care for my children at the same time? This is a recorded 95-minute interactive class where I share my best 50+ strategies for working at home with little ones underfoot. Details: immediate access to the recorded class, 6-page workbook, and bonuses.
More Info

---
The Activate Series
With: Emily Lewis
Price: $1199
Description: The Activate Series is a 30-day deep dive to address your most important goals and break through your greatest obstacles so you can finally create a sustainable shift from overwhelm into action, from thinking to doing, for big ah-has and real world results in your lifestyle and business. For women creatives & entrepreneurs.
More Info

---
Author Biz In 30
With: Kristen Jett
Price: Free
Description: Are you an author or writer? Spend 30 days participating in this freebie marketing challenge to learn how to improve your marketing, love it – and even understand it! You'll get one lesson + challenge daily to help you grow your platform.
More Info

---
Baby Proof Your Business – For Pregnant Mom Entrepreneurs
With: Flesche Hesch
Price: Free
Description: Pregnant & Running A Successful Business? Stressed about making enough money so you can be home cuddling with your newborn? Do you want to create a business that runs itself and your own paid maternity leave? I am Flesché, the Business Advisor for Moms, and I would like to share with you the powerful strategies I've developed.
More Info

---
BOP your OPT-IN
With: Helene Scott
Price: Free
Description: Are you STUCK on what opt-in to create? In this FREE training I walk you through how to figure out the best opt-in for YOU, your brand and business offerings, so it attracts (+ converts) your 'perfect fit' people.
More Info

---
Define Your Blog Voice Course
With: Daniela Uslan
Price: $27
Description: You need to have a unique voice to stand out online. But you don't need to write for months to figure it out. This course walks you through 5 simple yet powerful modules that help you define your voice NOW.
More Info

---
Cosmic Clarity Session
With: Ashleigh Johnson
Price: $347
Description: Deep down you have this gut feeling you should be working for yourself. Get confirmation from the one place you haven't looked–your natal chart. In a Cosmic Clarity Session, I'll interpret your natal chart, you tell me your struggles with your business, and I'll give you astrologically customized action steps to take.
More Info

---
Email Marketing Planning Kit
With: Kate Barrett
Price: £97
Description: The Email Marketing Planning Kit is a 3 module Do-It-Yourself (DIY) package that will not only give you valuable information and ideas about the types of emails to send and what to include, but also gives you the space to take action immediately to plan out communications for your business.
More Info

---
Email Marketing Starter Kit
With: Meg Appleby
Price: Free
Description: If the idea of sending out a regular email newsletter for your business is doing your head in, then the free Email Marketing Starter Kit is just what you need. Its designed to make getting started with email marketing stress free and simple.
More Info

---
Freedom Framework
With: Aerlie Wildly
Price: From $97
Description: Are you overwhelmed by all of the information that you need to keep track of? The freedom Framework is a Done-For-You systems built in Evernote and customised for your business, your family life or your personal life – or all 3! Find the structure, systems, templates and checklists you need to control the chaos, reduce stress.
More Info

---
Jump Up & Shine
With: Petra Monaco
Price: $297
Description: 4 week program that will help you to: Stop struggling with life and get clear on what you want and why. Harness your personal power clearing what is getting in the way. Open and explore your self-care regimen and define your support. Get ready to take action, step into your greatness and shine.
More Info

---
Love Your Career 90-Day Formula
With: Anna
Price: $149/month
Description: "Love Your Career 90-Day Formula" is a training program for ambitious women who feel stuck in a rut and desperately need a career change. If you are ready for someone to take you by the hand, break it down for you step-by-step, and show you how to transition into a career you love, then this is for you.
More Info

---
No More Website Shame: 5 Days to a Fabulous Home Page!
With: Lily Dagdag
Price: Free
Description: Are you a DIY'er suffering from website shame? Learn how to take your home page from Forgettable to Fabulous! Join us for our challenge, No More Website Shame: 5 Days to a Fabulous Home Page! We'll be talking all about how to create a home page that excites your prospects and gets them saying, "Yes, I'm in!".
More Info

---
Profit Funnel
With: Sarit Lotem
Price: $50
Description: How to convert your website visitors to actual buyers.
More Info

---
Straightforward Adventure
With: Lane Kennedy
Price: Free
Description: Straightforward Living is your invitation to … Breakup with boring. Rise to the occasion. Stop stalling. Set boundaries. Keep it simple. Own the room. Skip the makeup. Laugh yourself into a belly ache. Adjust your focus. Prune your to-do list. Take a leap. 19 Days of Emails and Audio MP3s to ignite your confidence!
More Info

---
Websites That Convert
With: Sally Miller
Price: $10
Description: What happens when a visitor arrives at your website? Do they stick around? Do they subscribe to your list? Do they become customers? In this 70-page workbook you'll learn the fastest way to double your email list. You also get 30-day email support. Have a question or are stuck? Drop me an email and I'll get right back to you.
More Info

---
Finances
---
Stock Investing for Beginners: From Ticker Symbol to PE Ratio and Beyond
With: Andrea Travillian
Price: $397
Description: Ready to start investing in stocks? Yet you don't know where to start, what to do or who to trust? This class is for you. In four weeks you will learn all the basics of the stock market and feel confident that you can invest for your future.
More Info

---
Health & Beauty
---
28 day Love Your Asana Yoga, Meditation, and Nutrition Program
With: Danielle Diamond
Price: $99
Description: Ready to Crush Your Spring Wellness Resolutions? Each day is mapped out with workout and nutrition guidelines, plus easy mindfulness and lifestyle tips to implement, which will help create lasting change. To keep your workouts fresh I give you a wide variety of fitness videos designed to get you fit in less than a month
More Info

---
Goal Getter package
With: Casey Jourdan
Price: $195
Description: Accountability and support in creating clarity and momentum to achieve your health and wellness needs. Goals that you will achieve. Tools, skills, and know-how that you can apply to every realm of your life and carry long beyond our coaching partnership.
More Info

---
Make Peace With Food
With: Pauline Hanuise
Price: $199/$899
Description: Make Peace With Food is a 10 week program for smart women who want to fix their broken relationship with food. It's the world's largest and most complete online program for disordered eating recovery.
More Info

---
The Pantry Solution
With: Anastasia Hendryanto
Price: Free
Description: You can prepare a delicious and nutritious meal even when there appears to be no food in the house. There is a simple solution. Receive a printable Pantry Solution "cheat sheet" and 4 of my "go to" dinner recipes. Easy meal solutions for busy mamas. Never be caught unprepared again!
More Info

---
Stress Management with Chakra Balancing Exercises
With: Vatsala Shukla
Price: Free
Description: This guide uses beginner tactics that I have shared with my career coaching clients as part of their coaching assignments to assist in regaining a sense of balance and perspective with self-help techniques to find that inner peace through chakra balancing exercises, 1 minute stress tools based on yoga & metaphysical principles
More Info

---
Smart Snack Guide for Healthy Families
With: Anastasia Hendryanto
Price: Free
Description: In a snack rut? So many Moms are unhappy with their family's reliance on processed snack food and are concerned about the amount of sugar their family is eating. Get delicious simple snack ideas and easy recipes to fuel yourself and your family.
More Info

---
Life & Relationships
---
---
5 Teacher Tricks All Parents Should Know
With: Lily Jones
Price: Free
Description: Do you want your child to be brave in difficult situations? Are you not sure if your child is listening to you? It might be time to pull out some teacher tricks. When working with large groups, teachers use a variety of strategies to keep kids engaged and on task. But these tricks can be incredibly useful for parents too!
More Info

---
Enlivening Me
With: Mandy Ho
Price: $2450
Description: This is a 3-month immersion in connecting with yourself and living your truth. Do you wish to live from your heart, instead of your head? Do you feel like you have lost touch with part of yourself? This is program to help you get in touch with your heart, stop living in fear and limitations, and live life to the fullest.
More Info

---
Healthy Meals Made Easy
With: Christine Burrell
Price: $297
Description: I'll teach you cooking tricks & secrets that save time, money, and your waistline. We're gonna break it down and make it simple! A little planning goes a long ways. Step by step videos guiding you through shopping tips & tricks, Meal planning & prep short cuts for having meals in minutes. PDF Cookbook & downloadable recipes.
More Info

---
Love Advance: How to Attract the Love of Your Life
With: Dr Laura Ciel
Price: Pre-Register before July 6 for $149, after July 6 $199
Description: To attract the Love of your Life, become the Love of your Life! This mixed media, online Love Advance Course takes you through 40 days and nights of bringing in more love through videos, audio trainings, a workbook with daily practices and 5 weekly LIVE calls where you can ask your specific questions. Join us!
More Info

---
The Sleep Edition
With: Dee Trethewey
Price: $89
Description: A course for shift workers and busy, overworked, overstressed ladies (and men) suffering from sleep issues. Learn effective, practical ways to improve the quality of your sleep. Increase the quantity of your sleep. Finally experience that "get up and go" feeling every day. 50% discount when signing up before 20th April.
More Info

---
Soul Work & Creativity
---
---
---
---
---
Daily Dance
With: Erica Ross
Price: $35
Description: Daily Dance is an online, 'evergreen', 21-day ecstatic dance program, delivered straight to your inbox, based on my women's award-winning ecstatic dance practice, Dance Our Way Home. Each day offers a special and unique invitation for one dance, a demo video, song track, and additional inspiration and playlist.
More Info

---
How to Write Your Manifesto: love the words you live by
With: Selena Maestas Moffitt
Price: Free
Description: Are you feeling blunted by life? It's going to be okay. You don't have to feel this way. Peel back that layer and let the YOU that's been missing shine. Find the words to inspire you to give yourself a break and make YOU the priority. A manifesto can give you the words you love to live by.
More Info

---
Three Day Blogging Content Challenge
With: Vanessa Smith
Price: Free
Description: The Three Day Blogging Content Challenge (or #BlogContentChallenge) is a free mini eCourse, designed to get bloggers of any type thinking about their content creation. The course will help you to think about what you already have on your blog, to brainstorm new ideas and how to fit new ideas into your blog.
More Info

---
Unfurling Your Wings
With: Carla Watkins
Price: £147 (introductory offer)
Description: Unfurling Your Wings is an immersive experience from Carla Louise which will change the way you think about and see yourself forever. I help women create their alter ego and harness that power to change their day to day lives and how they perceive themselves & show up in the world.
More Info

---
Women's Circle of Joy
With: Cigdem Kobu
Price: $199 / year
Description: Women's Circle of Joy is a virtual private community for evolving women who are committed to lifelong learning, self-discovery and creative adventures. Each month we read, journal, enjoy discussions, and witness each other's growth around a central theme. Past themes include: money, avalon.
More Info

---
Click to Tweet about the Online Resource Roundup!
If you'd like to be included in the next roundup, please fill out this form for consideration. Thanks!