Women Branching Out: Aimee Prezzano
I'm very happy to have Aimee Prezzano of AimeePrezzano.com here on the blog today as part of the Women Branching Out interview series.
Aimee is a Simple Living Consultant on a crusade to show others about a different way to live, one household at a time.

She helps successful men & women simplify their lives so they can have more time and do what they love.
If you're already feeling a bit of holiday overwhelm, keep reading … in this interview Aimee shares three quick tools Brain Dumping, The Holiday Gut Check, and Aimee's Top Holiday Simplification Tip For Your Kitchen to help you approach the holidays with more ease.
You can also register for Aimee's free webinar "How To Simplify Your Holidays." Available for a limited time only.
Here's Aimee…
Tell us about your business. What do you do and who do you love to serve?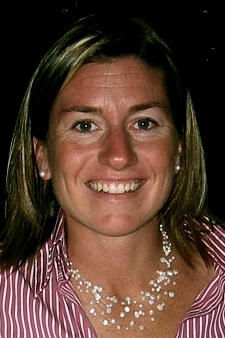 I am a Simple Living Consultant. I help successful men and women all over the world simplify their personal life so they can get it all done, and have more time again.  
I work with accomplished, intelligent people, who used to be able to get it all done. They were able to play the super-human role for a while, but now the gig is up. They've found themselves totally overwhelmed with juggling, life, work, their family, their home, and their time … and are frustrated that they can't do everything by themselves anymore.
These people have found that trying to slow down their busy life on their own isn't so easy. They long for the day to gain some freedom back into their lives, but to them, it seems like it is gone forever. They are craving a simple life.

I help these people figure out what needs to shift and how, so they can start having more fun and stop doing the stuff they can't stand. All of my solutions emphasize action, implementation, and accountability, sprinkled with nurturing love. I always draw from my professional and personal experience.
– – – – – – – – – –


What does simple living mean in the Aimee Prezzano household?

In our home, Simple Living can be described in five points:
1. We get rid of the crap we don't need
2. Make sure that everything has a home
3. We don't buy more crap & maintain as best as we can.
4. We make sure we're having fun with whatever we're doing
5. We make sure that what we're spending the majority of our time doing what we truly love.
It's simple – it works – and anyone can do it.
But in this fast paced world with so much stimulation and so many shiny objects, it is really hard to actually implement this in many busy people's lives.

Simple Living, to me, isn't necessarily about looking like some cover of a magazine or catalog. And it isn't becoming a minimalist. It isn't about cashing in everything and living in a commune. It isn't necessarily about becoming self-sustainable and living off the land. Rather, it is really about the mindset of how you live. It's completely an inside job.
– – – – – – – – – –

What's the first bit of advice you give clients who come to you in complete overwhelm with all the life, work, family, home responsibilities they are juggling?

The first thing I suggest to clients is they need to eliminate their mental clutter. Busy, successful people tend to have so many thoughts scrambling through their monkey minds. More than they realize! (I can say this because I am one of them!) And for any changes to be made, we first need to clear the clutter in the mind. This helps set a solid foundation to make other changes.
But, clearing mind clutter can often be very challenging and confronting. It is something that the mind does not want to do. It loves staying busy and obsessing and planning.
Clearing mind clutter can be as easy as pulling out a pen and sheet of paper and doing a brain dump of everything (yes, everything) running through the mind. Not just business stuff, but personal stuff (i.e. tasks, errands, deadlines for everything: finances, holidays, travel, me time, social life, hobbies, family, home, garden, kitchen, vehicles …).
Hey, if you're reading this interview, and thinking "Oh my gosh, I have to do this!," then please stop reading this article, pull out a pen and paper, and do this NOW! Go on – right now! You can come back and read the rest of this later.
When I start with my clients, we spend a considerable amount of time uncovering their own mind clutter. Only then can we can get down to brass tax. But, you see, the mind doesn't want to cooperate. It doesn't want to change.
Actually, the more overwhelmed/willing to change someone is, the easier it is to get faster and more dramatic results when trying to eliminate mental clutter. So, if you're feeling really overwhelmed, that is actually a really good place to be to make some significant and permanent changes. Sounds counter-intuitive, and maybe not super compassionate, but it is the truth.
– – – – – – – – – –
Where does this feeling of overwhelm wit life come from and how can we start to deal with those feelings, today?

I think I'll defer to Sigmond Freud for this answer!
– – – – – – – – – –
Why do busy folks feel so much dread about the holidays? What can we do to get back our joy?

Here is the reason why most busy people dread the holidays: They feel like they are pulled in so many directions. They say that there is too much to do, and so little time.
You see, busy people don't take the time to really figure out what they want, and instead, they please everyone believing that this will solve the problem. But it doesn't. Instead, they are left feeling miserable on the inside. This causes dread every holiday season.
Introducing: The Holiday Gut Check

Newsflash: We do not have to live in misery during the Holidays.
I want to make sure that you have the key to change that feeling for this upcoming Holiday Season and for future holidays.
Let's do something right now: Close your eyes. Imagine your ideal Holiday Season: Picture who you are with, what you are doing, how you are eating. Do you have it in your minds eye? Take a moment. How do you feel ? What sensations came to you?
Hang onto that sensation. As you meander through this holiday season, check in with your gut. See if what you are doing matches up with that sensation you are feeling now. If you do this, you're golden.
Now, I can't guarantee that your ideal holiday (from this visualization) is going to occur this year (but it just might!). However, what I can guarantee you that if you make every decision this holiday season after you do The Holiday Gut Check, you can't go wrong. If it doesn't feel right, then don't do it. Or if you decide to do it anyway, that's cool. Just know that every time you do, you're putting yourself into a position where you might start to become overwhelmed. Hey, we need to be realistic here, as there is a lot going on during the holidays. My suggestion is to just make sure that the majority of your decisions are made with this "good feeling" during your Holiday Gut Check.
So, pause and take a moment before you commit to something, before you buy something, before you invite someone somewhere, before you decide on everyone you're sending Holiday cards to before your convince yourself that you now have the perfect meal planned.
– – – – – – – – – –
What's one thing everyone could do to simplify their kitchen set up this holiday season?
I recently surveyed busy successful people who are looking to simplify their holidays, and the top area where these people were lacking confidence to simplify was in the kitchen. So, if you're feeling overwhelmed in the kitchen, you're not alone.
Aimee's Top Holiday Simplification Tip For Your Kitchen:

(drumroll please….)
Stop thinking that your meal needs to look like it belongs on the cover of Bon Appetit!
Hey, I know you want to cook from scratch, and try new recipes that you found on Epicurious.com, and make everything fresh that day from items that you've picked up from the farmers market, and use all of your new colorful Le Creucet pots and pans that you've been stockpiling from Sur La Table.
Brace yourself, I am going to tell you something you don't want to hear: You're just setting yourself up for over-exhaustion. Trust me, and the thousand people who have come before you – we're tried it, failed miserably, and raised the white flag. Don't get me wrong, your meal may be the most delicious thing ever, and you may get massive props to you to the chef from your guests … but ask yourself: Is all that work really worth it?
Here is the real question you need to ask: What is your gut saying to you regarding the most important part about your holiday meals?
When you get your answer (and only you know your answer) make sure that you are putting your most time and attention into that area, and then build your meal around this awareness.
So we usually find out that what we want really isn't the initial image that we had been holding space for in our minds.
So, my bottom-line kitchen suggestion: Make simpler recipes (ones that you feel more comfortable with, or make sure when choosing recipes that you can cook parts of the meal advance).
– – – – – – – – – –
What effects can simplifying our personal lives have on our business lives?
Oh my goodness: A simple personal life = a kick ass business. I am working with a successful entrepreneur right now, and we are just starting to clear the clutter (physically, emotionally & spiritually), and she is already seeing a new fire being re-kindled in her business. And it is all just happening organically. It is such an amazing honor to witness this metamorphosis every time I work with business women.
You see, when you build an entirely new foundation for your life, it seeps into every avenue of your life. Whether your personal life practices are simplifying or cluttering, it affects everything. Cluttering has negative effects, simplifying has positive effects. That is a fact. Not just because I said so, but this goes all the way back to the mystics (sorry if this feels too "woo woo." But it's true!)
Here's the deal. When businesswomen simplify their lives, they are more equipped to get to the truth about their business, which allows them to take off and fly. They can more easily spot their bottlenecks. They can more easily serve their client, which means happier customers. They have more time to do marketing, outreach, and making solid connections with prospective clients. They're more easily able to get out of their own way.
– – – – – – – – – –
What did 7 year old Aimee say she wanted to be when she grew up?
Wow, this is a bit embarrassing. I was obsessed with magic. I cried tears of joy when I was 7 when Santa brought me my first magic set. (Yep, true story). So yeah, I guess I was/am a bit like Job Bluth on Arrested Development.
But I have one more story, so I can hopefully redeem myself a bit.
Ever since I was a little kid, I loved business and running things/heading things up. I was always the one heading up our neighborhood Lemonade Stand on Linda Lane. I designed and did the artwork for the posters, I assigned someone to go to the corner and jump up and down to flag people down, I trained someone to be our cashier, I developed complimentary products to sell alongside the lemonade (like candy bars that my Dad brought home from work – he worked at Nestle, and mini-flower pots – Dixie cups filled with soil, and a broken off flowering branch off the bushes on the neighbors yard… a very classy move indeed.)

But the seed was planted. I got the "I want to run my own business" bug. And I was definitely good at getting things done. So, I'd like to think I was/am a bit more like Michael Bluth in my family of origin.
– – – – – – – – – –
What is your favorite aspect of running your own business?
Wow, good question. I tell ya, I absolutely love being an entrepreneur and running my own online business. It has definitely been a long time coming. I have always had a sweet spot in my heart for marketing, as I was marketing major in college and I love figuring our people and what they see/need. I love selling, because I believe in my service/product, and I am absolutely certain that I only deliver the best. And, I really dig being able to hand-pick my dream team of co-workers, consultants, and clients. It is the best of all worlds.
If I had to pick my favorite? Hmm. I'd say it is just that – being able to set up my business and life in a way that best works for me. And I am happy to say that I have it set up exactly the way that I have always envisioned it in my minds eye. And here is the cool part: I am totally open to that vision changing in the future – and that is the amazing part about running my own business. My business can change with me as I grow and expand. Isn't that wonderful? Okay. I'll stop gushing. Entrepreneurship simply rocks.
– – – – – – – – – –
Is there anything else you'd like us to know about Simple Living for Busy People?
Set aside everything you think you know. You don't have to do it alone anymore. Join the tribe at AimeePrezzano.com!
– – – – – – – – – –

Aimee Prezzano is a Simple Living Consultant who helps busy men and women simplify their kitchens, homes, and lives. You can learn more about Aimee and sign up for her newsletter "The Nudge" at AimeePrezzano.com. You can also find Aimee on Facebook and Twitter.
How do you simplify your life? How do you deal with overwhelm during the holiday season? Please comment below!