Women Branching Out: Alethea Cheng Fitzpatrick
I'm very happy to have Alethea Cheng Fitzpatrick of nestingNYC and Photosanity here on the blog today to start up another session of the Women Branching Out interview series. Alethea is a family photographer and photography coach. She's offering a free workshop Quickstart your Photosanity on September 18th, 2012, at 9 p.m. Eastern. You can sign-up for a replay of the workshop, if you're reading this after that date! Her fall workshop begins on September 25, 2012.
Here's Alethea…

Tell me about nestingNYC and Photosanity. Who do you love to serve and why?
I'm a family photographer and photography coach for parents and I'm on a mission to help parents more fully experience the precious fleeting moments of their children's lives through photography. nestingNYC is my family photography business. I also teach an online photography workshop for parents and offer customized one-on-one photography coaching for parents through Photosanity.
I like to say that I help parents who want amazing photos of their kids – taken for them or by them!
I love working with parents of young kids and their families to create beautiful portrait artwork that captures everything they love about their lives and what they want to remember about this time. As a mom myself, I know that the cliche is true – the time really does pass by quickly, and without photography, it's so easy for the special, every day moments to fade into a blur and be lost for ever.
But more than that, I love to show parents how seeing like a photographer (which anyone can learn to do by the way) can heighten their emotions and memories, keep them in the moment and bring them closer to their kids. Photography does this for me daily and I get such joy and delight from it, I want every parent to experience this!
Photo by workshop participant Susan Malat.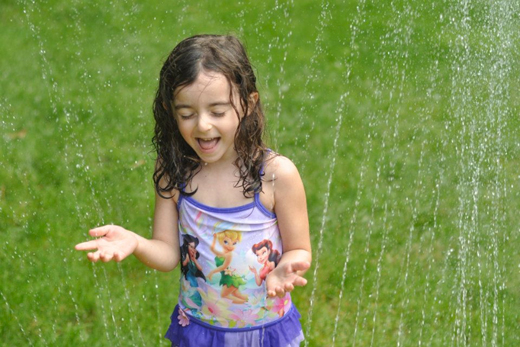 When did you first pick up a camera? 
Back in the day, cameras were not as ubiquitous as they are today, but my father was an avid amateur photographer so I'm pretty sure it was at a fairly young age. Certainly my sister and I would "help" out in the darkroom we had in one of the bathrooms of the house. I first got my own camera when I was around 14 years old.
– – – – – – –
When did photography turn from hobby to business for you?
Although I went to art school (for architecture – I'm a former architect and interior designer) and took photography classes in college, it absolutely did not occur me to pursue it professionally until I had my first son, Liam, who is now 3.5 yrs old. Although I shot with an SLR many years ago, I actually didn't get a DSLR until just before he was born… and I fell in love with photography all over again. And when my maternity leave was over, I decided to pursue it professionally rather than return to my career as an architect. I wanted to have my own business and the flexibility it would give me to spend some time at home with my son, and I also wanted a career where being a mom would be an advantage rather than a conflict.
– – – – – – –
In your workshops you help parents capture precious moments in their children's lives. What's a precious moment you recently captured of your kids?
Liam and my second son Jack (9 months) are at this really fun stage where they can actually kind of play together now, with a lot of supervision and yelling at Liam to be "GENTLE!!!" Actually, I realized that when Liam is a little rough, really all he's trying to do is get Jack to laugh, which he absolutely loves to do. The other day at the park, I captured this moment where he succeeded – Jack is laughing and looking up at Liam, and Liam is responding, and I just love how this photo captures the very best of their relationship right now. Parents often struggle with sibling photos I think because they are hoping to capture their kids with their arms around each other, smiling and looking at the camera – and if that doesn't actually ever happen in real life, you're only going to frustrate everyone trying to make it happen for a photo!  So I encourage parents to look for natural interactions and emotions to capture, not only because it's more likely to happen, but because those photos will be more meaningful.
How has the experience of photographing your own children influenced how you teach your photography workshops?
My experience of photographing my own children is a MAJOR influence in how I teach my photography workshops – I draw heavily from my experience as a mom. It's one of the things that my workshop participants really like and what makes the strategies I teach accessible and achievable for moms. Most workshops are taught from the perspective of a professional photographer, which is not what my participants are looking for as beginners. Of course, I draw from my experience as a professional photographer as well, particularly for the technical aspects and it's also given me experience working with kids of all ages, personalities, skin tones etc. But I downplay that aspect because Photosanity is NOT about becoming a professional photographer, or being trained as one. It really is about photographing your own kids.
– – – – – – –
In a recent blog post on Photosanity.com you gave some really great tips on "How to turn your iPhone photos from "blah" to "wow"! What's one tip you can share that parents reading this interview can use right now to start taking better photos of their kids?
As I mentioned above, I think a lot of parents think that they need to get their kids to smile and look at the camera for photos, which generates a frustrating experience for everyone. Your kids don't want to stop what they're doing to pose, and you can't get a good photo. Instead, think about what you most want to remember about this time that your kids naturally do every day and capture that. Shoot first and foremost from your emotions and the technical stuff can follow.
Photo by workshop participant Karine Baczynski.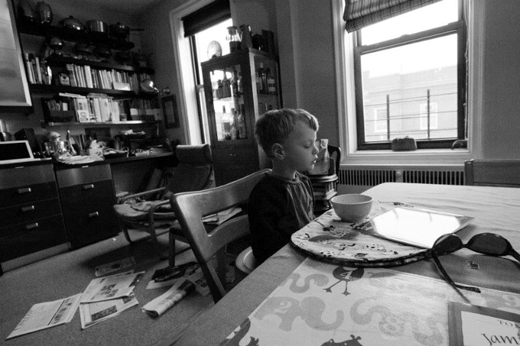 You've worked as an architect and interior designer, how are those experiences reflected in your approach to photography?
I use my background as an architect and interior designer to show parents how they can best display their photos in their home – most parents have no idea where to even begin figuring out the location, size, type of frame, and which images to use. Having photos in your home that show your family naturally interacting at their best can bring such daily joy and pride, not to mention a confidence boost for parents and kids alike.
– – – – – – –
What's your favorite aspect of running your own business?
I love being able to create a business that reflects how I most love to help people.
– – – – – – –
Who are your biggest supporters in life and biz and what does their support allow you to do?
First and foremost my husband is my biggest supporter in life and biz! His support has allowed me to create the life I want – running my own business and also spending time at home with my kids. The rest of my family, especially my parents, plus my entire network of friends from various parts of my life have also been big supporters, especially all my mom friends and my growing group of entrepreneur friends. Running your own business and being a mom can be lonely if you don't reach out and find those connections and support.
– – – – – – –
What did 7-year old Alethea say she wanted to be when she grew up?
The funny things is, I never knew what I wanted to be when I grew up – I was too interested in too many things! It's why I ended up studying architecture, which is a really broad and open subject. Becoming a mom was what really enabled me to focus.
– – – – – – –
Is there anything else you'd like to add?
Actually, I'm offering a FREE live online workshop – Quickstart your Photosanity on September 18th at 9pm EDT and anyone is welcome to join. I'll be giving away tips and strategies on taking better photos AND more fully experiencing your children's lives through photography. If you can't make the live call, there will be a recording available afterwards, but you do have to sign up to get access.
– – – – – – –
Alethea Cheng Fitzpatrick is a family photographer and photography coach for parents. She is on a mission to help parents more fully experience the precious fleeting moments of their children's lives through photography. She is also an entrepreneur, mom of two adorable if rambunctious boys, Liam (aged 3.5 yrs) and Jack (aged 9 months) and a former architect and interior designer. Born in the UK, she went to Pratt Institute, where she studied architecture, and now resides in NYC.. She is founder and owner of nestingNYC, which specializes in baby photography as interior design, and Photosanity, where she offers online workshops and private coaching. You can find her on Facebook at http://facebook.com/nestingNYC and http://facebook.com/photosanity, on Twitter at http://twitter.com/nestingNYC, YouTube http://youtube.com/photosanity, and Pinterest http://pinterest.com/aletheafitz.