Women Branching Out: Andrea Lewicki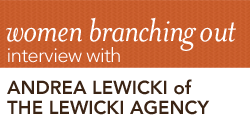 Are you curious? I'm so excited to interview Andrea Lewicki of The Lewicki Agency about using curiosity to engage with the world. The Lewicki Agency's mission: "Defying convention, one curious project at a time." Andrea is a great person to follow if you want to get back in touch with your sense of wonder.
In this interview we chat about:
~ The Lewicki Agency's Grand Opening Event (October 28-29, 2011) FREE! Come if you are interested in what curiosity can do for you.
~ The four cornerstones of curiosity: Listen. Ask. Observe. Give.
~ What triggers memories.
The Lewicki Agency Grand Opening: October 28-29, 2011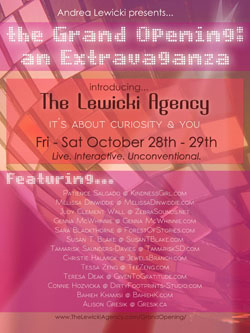 The Lewicki Agency Grand Opening is a free 2-day live, streaming, interactive introduction to Andrea's curiosity work. October 28-29, 2011. Visit The Lewicki Agency for full details and a schedule.
Guests include: Patience Salgado, Tamarisk Saunders-Davies, Susan T. Blake, Melissa Dinwiddie, Judy Clement Wall, Tessa Zeng, Sara Blackthorne, Genna McWhinnie, Bahieh Khamsi, and Christie Halmick (me).

Andrea Lewicki designs experiences for people to re-engage and maintain their curiosity. She believes that true curiosity is an ego-less quality that seeds kindness and compassion, and that the world is a better place when we can be who we really are. You can find out more about her work at www.thelewickiagency.com.
Because we are curious about you, please leave a comment below. Tell us about a memory you had recently, what triggered that memory?
I'll go first, see my memory below.