Women Branching Out: Bianca Filoteo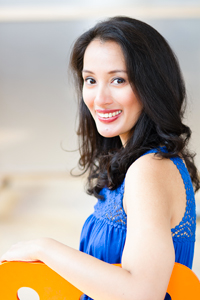 Today we're welcoming online video marketing coach Bianca Filoteo of Video for Shy People to the blog.
Bianca combines her experiences as an actor, screenwriter, video editor, producer, and filmmaker into her programs and coaching services to help video-hesitant entrepreneurs fall in love with online video.
She also collaborates with entrepreneurs to produce videos for their businesses.

Her 30-day group program Courage for the Camera runs February 11, 2013 – March 12, 2013. It's designed to help entrepreneurs overcome their fears of being on-camera.
Here's Bianca …
Tell us about your business. What do you do and who do you love to serve?
I'm an online video marketing mentor. I primarily work with entrepreneurs who want to start using video to market their business but they're shy, hesitant and intimated with video. Besides coaching them with their on-camera presence, I also develop video scripts and content marketing strategy for their them so that they can attract their ideal clients and grow their audience.
What are some of the biggest misconceptions entrepreneurs have about making videos for their businesses?
There are a few:
1. That you need expensive, professional equipment to make videos: for certain types of videos, you may, but you can definitely create your own professional-looking videos on your own on a budget.

2. You can "wing it" and just start recording yourself: the problem with this is that you risk the quality of your content. You want your viewers to watch your videos from beginning to end. If you start your videos with a few points that aren't that important or interesting, you're viewers will stop watching. You're dealing with people's attention spans and their time so you need to make every second of your video count. Creating an outline of what you plan to talk about can really help with that.

3. That only certain types of personalities or faces can be on video: absolutely not! It's not so much about looking good or having a larger-than-life personality. You can look gorgeous and still not have your viewers watch your videos. If you have a message or a story to tell, you can make videos. You can be on-camera, or you can just have your voice-over. Anyone can do it.
What's the first bit of advice you give someone who knows they want to market their business with video, but can't seem to get started? 
The first step is to start from where they are and what they have. Find a camera that records video (whether it's your iPhone, flip cam, web cam, etc.)  then find a room where you have good lighting and it's quiet. Start filming.
Don't put pressure on yourself to make it perfect on the first few takes. The best thing you can do at the beginning is to discover and explore – get to know your camera and how different amounts of light would look on video, do a few practice takes where you're just talking to the camera. 
Once you got your feet wet with that, you can start creating simple videos that can market your business and two types I recommend are a Welcome video or a video blog post. To think of the content for these videos, just imaging having a conversation with your ideal audience: What do you want to tell them? What do they need to know about? 
How has teaching online video impacted your life?
It has strengthened my being as a storyteller. Through teaching, I've been able to connect with really awesome entrepreneurs who are up to amazing things and who also have their own story to share. I loved playing some part (no matter how small or big) in getting them and their work out to the world for everyone to discover and get excited about.
My biggest reward with teaching is being there to witness my clients' evolution from starting from step 1 with little experience with video … to taking big, bold steps and embodying their true selves, shining on-camera, trusting their abilities to create their own videos.
What life experiences influence your approach to online video?
My work as an actor, writer and filmmaker influence my approach. My actor training for me is an on-going basis – it's like a gym for me where I get to work out my on-camera presence so I can continue to be natural on-camera (I used to be terrified of cameras, by the way).
When I created a web series with a few of my actor friends a few years ago, that was also quite the learning experience. It was a complete DIY project: we wrote the scripts, we starred in it, we filmed it all ourselves. I was also in charge of the tech stuff as it was my equipment we used and I edited the episodes.
Having to learn how to set-up a set, film yourself with a camera, and how to edit videos in a matter of a few months was quite the learning experience. I, too, was starting from scratch. The very beginning of video editing was frustrating and it finally got easier when I had someone teach me the shortcuts with the editing program – it saved me so much time and mental energy! It's moments like that where you learn the value of having someone mentor or guide you through a process. I also discovered that "winging it" with your videos isn't the best solution – you'll end up spending a lot more time getting that video done without having a plan or an outline.
My overall approach to video is to not be afraid of getting creative. Explore, create and play. Make it fun. Video is such a creative medium that I think that there's an infinite amount of ways to create your videos. You don't need to make your videos look like other people's – do what works best for you.
How has running your own business empowered you?
Running my own business gives me a sense of freedom, it constantly fuels my creativity, and I'm always learning something new everyday (whether it's about myself, other people, or life in general). It also challenges me to be more courageous, assertive and bold.
What did 7 year old Bianca says she wanted to be when she grew up?
I think I wanted to be a pediatrician, which was something my parents suggested for me growing up. But as time went on and I discovered many other jobs that existed out there, my imagination made me want to be a lot of things! I wanted to be a fashion designer, interior designer, professor, a detective, the owner of a coffee shop or bakery, the list went on…
Finish this sentence. I believe…
Everyone has a story to tell that someone is just waiting to hear. Being seen and heard can be terrifying, but once we put ourselves out there, it actually creates positive effects: it creates human connection, which is something we all yearn for in our lives, and it creates an impact on others.
– – – –
Bianca Filoteo is the founder of Video For Shy People, where she helps video-hesitant entrepreneurs fall in love with online video. As a shy and introverted person herself, Bianca combines her experiences as an actor, screenwriter, video editor, producer, and filmmaker as she works with her clients with their online video marketing. She collaborates with entrepreneurs to produce videos for their businesses while also helping them gain confidence to share their stories on camera. Check out her group program Courage for the Camera or follow Bianca on Twitter and Facebook.
– – – –
What questions do you have about creating videos for your business? Ask in the comments!