Women Branching Out: Cathy Anderson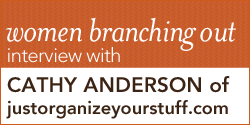 I'm so happy to have Cathy Anderson of Just Organize Your Stuff (aka JOYS) as the Women Branching Out interviewee today. Cathy has combined her art direction skills with a desire for peace with her own papers to make a beautiful, colorful, inspiring, and functional set of organizing products.
JOYS offers a mix of print-your-own PDFs and physical products to help you organized all your papers, and life. One of my favorite freebies is After School Flow. It's great for moms, like me, with kids who bring home mountains of stuff from school.
I've asked Cathy to share a little bit more about her business journey with us.
Q: Tell us about Just Organize Your Stuff (JOYS). What does JOYS do? Who does JOYS help/serve and why?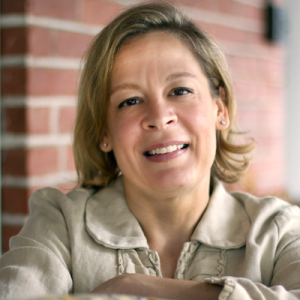 A: JOYS is my pursuit to inspire busy women juggling home, family and career to create calm and freedom by making peace with their household papers (aka responsibilities), so they can have more time to enjoy the good life. 
I knew simplifying, getting organized and taking care of responsibilities would help me find freedom and peace-of-mind. I also had a hunch it would make me happier. And it has. 
Q: Is there a secret messy closet at the Anderson household or have you always been organized?
A: Hardly. I have not always been organized. Us creatives like to collect things. Things bring clutter. And, yes there is an area in my house that drives me nuts, my basement. It's been organized a number of times…  let's not go there. 
Q: What are the biggest challenges (business, technical, etc) you faced when launching JOYS and what lessons did you learn from these challenges?
A: Technically it would be the website. I had a vision and nothing was coming together. My original site was a completely custom created Cold Fusion site. Actually, you can still see it on the WayBack Machine. Any changes I made would cost me a small fortune.
I had no skills in web development when I started. I had a bit of experience designing sites but very little technical savvy. My html and css knowledge was nil.I was at the mercy of the pros.This was years back when open source platforms like Joomla and WordPress were not nearly as common as as they are now. I have had developers vanish and others over promise.
So, in sheer desperation to build the site I envisioned, I learned Joomla, brushed up on my html and css and got to work. From this experience alone I learned a lot. On the business end, I would have to say the marketing. But I am working on that. 
Q: What is your favorite aspect of running your own business?
A: I can't help but smile when I read, "Finally, this all makes sense. I made huge progress." or "I really like your unconventional approach." I love feeling like I made a tiny little impact on someone's everyday life. 
I also love the flexibility. The ability to set my schedule and work out of my home. It's nice to toss in a load of laundry or start dinner and go back to work. The creative freedom kinda rocks too.
Q: What is your best organization tip for women just starting their businesses?
A: Get your books set up. Start right away with a money management program like Freshbooks or Quickbooks. A good chart of accounts will give you a solid outline for your filing system. Then Balance. Balance. Balance.

All businesses are different. Each will require a unique system of information management. Organizing is a process. Remember, there's always room for improvement and nothing is permanent. Change your systems if they aren't working for you.
Q: Who are your business role models
A: Steve Jobs and Apple. If I were just out of college, I would have my resume addressed Apple at 1 Infinite Loop.
Q: What other careers/jobs have you had?
A: A good part of my professional life was spent in the design world as an art director for a small design firm. I had a teaching gig at American University, adjunct professor, for about three years until I moved. Loved that job. 
Q: Who in your personal life is/are your biggest supporter(s) and what does this support allow you to do?
A: Easily my guy. He has picked me up and pushed me through, as well as puts a roof over our heads. His support allows me to do all that I do. Grateful I am.
Q: What did 7 year old Cathy say she wanted to be when she grew up?
A: Hum. 7. I'm not sure. Possibly a nun. I did go to catholic school. Maybe a nurse…
Q: Is there anything else you'd like us to know about you and your biz?
A: Just come check out my website. I'm there. All there. 
If you're ready for paper peace, download Cathy's first (free) ebook Blueprint:JOYS the Creative Outline for a Home Filing System. http://www.justorganizeyourstuff.com/blueprint2
Cathy Anderson inspires busy women to make peace with their household papers, so they can have more time to enjoy life. You can find her at www.justorganizeyourstuff.com on Twitter: twitter.com/joys Facebook: facebook.com/JustOrganizeYourStuff and Pinterest: pinterest.com/cathya/
Leave a comment for Cathy below. If you know someone who would like to know about JOYS, please share!