Women Branching Out: Emmanuelle Lambert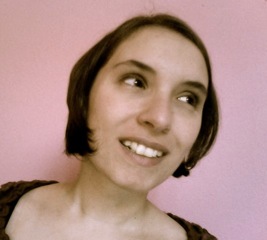 Life coach and yoga instructor Emmanuelle Lambert is our Women Branching Out interviewee today!
Emma trained to become a yoga teacher and coach while working a full-time corporate job. Then, she left her corporate gig to devote herself full time to her own business.
Emma helps new and aspiring women solopreneurs – yoga teachers, coaches, healers, creatives – get started in their own conscious businesses. Her business motto is "Where the Be meets the Biz."

Emma's group coaching program Ignite Your Life!, starts March 4.
Here's Emma …
Tell us about you and your business. Where do you live? What do you do and who do you love to serve?
Bonjour! I am a yoga teacher and life coach living in Brussels, Belgium, but originally from Dijon (yeah that's an actual city), France.
I am passionate about helping women find what they're truly capable of so they can design the life they want, without guilt or overwhelm.
I teach live yoga classes and coach either face-to-face or online (thank guru for the internet!).
– – – – – – – –
What does having a conscious business and life mean to you?
It means having a wholehearted/minded/spirited life and being in total alignment with one's values, it means being aware of our stories and fears and dealing with them, it means finding one's power and using it for the greater good, it means having a business as a means to full self expression and service. Oh, and having fun too!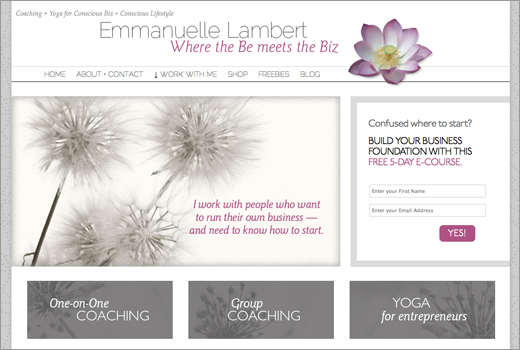 How does being a yoga teacher influence your coaching business?
I believe yoga and coaching are complementary and can work really well together for a holistic approach to self development. I sometimes resort to yogic philosophy in my coaching.
I found that the philosophy sustaining the coaching methodologies I use is somewhat very similar to what I would broadly call yogic philosophy, but expressed in a different way, in different words. Depending on who my client is and what they need, I will use one of the other.
Actually, several clients told me they chose to work with me because I had this yoga background. They felt they would be seen and heard without judgement. Basically it means that if someone tells me they feel a lot of energy in their third chakra, I won't cringe or start laughing!
– – – – – – – –
Why did you decide to start your own business?
I think that somehow, I've always known I would be working for myself someday.
It boils down to one word which is one of my core values: freedom.
Working my own schedule, choosing who I want to work with and what I want to do, that was a big deal for me.
Of course, I also couldn't imagine doing what I do in a fixed structure. I am very good at having my own structure, and again, I get to decide what it is.

There is another reason: I do believe that it IS possible to create the life you want to live, and I want to be a living example of this. How could I teach and coach about empowerment if I'm not walking my talk? I would feel like a fraud.
I am not saying you have to have your own business absolutely and that you should quit your job tomorrow. I am just saying that this was how I always envisioned things for me, and I needed to have my own business, but that's my choice.
– – – – – – – –
How has running your own business empowered you?
Oh man, it has empowered me in ways I could never imagine!
It has forced me to accept that deep down, I am a leader. See, I used to be shy and I certainly didn't want to disturb, so I kept quiet for a long time – not to be seen, not to be heard, not to stand out. But deep down, I was not happy. Deep down, I knew I was not fitting in, and that there was more to life than this.
Running my own business had me digging deep inside to accept that I had to be seen and heard, if I ever wanted to be in business and have people come to me.
Whoever said that running your own business is the best self development tool ever was right!
– – – – – – – –
Why did you decided to create Ignite Your Life, your group coaching program?
I've always known I wanted to do something special, that I wasn't really made for corporate life, but I didn't know what I was supposed to do.
So I settled in, got a job, and was unhappy for years. It was a fight between reason and heart, really: "Who do you think you are? Consider yourself happy. You have a job, a boyfriend, a roof above your head, what else could you possibly want?" (we've all heard that one, right ) "But I am NOT happy and I don't know what to do!"
After years of soul searching I found out. It helped that I started practicing yoga, too. But it took me ages. Years of waking up crying in the middle of the night because I wanted to quit my job but I didn't know what to do, and feeling so lonely!
And I know there are women out there who feel the same, who are suffering, who don't know what to do with their lives but knowing they can do so much more! So everything I have learned and used is here, in that program, so they don't spend that long in that painful state of confusion.
– – – – – – – –
Finish this sentence. I believe…
I believe that we all have the potential and power to do whatever we want and create the life we want to live – so screw excuses and go kick ass!
– – – – – – – –

When Emmanuelle Lambert tried yoga for the first time, she was a frustrated corporate employee and it wasn't love at first downward dog. Fast forward six years, Emmanuelle is a fully self-employed yoga teacher and life coach. When she is not goofing around on her yoga mat, Emmanuelle can be found playing with her Krazy Kitty and her Lovely Boyfriend, jumping around to loud indie rock or eating dark chocolate – sometimes all these things at the same time. You can find Emmanuelle on Facebook and Twitter. Her group coaching program Ignite Your Life! starts March 4.
– – – – – – – –
Freedom is one of Emmanuelle's core values. What are your core values and how does your business support them? Comment below!
– – – – – – – –