Women Branching Out: Erin Giles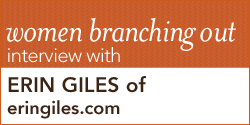 I'm excited to have Erin Giles of ErinGiles.com with us today. Erin Giles is on a mission to teach women how to use philanthropy from day one in our businesses.

She recently launched End Sex Trafficking Day and in just 30 days raised $10,000 to fund a book featuring contributions from thought leaders like Seth Godin and Danielle La Porte. (See Erin's interview with Danielle La Porte.)
Here's Erin …
Tell us about ErinGiles.com and your newest offering Rocket Your Revolution. What does your business do and who do you love to serve?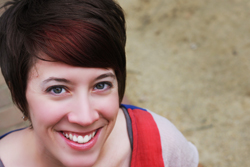 My bright spot on the web is to encourage shining business ladies to do good + do business. When you AMP the WORLD, you AMP your business. Rocket Your Revolution is a 4 week course that starts June 4th that teaches female entrepreneurs how to build philanthropy into their business.
I LOVE to serve women who are passionate, focused, creative and wanting to truly make a difference in the world.
– – – – – – –
You recently created the philanthropic event End Sex Trafficking Day, raised $10,000 in 30 days and garnered participation from Seth Godin, Carol Roth, Danielle LaPorte, and others. Tell us a little bit about EST.
EST Day came out of nowhere at just the perfect time. I was stuck in my business and didn't have an idea what my true businesses purpose was. When I read Screw Business as Usual + watched a documentary about global sex trafficking– EST Day was born. I knew End Malaria Day was highly successful and since I didn't have millions of dollars to give to fight sex trafficking. I did what I could.
It was scary reaching out to business big shots, not to mention raising 10k in 29 days, but fear doesn't have anything on my faith! The 10k was raised so that the End Sex Trafficking book featuring 60 essays from 60 brilliant writers could be released on EST Day September 26, 2012.
– – – – – – –
What personal growth have you experienced as a result of launching End Sex Trafficking Day?
Oy, I could write a book in response to this question:) What didn't I learn?! I learned the power of asking for help (most importantly), the power of speaking positive and the power of going after what your heart is calling you to do.
– – – – – – –
What is the first question women who want to build philanthropy into their business model should ask themselves?
What pisses me off?
No really, the first place they should start is to recognize what tragedies and injustices in the world piss them off.
Choose the one that ticks you off the most, now that is your philanthropic passion.
I knew sex trafficking was mine, not only because of stories in my past involving domestic abuse, but because I wanted everyone to watch the documentary Nefarious, and of course it made me cry…that was a sign it had me.
– – – – – – –
What is one easy way to start being philanthropic today?
Be the giver, don't wait until you are making millions. Start today. Find a need and give.
– – – – – – –
Who are your online business role models? and why?
Erika Lyremark because she whipped me into shape and always goes above and beyond to serve. Danielle La Porte because she is so sincere and embraces generosity.
– – – – – – –
Who in your personal life is your biggest supporter and what does this support allow you to do?

Without a doubt, my husband. He always supports my big crazy ideas by listening, designing my websites, praying for me and speaking the truth when I get discouraged. I wouldn't be coaching if he wouldn't have pushed me to go after it.
– – – – – – –
What is your favorite aspect of running your own business?
Not having to put on slacks, dress shirts and high heeled shoes. Don't get me wrong, I love to dress up, but when I want to, not because I have to. I love wearing workout clothes and flip flops most days. Comfort makes business that much sweeter.
– – – – – – –
What did 9 year old Erin say she wanted to be when she grew up?
A personal trainer! At 9, I loved doing Denise Austin exercise videos with my Mom and loved encouraging people. And today, I am still working out and encouraging women to change the world!
– – – – – – –
Is there anything else you'd like us to know about becoming unforgettable through philanthropy?
Do not feel like you have to wait until you are a full grown, million dollar business. I can't stress this enough. Do it now, make it a part of your business strategy and the growth will happily follow.
– – – – – – –
Erin Giles is the founder of End Sex Trafficking Day and teaches women how to start their own revolution by building philanthropy into their business model with her 4 week program, Rocket Your Revolution that starts June 4th. You can sign up for a free 15 minute Launchpad session by clicking here. You can also find Erin on Facebook and Twitter.
Share, like, and pass on Erin's mission! And leave Erin a comment below!