Women Branching Out: Genna McWhinnie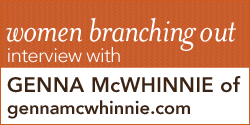 I'm thrilled to have Genna McWhinnie with us today to chat about her video production company McTofu Media Services.
I met Genna virtually over a year ago and fell in love with her red lipstick and sassy self-expressive ways. She always makes me laugh out loud with just a Tweet. I'm sure you'll love her wicked humor, too!

Genna's new ebook "Shine on Screen: Your Guide to Producing Great Video On Your Own" is chock full of great info to help you get started making videos for your online business.
Here's Genna…
Tell us about McTofu Media Services what do you do, who do you love to serve and where are you located.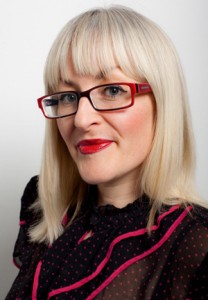 McTofu Media is a video consultation and production company based in sunny London, UK. It evolved out of my life coaching business, started in Sep 2010. Although I loved coaching, it didn't seem specific enough to both my talents and the needs of my clients. But I had a light bulb moment in June last year when I realised I could combine the coaching element with my wealth of experience in TV and video production.
That and the fact that video is the perfect medium for Self Expression, which is at the core of everything I do and want to encourage in women entrepreneurs.
I provide video consultations, video critiques, bespoke motion graphics and video editing. My clients are predominantly women entrepreneurs in the service industry.
Oh and McTofu is my nickname, what with being Scottish and Vegan 🙂 And I thought it would be a really cool name for my biz!
– – – – –
I love that you are completely Genna 24/7 (jokes, vaginas, red lipstick, potty mouth) what advice do you have for women just starting out in their online businesses who are hesitant to put their "real" selves out for everyone to see?
Ha! Yes, the potty mouth, you got me 🙂 Being yourself is the one true constant. It's easy, effortless and you'll feel a whole lot comfortable being you and being authentic in your business.
I'd say the best way to do this is to be really clear and upfront from the get go as to who you are, what you stand for and what it is people can expect from you. Be explicit about this on your About page, your Twitter Bio, create a free manifesto download if you wish and make sure that everything you write or create is consistent with who you are. If it is the 'real' you, then it won't be hard work and we like things that are not 'hard work'
I know some business women want to keep a strict delineation from their 'true' selves and their 'business' selves but DO. NOT. DO. THIS. It's boring. It's duplicitous. And it could do more damage than you think. For serious.
AND by doing so you miss the opportunity to REALLY connect with your clients, customers and audience.
Be you. It's delicious, it's easy and it will help weed out the peeps that are NOT for you.
– – – – –
You have a Fine Art degree and all your videos are very creative and fun. What other ways do you express yourself creatively?

Writing, photography, drawing vaginas [art portfolio here]. I also love writing posts for my website as much as I enjoy the video production process. Does banter on twitter count? If so, I LOVE that. As I'm a natural chatterbox, my creativity tends to always come through in my conversations and connection with other people. Instagram is another small addiction when I'm not on Twitter!
– – – – –
When did you first discover the power of video?
Well, I've been in television broadcasting for 11 years, am an avid film fan and have always been fascinated by the moving image, so I guess you could say all my life. I remember watching films like the Wizard of Oz when I was a kid and being completely transfixed, wanting to be on screen myself. The ability to actually record and produce my own stuff came a little later, probably about 13yrs ago now when I did a TV production course at college [after my Art degree]. And as I'm a bit of a show off, being on screen is my drug of choice…
– – – – –
For women entrepreneurs who are just getting started creating their own videos there are so many questions. Before they go out and start hiring videographers or buying software and cameras, what's the first question they should ask themselves?
The first question should always be: do I have the time to dedicate to this? Recording and editing can be very time consuming and so women entrepreneurs should really ask 'If I dedicate this time, what can I expect to get back in return?' This means really looking at what you will be providing in each video, what do you want your audience to take away? How will it benefit them?
If you know that a video will be a far better way of communicating some learning or a concept with your audience, then go for it. Beware of doing video for video's sake and be realistic, if it's going to take too much time, look to hiring a videographer or even just a freelance camera operator or video editor. Having the help in just one part of the process can make all the difference.
– – – – –
Pricing for shooting, editing, processing videos, etc. range widely. What's your advice for women on how to evaluate and compare the work and offerings of different video consultants for where they are in their video journey?

I did a comprehensive blog post about this, you can go and have a read here. My advice would be to not only to get quotes on a videographer, that will do the shoot and edit for you but to also look into someone who could either just do the shoot or the edit for you. My advice if looking for either of these freelancers, is to look local, you'll probably get far better rates and you don't have to worry about trying to upload large video files to someone half-way around the world.
I also have a very handy little guide called "SHINE on SCREEN: Your guide to creating great video on your own" which covers all the questions and tutorials you should need to produce video yourself.
– – – – –
What are your favorite video projects to do?
Doing silly, comedy videos of my own. And working with women who are brimming with excitement about their business and who bring that passion to the screen.
– – – – –
What's next for you and your business?

I'm looking to how I can build on my recent ebook guide, evolving that into a web based workshop for a small group of women [between 6-10 at a time] and ultimately doing large events that take women entrepreneurs through the training, support and inspiration they need to leverage video & their Self Expression in their businesses. I'm hoping to launch the first SHINE on SCREEN – Web Workshop in August, look out for it!
– – – – –
You've recently become an aunt to little Miss Kitten McTofu, I know you'll be a big supporting of her throughout her life. Who in your personal life is/are your biggest supporter(s) and what does this support allow you to do?
Aaaaw Kitten McTofu, yes, she is an absolute little cutie [real name Leah, Kitten is just my nickname for her]. Love her. I'd say that my Mum, Mama McTofu, has been my biggest and most consistent supporter. I know that's kinda part of the remit but she really has been the one woman who has most inspired me to be the strongest, most fulfilled, most self expressed woman I can be. Love her for that. Also I have an insanely supportive network of close friends and online friends. Can't really ask for more.
– – – – –
What did 7 year old Genna say she wanted to be when she grew up?
A stripper. Seriously!! My Mum let me watch the film 'Gypsy' about the gorgeous burlesque star Gypsy Rose Lee, when I was that age and I WANTED to be her so bad. So, yes, not the perspex behooved, sequined g-string gal writhing around a greased pole but rather the corset & feathered glamour of the Burlesque star. I guess it's still stripping either way you look at it but I'm pleased to say [and those that possess a pair of eyes are too] that this figure + sequins + removing of clothing aint something that is gonna happen soon. I'll stick to remaining fully clothed and being silly on camera. The world will be a better place for it 🙂
– – – – –
Genna (or McTofu, as her pals say) believes video is the perfect platform for self expression and THE best tool for engaging your viewers, clients and customers. She makes funny, entertaining and informative video content for her own business and is a consultant and producer for small business owners who need video production, motion graphics and/or editing skills. She has 10 years experience in Post Production for television broadcasting, making programs for broadcasters across the world including the biggest and most well known British Broadcaster. You can find Genna on her website, Twitter: @gennamcwhinnie or @McTofuMedia, and Facebook: Genna McWhinnie.
If you love this interview with Genna, share it, like it, pass it on! And leave Genna a comment below!