Women Branching Out: Gretchen Cawthon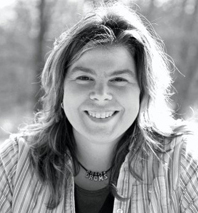 Excited to have Gretchen Cawthon on the blog today.

Gretchen's company, Girls Can't WHAT?, develops products (apparel, cups, key chains, hats, magnets, etc) to inspire girls of all ages to follow their dreams.

Gretchen learned to draw, use Photoshop and Illustrator, and much more to bring her company vision to life. But, as you'll see, she's no stranger to learning new things and accepting challenges.
Here's Gretchen …
Tell us about Girls Can't WHAT? What does your company do? What is your role in the company?
Girls Can't WHAT? was created in 2005 after a business partner told me women can't do web design. Shortly after leaving that job, I decided I would build my own business, starting with a web site, of course. I checked out books from the library, watched videos and asked for help in forums until I felt comfortable with my skills. A couple of months later I built the entire site myself. I also followed that same format to teach myself how to draw the designs I use on my site. Knowledge is power.
The purpose of the Girls Can't WHAT? company is to inspire girls to take on their dreams no matter what the rest of the world thinks they can or can't do. The Girls Can't WHAT? designs reflect an empowering message that "yes, girls can!". We also use 20% of every purchase to help other women entrepreneurs reach their dreams. It's a great feeling to be able to help others help themselves.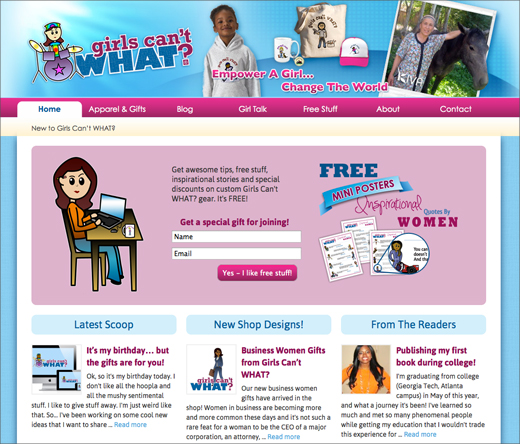 My role is quite diversified at the moment. I am the CEO, the secretary, the artist, the janitor and much more. I've been a one-woman show up until this year when I hired a friend to help me with product development so I could keep up with demand. Ultimately I would like to be at the place where all I do is work on Girls Can't WHAT? design creation and delegate the rest. I have a plan mapped out to reach that goal and it's a process I'm actively working towards. Currently, my time is very limited and I also use my web development skills to help others build their sites. It's sort of  an off-shoot business that developed after building the Girls Can't WHAT? site. My time is usually divided between the 2 businesses. I guess girls can be web developers after all.
– – – – – – – –
What experiences influenced the creation of Girls Can't WHAT?
Clearly, my former business partner's comment was the kick-starter, but it shouldn't have surprised me, based on my childhood experiences. I grew up in a neighborhood of mostly boys. We played football, shot BB guns, and rode dirt bikes on a daily basis. I've never been a "girly girl" and if given the choice between things like baking or shopping versus playing sports or fixing stuff, I'd be outside with my ball bat and glove in a heartbeat. I was always trying to work my way into what might have been considered "boys clubs" because that's what interested me. Girls sports weren't nearly as popular or accessible when I was younger, so I joined Little League and made the boys basketball team so I could do the things I wanted to do.
Since my interests were so "uncommon" for a girl, I've lived through my fair share of firsts or being the only girl on a team. I was always the only girl on the Little League team. I was one of two girls to make the previously all-boys basketball team in the 6th grade and I was the only girl in the percussion department in college my Freshman year. The list goes on. I guess I've always had an attitude of "Girls Can't WHAT?" which pushed me to ignore gender barriers and just go after the things I loved.
– – – – – – – –
Your designs are often inspired by people you know. What are your favorite Girls Can't WHAT designs so far?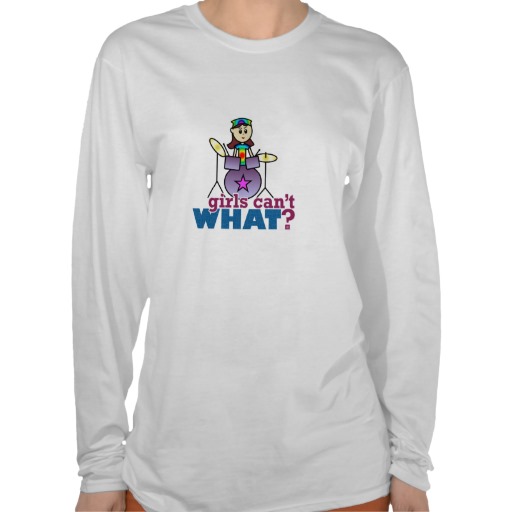 My favorite is the drummer. It's on my tote bag, my t-shirts, my travel mug, my laptop bag, and my iPhone case. It represents me and was one of the very first designs I created so it will always be special.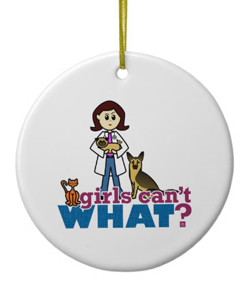 The veterinarian design was created for my sister when she received her veterinarian degree. The pug in the design was my dog, Quest, and the German shepherd and cat represented her pets.
I have fun creating them all so it's really hard to pick favorites, but I also really like the firefighter, police officer, hockey player, bass guitar player and the snow skier.
– – – – – – – –
What skills did you have to learn to get your business up and running?
A lot of my skill set comes from my natural interests in computers and creating things. I've been programming since the 7th grade so building a web site wasn't that difficult for me to learn. I also love to build things and create systems. A business is a system in itself, so I had a natural desire to learn more about building a business.
Although I have a college degree in music business, I am mostly self-taught when it comes to computers and programming. I like to immerse myself in a topic by collecting resources from the library and the Internet and studying until I feel I have reached an appropriate level of learning for that topic or skill.
To get started, I had to learn how to draw. I've always been involved art to a degree but never on a computer. I had to teach myself how to draw cartoons on a computer screen and learn to use Photoshop and Illustrator to prep them for printing. It was quite a process, but I enjoyed learning and improving my skills. My first attempts at drawing were pretty hideous.
Even though I love the challenge of learning new skills, I don't try to do it all. I have recently hired someone to help me with design development and marketing, and as the business grows I anticipate hiring additional help.
– – – – – – – –
You have a great blog post about Finding Your Super Power. What's your super power?
In that post, I talk a lot about passion. Essentially your super power is a combination of your passion and what you like to do. My passion is helping people break through gender stereotypes. I also like to challenge people to think for themselves and discover their own path. When you combine those things, my super power turns out to be "challenging women to break through gender barriers to achieve their dreams." And that is exactly what the Girls Can't WHAT? theme is all about.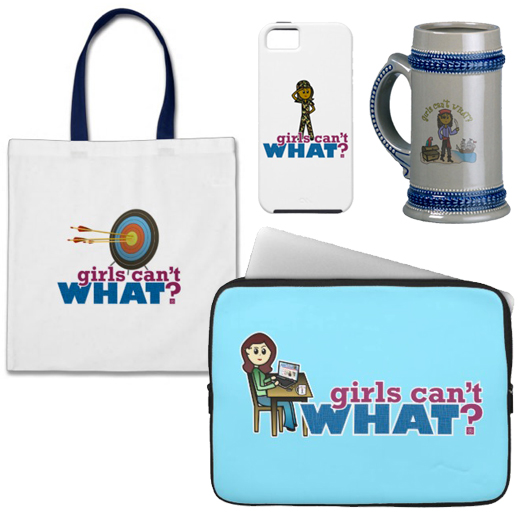 What do you love to do outside of your business?
I have two teenage daughters who are both into sports. I love watching them play and cheering for their teams. I also love taking long walks with my rescued Boston Terrier, Lola, and playing drums in my band Four Wall Flight.
– – – – – – – –
How has creating your own business empowered you?
Creating my own business has put me in the driver's seat. There is no limit to how I have to spend my time, how much money I can make or what levels I achieve with my business. It gives me the freedom to be me and do the things I love to do and get paid for it in the process.

But beyond all that, it has empowered me to help other people. For every purchase of Girls Can't WHAT? gear, 20% is given to help empower women entrepreneurs through the KIVA micro-lending program. It's immensely satisfying to know that my artwork has a greater purpose than selling a t-shirt. Girls Can't WHAT? is able to change lives. That's why I use the tagline "Empower a girl… change the world". That's my mission.
– – – – – – – –
You can find Gretchen Cawthon at her website: Girls Can't What? and on Facebook, Twitter and Pinterest.
– – – – – – – –
Comment below: Has anyone ever told you that you can't do something because of your gender? What was it and how did you prove them wrong?