Women Branching Out: Jenn Burton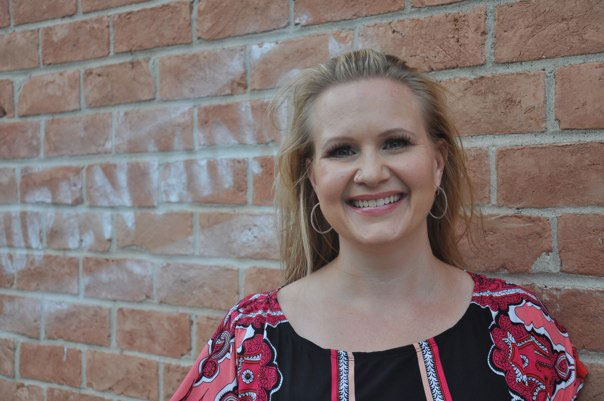 Very happy to have dating and romance coach Jenn Burton of Have Him Your Way on the blog today.
Jenn helps single women rethink dating and romance through one-on-one coaching, her virtual training program: The Courage Kit, and E-rresistibility: a guide to dating online.
---
Here's Jenn …
Tell us about your business. What do you do, who do you love to serve?
I help women create extraordinary dating adventures that lead to lifelong romance. These days I am working with strong career oriented kick ass SINGLE ONLY women who are ready to give up what's not working for them and find the paradigm shift that will rock her world, and his.
---
Why did you decide to focus on dating?
Essentially dating is your soul's prep time for attracting a mate and learning to create lifelong romance. It's not a necessary evil as so many women like to think of it. It is however an amazing opportunity. An opportunity to work out her kinks, define what she wants, and learn the secrets of igniting romance anytime she likes. Too many women believe that just meeting their man is the answer. Truthfully, it's just the beginning.
---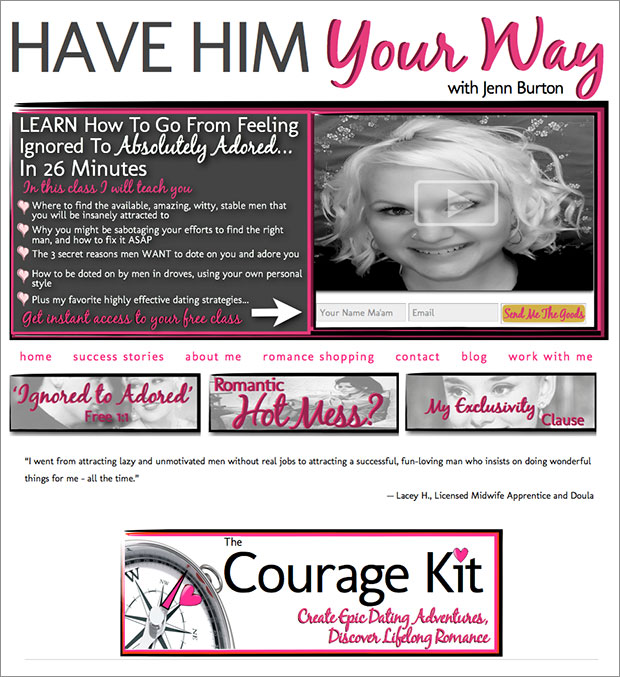 ---
What's the biggest myth women believe about dating and romance?
There are a few:
Dating: that it is a necessary evil instead of an amazing opportunity.
Romance: That romance is static and that it should be great all the time with little creative input from her.
Men: That most of them don't want a loving committed relationship.
Or my favorite myth: that you have to rock his world in the bedroom to be memorable to him.
---
When women work with you to help them create epic dating adventures what can they expect? What makes your approach to dating and romance different?
I teach women to become comfortable with managing male attention, which in turns gives her the ability to let loose and not hyper focus on making it down the aisle with one man in particular.
I also show her how to explore what she really wants in a relationship before jumping into it. Specifically, my gals know how truly precious her exclusivity is and that settling is not an option. Women who work with me learn my method of Mantourage Dating which is dating more than one man at once.
This method of dating is a beautiful immersion into understanding her romantic potential and possibility. It also helps work out those kinks of that hard to break pattern of dating one man for several months… then doesn't work out… feeling like a failure for several months or worse obsessing over him. And then starting the cycle all over again.
Mantourage Dating helps women permanently break this cycle and fully understand their role in creating everything they want romantically. The surprising side effect is that most women get what they want way before they expect it.
---
What changes have you seen in the lives of your clients after working with you?
I am a total romance junkie… not the romance novel kind. The I can't wait to get up and read the true life romance going on with my ladies. So I am privy to the hot, the loving, and the truly magical.
For instance:
Going from no dates in 10 years to married in a  year & half.
Jetting Setting Romantic Adventures (to India, France, England, Costa Rica, etc)
Having multiple high quality men to choose from
Being asked out on 6 dates in one day
Having a millionaire playboy fall in love with her
From never married at 45 to finding the love of life in 8 weeks
And countless women ending a crappy relationship, feeling like they will never have what they want to incredible romantic adventures and relationships many including marriage.
But the biggest and my favorite is when a women I work with finally understands that she can create and inspire a man to adore her anytime she wants and over a lifetime.
---
How has the experience of coaching others to discover lifelong romance impacted your life?
Coaching actually enhances my romantic life because I get help so many women in their romantic creative process. So that over flows into mine;)
---
How has having your own business empowered you?
The coaching part has helped me improve my creativity.
The business part is a mixed bag. It definitely has helped me with my business courage. But having an online business is no easy feat. So my resilience and my endurance have improved tremendously. And I have much thicker skin than I did before. But truthfully, I don't always feel empowered by it especially when I am feeling exhausted. We business owners are some tough chicas!
---
What change do you want to bring out in the world as a result of your work?
I want to mend the romantic separation going on between men and women. Strong women don't have to give up who they are to have an incredible romantic life.
---
What did 9 year old Jenn want to be when she grew up?
LOL…. I am almost afraid to say… Mind you, I watched way too much TV on my own. Okay… I wanted to be a pregnant stripper… Oh my goodness I can't believe I am saying that aloud.
My other dream was to create an acting school for the hearing impaired. (Not sure where that came from)
---
Finish this sentence. I believe …
I believe that every woman has within her the ability to be loved, adored, cherished, and supported by a man or men she is insanely attracted to.
---
Jenn Burton is the Dating & Romance Mastermind/Romantic Fairy Godmother of HaveHimYourWay.com. After years of dysfunctional relationships, crappy dating experiences, & a failed marriage she decided to take matters in her own hands. Jenn developed a method to help women create the most incredible dating adventures while learning how to go from feeling ignored to absolutely adored by men they find insanely attractive. Now she exclusively works with single women who want it all career, success, to be loved, adored & romanced…and who are willing change up the status quo in dating. Click here to learn how to go from 'Ignored to Absolutely Adored' in 26 minutes.
---
What does an extraordinary dating adventure look like for you? Comment below!