Women Branching Out: Kimberly Riggins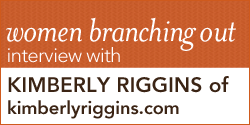 I'm so happy to have Kimberly Riggins as the Women Branching Out interviewee today.
Kimberly is a body image expert and creator of The Art of Eating Chocolate Naked, a movement that challenges women all across the world to accept and love themselves just as they are. She's the author of the book "Love Your Naked Ass." You can visit www.eatchocolatenaked.com to receive her free Mirror Mantra and Body Love Kit.
Q: Tell us about The Art of Eating Chocolate Naked. Who do you love to help, and why?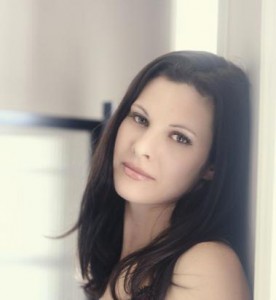 The Art of Eating Chocolate Naked is actually a metaphor. Although I do enjoy eating chocolate in the buff and often recommend this to my readers and clients because of the profound effect it has on your life, this movement is really about reigniting your senses, dropping your self-defeating behaviors and learning to accept and love yourself for who you are right NOW.
I wholeheartedly believe the path to happiness and pleasure starts with loving yourself from the inside out. I have learned, through my own personal journey, that in order to live a fulfilling life, you MUST let go of the guilt, shame and hang-ups you have around your body, food and relationships and most importantly you have to practice being present every single day.
Obviously, I am completely inspired to help women because I know what it feels like to harbor low self-esteem, crazy body image issues and dull, lifeless relationships. On the flip side, I also know what it takes to shift that completely around and fall madly in love with yourself and your life regardless if you've reached your "destination."
The truth is, as Ralph Waldo Emerson eloquently said, "Life is a journey, not a destination."
Q: You recently published your first book, Love Your Naked Ass, 80 Gentle Ways to Transform Your Life, Restore Your Serenity & Rediscover Happiness. Can you share one of your tips from the book with us?
Wow. I have so many tips I would love to share. In fact, if anyone would like to get a taste of Love Your Naked Ass, you can get your hands on a FREE excerpt by going here.
One of my favorite tips that I share in my book that has absolutely changed the course of my own life involves learning to become your very own best friend.
I think it's imperative that you learn everything about yourself first before venturing into a relationship. Become your own best friend and learn to love being in your own company before inviting anyone else in.
Spend one on one time getting to know YOU. What are your likes, dislikes, personal and professional boundaries, values? What makes you angry, excited, and happy? What turns you on? Turns you off? What gives you pleasure? Brings you joy?
I know this may sound strange but if you can't meet your own needs and wants, and you do not have clear boundaries, you will never find true happiness. You will always be looking for others to provide you with that "missing piece" when truthfully; it's not their job. It's yours!
So how do you become your own best friend? The fastest, most effective to do this is to schedule what I call, "ME Dates."
A "Me Date" is when you take yourself out and participate in something enjoyable without having to rely on another to keep you company.
Take yourself out to that 5-star restaurant you have been dying to try, take in that movie you desperately have been yearning to see, go to that little coffee shop and enjoy a latte (guilt free) while devouring your favorite book or magazine, hike in the park while inhaling nature, or grab your bike and helmet and hit the trails.
Honestly, it's irrelevant what you choose to do. The point is to get to know yourself, like you would your best friend. Love her. Talk to her. And most importantly, learn to have to fun with her.
Q: Tell us about the process of writing and publishing your book. What do you wish you'd know when you started? What did you learn about yourself in the process?
Writing and publishing a book is definitely an adventure. There are so many different avenues you can take to get your work into print.
There are also so many questions you have to ask yourself before you take on this kind of endeavor.
Why are you writing this? Who are you writing this for? What is your goal? Do you want the sole rights to your book? Do you want to self-publish or look for a publishing house? Do you want an agent? An editor? A designer? Help with formatting? Do you want it in hardback? Paperback? Kindle? Do you have a time frame in mind? How will you market it? Who will you market it to? The list questions could go on and on.
I honestly didn't have any expectations going into this. I knew there would be a huge learning curve and I was up for challenge. I actually found the whole process fascinating.
This entire experience taught me that I have the power to do anything. If there is a will, there is always a way.
Q: You have an ongoing interview series with so many awesome women called "Love Your Naked Ass Warrior Series." What have you learned from those interviews?
The Love Your Naked Ass Warrior Series features fierce female luminaries who dare to defy the social norm in unconventional ways in order to inspire and empower the world one woman at a time.
Honestly, the series has exceeded my own expectations. Initially, my goal was to provide content for my readers, as well as to help these amazing women spread their message. But it has definitely morphed into so much more…
Listening to their stories, reading their books, taking some of their programs has helped me figure out who I want to be and has definitely played a part in how I show up in the world.
Q: Who are your business role models? and why?
My business role models are women entrepreneurs who run their business around their children. I am in awe what they can accomplish while raising a family. They inspire me and give me the strength to keep moving forward. (I currently am building my business around a 3 year old…not an easy feat.)
Q: As a mom how do you think women can best model self-acceptance and healthy body images for their daughters (and sons)?
Learning to truly love yourself is the best gift and lesson you can give/teach your children. Your children watch your every move so be conscious how you treat yourself.
Q: When you are eating chocolate naked (or not), what are your favorites?
Lately I have been devouring homemade chocolate. Yes, I make my own.
The last batch consisted of raw coconut butter, raw cacao powder, pure maple syrup, dash of sea salt, hemp seeds, raw golden berries and chopped hazelnuts.
If I am buying chocolate, my current favorites include Sweet Riot, Dagoba, Endangered Species, NewTree, Good Cacao Superfood Chocolate, and Vosges.
Kimberly Riggins is a body image expert, negative self-talk warrior and a transformational catalyst who inspires women to let go of their body hang-ups and kick their inner critical bitch to the curb. She is the author of the book, "Love Your Naked Ass" and the creator of The Art of Eating Chocolate Naked, a movement that challenges women all across the world to accept and love themselves just as they are. Her primary mission: To have each and every woman she meets be able to look at themselves in the mirror and smile back at what they see. You can find her on Facebook, Twitter and Pinterest.
Leave a comment for Kimberly below and share this post with someone who could benefit from Kimberly's message today. Thanks!