Women Branching Out: Megan Flatt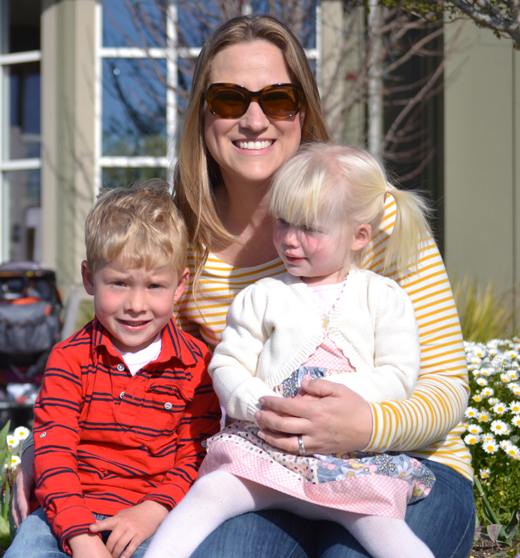 Welcome Megan!
Very happy to welcome Mama Strategist and a wellness expert Megan Flatt to the Women Branching Out interview series.
She helps moms find their groove, claim the time to do it, and create the energy to support their own Mama Revival.
Megan is the creator of Nap It Out, a 14-day online productivity and time management course for busy moms. The next round of Nap It Out begins April 22nd.
Win a spot in Nap It Out!
You can sign up for a free Mama Revival Moment Worksheet (just for Jewels Branch readers). In the worksheet look for details on how to win a free spot in Nap It Out! Entries must be received by 12 noon (Pacific time) on Wednesday, April 17th. Winner will be announced later that day.
– – – – – –
Here's Megan …
Tell us about you and your business. Who do you love to serve and why? Where in the world are you located?
I'm Megan and I serve moms who are ready to embrace their own Mama Revival. I help moms find their "Mama Groove" and then once they do, I help them claim the time and create the energy they need to stay there.
I live with my amazing kids, Brady (5) and Rylan (2), and my awesome husband in a little town just north of the Golden Gate Bridge in the San Francisco Bay Area.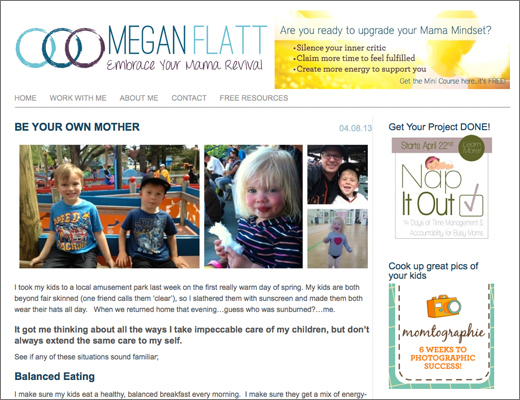 What's a mama revival and why do moms (and the world) need one?
A Mama Revival is all about a return to consciousness, renewed attention to ourselves and chance to flourish again. It's not about wanting anything different from our job as a mom, it's about wanting more.
We bring these little bundles home and they are completely dependent on us. We completely lose ourselves in their world and in caring for them. Then things start to level out and we are not sure what to do next. We want to be present for our families, but we want to take care of our selves too. We had hobbies and interested before kids, but we are not sure if they still fit our new life, or if we even want them too. A Mama Revival is all about figuring out that next step.

Your Revival doesn't have to be a huge thing. Your Mama Revival could be to read more, or try new recipes or learn to play the harmonica! Anything that makes you feel more fulfilled as a person, therefore grounds you in being a mom.
– – – – – –
What has your personal mama revival looked like, so far? What little changes have you embraced to get into your mama groove?
Returning to entrepreneurship has been my Mama Revival, but it has been a four-and-a-half year journey. All my life I have been an entrepreneur of some sort, from babysitting to being a National Fitness Presenter.
But I had thought once I had kids, I would want to be home with them. After my son was born, finances dictated I go back to work. I got a job working for someone else, because I thought it would be easier with a baby. It was … but I was unhappy. I thought I was unhappy because I wanted to be home with my kids full time. But my Revival started when I realized I wanted my kids to be my greatest accomplishment, but they wouldn't be my only accomplishment.
– – – – – –
How has having your own business empowered you?
When I made the realization that my unhappiness was not because I was working, but because I wasn't working for myself…it was like fireworks went off. It was such a huge ah-ha moment for me. My business is my journey to self-fulfillment. Every time I sit down at my computer to write a blog post or email with a client, I am taking care of myself too. I am fulfilling my passion by helping other moms embrace theirs.

I am creating my own destiny and taking care of my family in the process. I can work on my dreams, and then spend the day at the zoo or the beach with my kids too. It really is the best of both worlds…which is what never realized I wanted all along.
– – – – – –
You've been a pre- and postnatal fitness expert and personal trainer for 20 years. How has this experience influenced your online business?
My whole career I knew working with moms was my passion and taking care of moms would lead to happier families. I started my career framing 'taking care of mom' by only her fitness endeavors. After working with thousands of moms and becoming a mom myself, I realized there are SO many ways moms need to be supported beyond fitness.
I looked back over my years of working with clients and realized the really good stuff was happening between the bicep curls. The real 'mama care taking' was happening with everything else we talked about during our training sessions. I am still a huge advocate of exercise and nutrition based self-care, especially during pregnancy, but I knew I was meant to serve moms on a much broader level.
– – – – – –
Being a mom can bring out such a strong inner critic (mommy guilt). How do you help moms start to silence this critic and move forward?
Oh … mommy guilt is such a tricky lady! She comes up over and over again and in many different ways. She might tell you that you are not doing some aspect of parenting 'right' or that pursuing a personal passion is selfish and will take away time from your family. I am not sure mommy guilt ever goes away, I know it hasn't for me, but I think it is all about managing it.
I have moms write down a "Mama Mantra" … basically taking their "I'm not doing this right" worry and turning it into a mantra like "I am the perfect mom for my family."
For me, scheduling has had a huge impact eliminating guilt I feel about the time I spend on the things that are important to me. I don't feel guilty about taking time for myself on Tuesdays, because I have planned Wednesday to be a kids and mama day.

Tell us about Nap it Out. What is it and why did you create it?
I have always been someone who keeps many plates spinning at one time. After I had my second child however, I felt like too many plates were hitting the ground too often. I have studied time management strategies and LOVE lists and calendars, but I felt like the information all the gurus were teaching didn't fit my mommy lifestyle.
I created Nap It Out after I found myself overwhelmed and sobbing in my driveway. I knew I had so much to offer this world, and my family, but I had to figure out a better way to manage my time and get things done as a busy, hands-on mom. It worked! It worked so well I had to share it with my mama friends and it worked for them too. I knew The Nap It Out system could help so many moms whether their project was cleaning out their basement or writing a book proposal. Moms need a system and support, and Nap It Out offers both.
– – – – – –
Finish this sentence. I believe…
… moms can give their children the world without giving up their own.
– – – – – –
Megan Flatt is a Mama Strategist and a wellness expert. She helps moms find their groove, claim the time to do it, and create the energy to support their own Mama Revival. She is the creator of Nap It Out, a 14-day online productivity and time management course for busy moms. The next round of Nap It Out begins April 22nd. Megan has created a special Mama Revival Moment Worksheet just for Jewels Branch readers, you can access it by clicking here (as well as a chance to win a free spot in Nap It Out). You can catch up with her on her website, Facebook, and Twitter.
If you're a mama (or not) what do you love to do to help yourself feel fulfilled and grounded? Comment below!
– – – – – –