Women Branching Out: Mindy Crary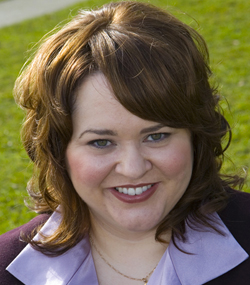 So happy to have Mindy Crary of Creative Money on the blog today.
Mindy is a financial coach. Her site provides a ton of super practical, heart-centered, personal, and funny money advice. Read 5 Ways that T-Rex and Yoga Eliminate Money Angst, for example.
Her 7-week program, Conscious Money, starts April 9th. You can learn more about it here.
Here's Mindy …
Tell us about Creative Money. What do you do? Who do you love to help?
Creative Money is my financial coaching practice where I help people with the practical, mental, emotional, and spiritual aspects of their money. This might be as simple as helping someone get out of debt (I know, I am the only one who thinks that is simple!) to more complex issues, like helping someone see how her thinking — not just around money, around everything — affects her current level of financial success.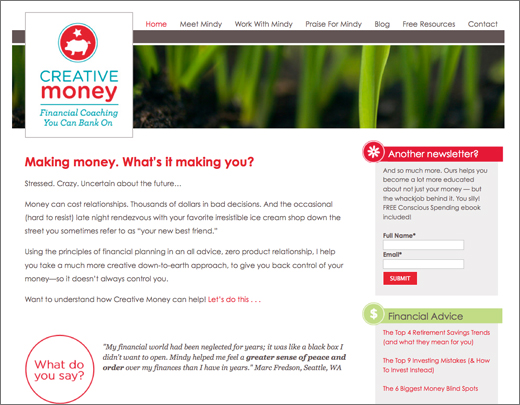 What experiences have shaped your approach to financial coaching?
I started my career in the traditional financial services industry, and after a few years I could see that I thought differently than my colleagues — that advice and product should be separate, and that we weren't there to make people more afraid of their money. It was tough to leave that security that I had built for myself, but by then I knew that I needed to find a different way. That decision led to several strange financial experiences — like the buyer of my practice deciding he wasn't going to pay me, just take my practice (which is crazy) — that really forced me to become completely conscious about how I thought about money and decide how I wanted it to interact in my life.
– – – – – – –
What are some of the biggest myths about money and financial planning that you help your clients bust? 
"Perfect" seems to be the biggest myth. I think there are a lot of people out there waiting to pay off debt, or reach a certain level of income to work with someone like me. But perfect doesn't exist. You have to start imperfectly.
I also think it's a myth that comparison is productive. People look around and assume that their financial lives don't measure up. This is shaming, and once you start to feel shame about your financial life, it's really hard to move forward to create your best financial reality.
– – – – – – –
What do you love most about working with small businesses and entrepreneurs?
I love the possibility. Just recently I met with someone who obviously needed to double her rates, and I inspired her to do that by helping her think differently! How much is her life going to change by helping her do that?!
I really love all aspects of business; I love to understand how entrepreneurs decide which market to serve, what their pricing strategy is, their growth strategies, etc. I have a masters in business, so it's a little bit of my MBA-geekiness that loves listening to an entrepreneur talk about production processes, organizational leadership, product line expansion, etc. We all tend to focus on marketing, but a good business is the sum of all its parts.
– – – – – – –
How has running your own business empowered you?
I've been working for myself since 1998, and what I think has been the most empowering thing is realizing that there is no such thing as failure. During that time, my business changed and evolved, and each time I made a choice to stop offering something, it felt scary. Just by virtue of NOT QUITTING — even when things got really tough — I have created a life where I can have and do whatever I want. I am no longer afraid to let things go when it's time to move onto new ideas.
– – – – – – –
What did 7-year-old Mindy says she wanted to be when she grew up?
A cake decorator, isn't that funny? My mom used to tease me about that all the time. The first one I personally remember is wanting to be a veterinarian because I love animals so much. Even though I feel like I am on a clear life path, I like to play a game I call What Would You Be If You Had To Go Into Witness Protection? I think being an aesthetician would be fun.
– – – – – – –
Finish this sentence. I believe…
I believe we can live in world where money doesn't have to be a struggle, and where it's a source of stability in our lives, instead of something we have to stabilize.
– – – – – – –
Is there anything else you'd like us to know?
The amount of financial success in my life has been tied directly to my personal and spiritual growth. It's something I discussed in a free call I did recently (for a program I offer starting April 9th), and more than anything, I believe this connection has the power to change your life, IF you're willing to take the growth. Saying yes is the first step.
– – – – – – –
Mindy Crary (MBA, CFP® practitioner and financial coach) helps you become a lot more educated (never inundated) about not just your money — but the whackjob behind it. Mindy helps both your money AND you succeed, bridging the gap between the energetic, spiritual and practical financial services industry, but doing it with a creative twist. Go to Creative Money to get access to free call recordings, ebooks and video trainings. For information on the Conscious Money program starting April 9th, click here. You can find Mindy on Facebook, Twitter, Pinterest, and LinkedIn.
Comment below: How are your thoughts impacting your financial picture? What shifts could you make to change your financial course?