Women Branching Out: Sally Hope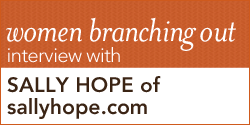 Today I'm thrilled to feature a Q and A interview with love and life coach Sally Hope.
Last year Sally toured the U.S. in an RV as part of Girls Gone Moto (GGM) , coaching and spreading love with random acts of kindness.
Enjoy getting to know Sally, and her gunslinging, rockstar ways, and be sure to connect up with Girls Gone Moto's Facebook page for details on a free call on Tuesday, February 21 and to follow their adventures this year.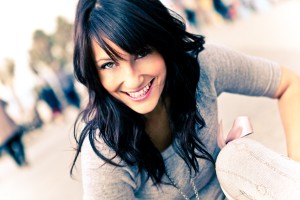 Q: Tell us about your coaching practice. Who do you love to help and why?
My coaching practice is full of amazing women doing amazing things (and some REALLY cool dudes). People that don't follow the norm.  Entrepreneurs, small business owners, rebels, movers and shakers, lovers, and risk-takers.
I tend to attract the people that want a "thing" (a more successful business, a mobile lifestyle, a better relationship, etc) but what they're actually searching for is how to become the kind of person they need to be in order to have that "thing." 
Which usually turns into a lot of talking about how to get through their fears. Why do I do this?
I absolutely love inspiring people to live the kind of lives they want to be living. To realize they can create their own happiness. To know that no matter what they've learned or what other people have told them, they can achieve their dream lives. To value their ideal life more than their fears.
I love the moment when someone starts believing that they can have what they want, and their possibilities are endless. I feel like it's an honor to be able to be with someone during those moments.
Q: We know you really are a rockstar, what other jobs/careers have you had?
Aww…well thank you my dear. Before coaching, I was a touring musician/crossword puzzle writer.  I bet you didn't know those two things could go together! 🙂 I've also been a nanny, bartender, denim specialist at a boutique and worked PR.  I've never been very traditional in my work.  
I've always created jobs where I had a lot of flexibility and could have a mobile lifestyle. Which is why it's not surprising to me that I chose coaching!  
Q: What inspired Girls Gone Moto?
Honestly, at first it was simply a personal lifestyle choice.  Natalie (my GGM partner in crime) and I were living in the same city, with no real ties to anything, and both had jobs that are mobile. Last year was a time of experimentation and exploration and we started to want to try out different kinds of lifestyles. In a spontaneous turn of events, we decided to move to Costa Rica to see if we could (and would like) the travel/work lifestyle and what we found was not only did it work, but that it was absolutely fulfilling and fun and easy and inspiring to people. We got to live in a beautiful and tropical place, going to to beach, living in the jungle and still run our businesses successfully as though we were in an apartment in a so-so city. That inspired us, and we wanted to keep it going.
We loved our working and living/traveling together dynamic and we knew we wanted to continue and build something with the two of us. So when we got home, we decided to put all our stuff in storage and get in RV.  We had no real plan. We just knew we had five weeks. So we started driving and let our intuition guide us. And what we found while we were out was that we'd meet people everywhere that were really inspired by our story: Two young, successful girls with their own businesses traveling around and living this whimsical life of freedom, full of amazing experiences.
So on that trip we decided we wanted to go out again, with a more pointed purpose…to inspire as many people as we possibly can to live their most ideal lives, and spread kindness to complete strangers, as a way to pay-it-forward.  We knew that part of this impact was through videos, so we got an amazing videographer on board, and thus Girls Gone Moto was born.  
Q: What was the biggest challenge of driving across the US?
There were a lot of challenges, but I think for me, it was having to manage all the personal lessons that showed up along the way, under really stressful situations. We had extreme weather, lots of technical difficulties, a breaking-down RV, a shooting schedule, our own businesses to run, our new business (GGM) to manage, volunteering opportunities to schedule, Random Acts of Kindness to do, finding clients to coach on camera, speaking opportunities to filter and set up, long drives to be had, and on top of that, we're people.  Three of us and a dog all in one very small space, having to get along and make sure that we're all feeling our best so that we can keep going.  
I feel like I came home a different person.  Stronger.  More capable.  
Q: What is your favorite aspect of running your own business?
The freedom!! I make my own schedule so I spend my time exactly how I want to spend my time.  Also, everything is done exactly how I want it to be done.  No one to answer to.  
Q: I love that you are completely Sally 24/7 (guns, guitars, cowboy hats, Costa Rica, unwavering support of your clients/friends) what advice do you have for women just starting out in their online businesses about putting their "real" selves out for everyone to see?
I LOVE this question because I struggled with this a lot in the beginning of my business. At first, I thought I needed to be 'professional" (whatever that means) in order to be taken seriously as a young coach. I thought I needed to tone down all those things that make me unique. I remember I even went into my first class of coaching school having straight-ironed my hair and wearing this super conservative (for me) outfit. The more time went on, the more I realized that the more ME I was, the better my business did. This day and age, people don't really buy services. They buy YOU. They hire you because they like YOU.  
I mean, what else sets you apart from the billions of other people in your same profession?  It's that you're you. So the more you, you are from the beginning, the better. You have something unique that no one else in the world has. Your experiences, stories, passions, ideas, perspectives, thoughts, etc. Don't hide them. They're why I'm going to hire you.
Q: Who are your business role models and why?
I love Gwen Stefani.  I think she very flawlessly walks the line between complete badass business girl with her band, clothing line, personal life, and total sweet heart/down to earth-ness. She is the kinda girl that hangs with the guys, but also gets her nails done and wears lipstick. She sings about real life situations in a very honest and real way. And she is always pushing the envelop with her persona. She is always HER. I also have a lot of respect for Marie Forleo. I love that she teaches extremely valuable information to people in a way that her audience absolutely resonates with. She's sassy, fun, smart, and absolutely KILLER at marketing. One other girl I love is Ashley Ambirge. She's has a potty mouth and a stellar work ethic. She's been running her successful business from the beach for years. She is one to watch out for. This girl is big time.
 
Q: What did 7 year old Sally say she wanted to be when she grew up?
A ROCKSTAR!! No joke.  I even designed my own outfits on paper dolls back then and imagined myself on stage. 
Q: What's next for you?  What wildest dreams are you taking on next?
Such a great question!!  This year I'm doing a re-vamp of Sallyhope.com, that will include an advice column, a brand new bucket list to complete (CANNOT WAIT!!), some books, and a TON of collaboration with really amazing people doing really amazing things.  More guns. More writing. More dancing. More videos. More specific help for readers.
GGM is also going to be collaborating with some amazing people to put on an epically fun get-together/camping trip/live event that will combine all the best from your most fond memories of summer camp, your favorite self-help live event, and your most helpful business event (all in one!). Think RHH Live meets Summer Camp. It will be Labor Day Weekend and is called Camp Renegades. So keep an eye out.  I will be making announcements in the next couple months.  
Q: Is there anything else you'd like us to know about rocking our own lives?
Yes. Absolutely. If you can dream it, you can have it. Seriously. I know it's cheesy but it's true.
The best thing you can possibly do for yourself is to BELIEVE that you can have the life you want. Imagine it, in as much detail as possible. Think about it as though you already have it. Then…take risks. Do the scary thing. Do the exciting thing. Start out small, taking one step at a time, and then ramp it up.
That will happen naturally the more you step out of your comfort zone. And mostly, be kind to yourself. Don't expect to have everything all figured out right now. Don't let the fact that you don't, stop you from moving forward. You can do it.  
Sally Hope is a Blogger/Love and Life Coach who loves hot-pink lipstick, guns, crosswords and cowboys. A former Rockstar, she has taken her show from the stage to the road by traveling around the US in an RV while coaching her clients and inspiring people to live their own Rockstar Lifestyles. Her latest obsessions include traveling, country swing dancing, motorcycles, LOVE, chips and salsa, and adventuring. Whatever it is you are wanting in your life, she will help you get there faster, with a good butt kicking, a wink, and a smile. You can find her at her website or her Facebook page, Twitter, or getting ridiculous on her YouTube channel"
Leave a comment below to share with Sally & the rest of the world how you are showing up authentically in your business and rocking your life in 2012.