Women Branching Out: Sammi Johnson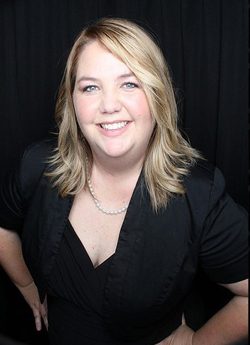 I'm very happy to have Sammi Johnson of Sammi Is Social here on the blog today as part of the Women Branching Out interview series.
Sammi rocks social media with a fun, just do it attitude and straight forward advice for both online entrepreneurs and brick-and-mortar businesses.
Her new Kickstart service helps businesses grow their online presences with custom social media content.
Here's Sammi…
Tell me about Sammi Is Social. Who do you love to help and why?
Sammi is Social is about teaching, inspiring and encouraging. I love to support people and see that little light bulb go off when I teach an entrepreneur something new. I mostly work with women who have an amazing message, and the drive to get it out in the world, but they just aren't sure what steps to take. I have an uncanny ability to come up with marketing strategies that aren't always mainstream. 
– – – – – – –
When did you first start to recognize the impact social media could play in your own business?
Years ago, about six or seven, I used Myspace to blog and post pictures for family and friends. Then I became the social events director for a singles group at my church. Immediately I put up a website but I quickly learned I had to direct my audience to the website pretty frequently or they would forget to check out the upcoming events. I started using a newsletter and yahoo groups to keep everyone involved and to get feedback — and a crazy seed was planted inside me for all things social media!
– – – – – – –
I've seen you vlog in pink curlers and talk about social media while putting your makeup on and you always seem so at ease. What advice do you have for women just starting out in their online businesses about putting their "real" selves out  in the world for everyone to see?
I was not born with that self-conscious gene I see so many women have. I love to be on camera to share my message and I'm always trying to think of ways I can relate to the women I'm trying to reach. Sometimes a crazy marketing stunt can be just what you need to help your message reach more people.
If you really have trouble with being on camera I always tell my clients: Here's the deal! (I say that a lot!) People in your life see you all the time. This is not a big deal – it's only new to you! No one else sees that weird zit on your forehead or that your right eye is bigger than your left. If you are really passionate about your business and helping as many people as possible – use video.  
– – – – – – –
What is the biggest stumbling block you see women having with incorporating social media easily into their businesses?
When it comes to social media I see a lot of women sweating the small stuff. They worry about saying the wrong thing at the wrong time and somehow 'messing up' – although there are some general guidelines with social media – it all moves VERY fast and one post or tweet is not going to make or break your biz. Keep learning from other people in your industry (just by checking out their social media) and ASK your clients! They will tell you exactly what they need from you. Maybe they love inspirational quotes or tutorials or contests. Don't guess – ask!
– – – – – – –
What is your favorite social media management tool?
I'm a huge huge fan of Hootsuite! I use it to bulk schedule promotions and my friends promotions – it's been a huge time saver and stress reliever. I always know I can stay offline for a day or so and I still have messages scheduled to reach my peeps! 
– – – – – – –
Where do you tell social media newbies to start first? Facebook, Twitter, LinkedIn, Pinterest?
I'm a huge Twitter fan but I know it can be super overwhelming and confusing to a lot of people. Most everyone already has a personal Facebook account and generally know what's going on over there. So start with that! You can even start by telling friends and family about your biz if you don't want to open a business page. Don't stress about content or wording or timing – just tell people – hey I am selling sports memorabilia – anyone interested! 
– – – – – – –
What is your favorite aspect of your running your own business?
I love, love, love being home when my kids are home. I can meet them for lunch at school and drive them to the bus stop when it's raining. The whole reason I work from home is so that I am home. It's unbelievable to have the freedom to set my own schedule.
– – – – – – –
Who are your business role models and why?
My most recent inspirational business role model is Leonie Dawson. I've only just started following her a few months ago but she has helped me so much with encouraging me to build my own business model and not just copying someone else.  She also seems to have started working from home for many of the same reasons as me – freedom to raise my kids and be there for them when they need me – not just when I can schedule time off work.
– – – – – – –
What did 7 year old Sammi say she wanted to be when she grew up?
I always said I wanted to be a school teacher. I would make my sister play "school" all the time. She was super smart by the time I was finished with her but I think I was pretty bossy which she didn't like. I also remember laying in my bed at night fantasizing that there was a secret door in my closet that led to an underground office where I ran a company. Seriously? What kid wants to sit in an office? I think from a really early age I knew I would run my own business – it just took me a few decades to have the guts. 
– – – – – – –
Is there anything else you've like us to know about kickstarting social media for our businesses?
The best thing I'm finding out by working with so many women entrepreneurs – is that they just need a plan. I've been writing 30 days of content for the past month or so, and the relief and excitement about receiving pre-written Facebook posts is unbelievable! Once they see it all, the whole marketing thing seems a lot less cumbersome, and maybe a little bit FUN! Although I would be more than happy to help you with taking that first step, it really is something you can do on your own by creating a spreadsheet and just filling it in with links to your blog posts, quotes from your own writing or someone you find inspirational, links to your products, and questions to your audience. You can do this, start creating your biz buzz now!
– – – – – – –
Sammi Johnson is in love with mind maps, launching, and strategizing social media coups. She lives in Middle America with her three kids but travels all the time. When she's not working to help entrepreneurs grow their biz, you can find her with a plate of Mexican food or at the soccer fields screaming her head off! Right now she is creating custom social media content so head on over to Kickstart! You can find her at Sammi Is Social, on Twitter, and Facebook.