Women Branching Out: Sarah Wagner Yost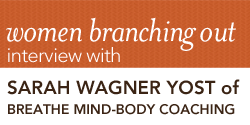 Life Coach Sarah Wagner Yost talks about working and thriving in your heart-based business alongside all kinds of shiny objects and distractions.
Shiny Object Project School
Starts October 20, 2011
Sarah's Shiny Object Project School is an online course with coaching options to help you quit running in circles and get your stuff done. You can take the course by yourself or with a partner and add on supplemental email and/or one-on-one coaching. Details here.
Shiny Object School
Shiny Object School offers free resources including: Shiny Object Syndrome (S.O.S) Rescue Mission, Accountability Day, and Call Your Life Coach to help you finishing projects and ship them.
Sarah Wagner Yost is a Martha Beck Certified Life Coach. She was a massage therapist for 13 years, is a Shambhava School of Yoga certified yoga and meditation teacher.