Women Branching Out: Tania Elfersy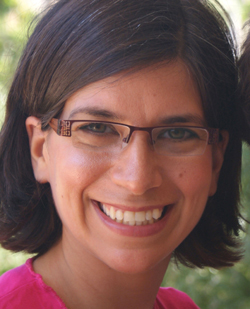 Very happy to have Tania Elfersy on the blog today!

Tania is the award-winning co-author and publisher of Purple Leaves, Red Cherries: A Gift for Mothers with Short Stories, Journal & Toolkit a gift book for new moms.
In 2010 Tania created her own publishing company Flower Cap Press and self-published the book, which has gone on to win four international book awards.

You can visit Purple Leaves, Red Cherries to watch a trailer for the book, download free chapters, and send an inspiring ecard to your favorite mom.
Welcome Tania
Tell us about your favorite part of the process of creating Purple Leaves, Red Cherries with your long-time friend Andrea Katzman.
The whole creative process was like a dream!
After six years as a stay-at-home mom, I felt very lucky to return to work and launch my self-publishing project with such a creative and supportive team.
Andrea (my co-author), Nomi Melul Ohad (the book's illustrator), the graphic designers and editors, everyone who worked on the project was a talented mom who felt emotionally connected to the book. It was a wonderful working environment – very different from the corporate environment in which I used to work, pre-motherhood.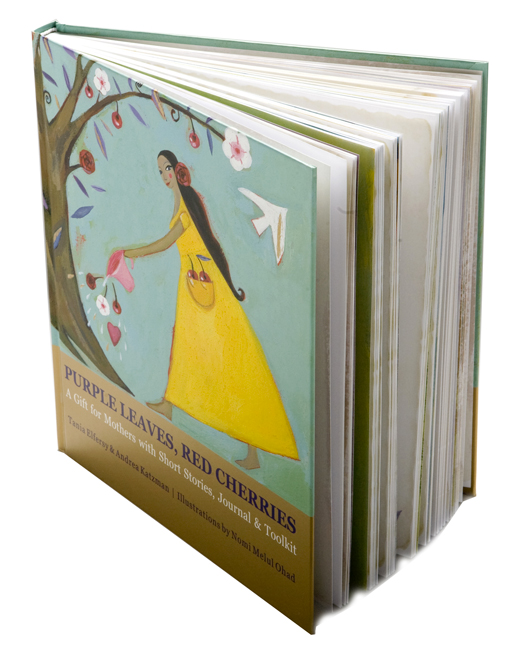 You used a collaborative approach to source many of the stories for the book. What did you learn about motherhood from all the stories that were submitted?
That motherhood is a disruptive wonder like no other on earth!
Perhaps I knew this deep down before I started working on the book, but when you bring together such a range of stories and emotions from so many women, the epic tale of motherhood spreads before you like an exquisite and very special tapestry, revealing sweet and bitter secrets.

In Purple Leaves, Red Cherries we couldn't tell every woman's story but we do offer a great view of the tapestry. We hope that when our readers look at the details, they'll realize they're not alone.
– – – – – – – – –
How did the process of self-publishing the book empower you?
Like birth for the first time, when you discover and can appreciate your body for all its magic.
I had no experience in the publishing industry and the learning curve was huge, so when I held my own book for the first time, I certainly enjoyed an "I did it" feeling.
Then when I won my first book award, that feeling intensified!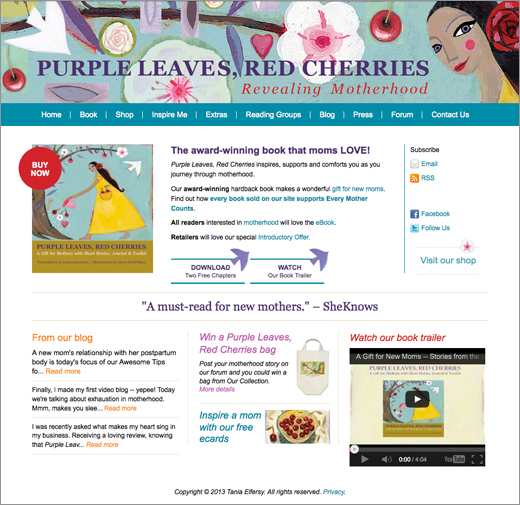 What's surprised you about becoming a self-publisher?
Just how hard, lonely and time-consuming marketing a book can be!
Even though I've won four book awards and the book has received a string of loving reviews – and I really enjoy marketing my own product – I still feel like I'm working very hard for every single sale.

I've been told by some industry experts that for a book like mine, it can take up to three years to reach a break though in the market. Luckily, I'm in for the long-run!
– – – – – – – – –
How did your experience as a mom impact the vision you had for the book?
I'll always remember that when I had my first child, I had little time for anything else apart from caring for my baby. There was so much learning, uncertainty and fatigue in those early months that it was hard for me to connect with the huge shifts occurring in my life.

From the start, my vision for the book was that it would be an inspirational tool to ease a woman's journey through early motherhood.
In order for the book to succeed, I knew I had to make it accessible to new moms by offering bite-sized food for thought. No story in the book exceeds 140 words and the self-development exercises are short and sweet.
Hopefully, each time a new mom opens the book, she'll have the time to read at least one short story.

The gift book includes journaling space for moms. Why do you think it's important for new moms to express themselves in this way?
As new moms, we spend a lot of time thinking about what's happening to our babies and what's best for them. Yet, we don't spend nearly enough time thinking about what's happening to us and what would be best for us in motherhood.

Journaling is a great way to explore these questions and reflect on the huge changes we undergo as women. It helps us clarify our thoughts, leads us to constructive action and allows us to be creative – all very uplifting activities for new moms.
– – – – – – – – –
What's next for you and Purple Leaves, Red Cherries?
I've been working on additional products and services that will support new moms. The first to launch, in the second half of this year, is Motherhood & Me, a two part workshop that uses stories from the book to create dialogue around issues of motherhood. Rachael Ellison, the coach and organizational development consultant who founded REworking Parents, worked with me to create the workshop. It offers midwives, doulas, coaches and group facilitators a structured way to help new moms in their communities.
In addition, I'm working to secure a number of foreign rights agreements that will allow the book to be published in different languages. The book has already been translated into Hebrew and will be published in Israel within a few months. It's very exciting!
– – – – – – – – –
Tania Elfersy is the co-author and publisher of the award-winning gift book for new moms, Purple Leaves, Red Cherries: A Gift for Mothers with Short Stories, Journal & Toolkit. In 2004, Tania left her career in corporate marketing to become a stay-at-home mom. Six years later, then a mother of three young children, Tania had a vision of a book for mothers that became Purple Leaves, Red Cherries. She established Flower Cap Press and self-published the book (her first). In 2012, Purple Leaves, Red Cherries won four international book awards.
Every copy of Purple Leaves, Red Cherries purchased from the book's website, allows $5 to be donated to Every Mother Counts, an organization that helps save moms lives through improved maternal health care. You can find out more about Tania and the book at Purple Leaves, Red Cherries and connect via Facebook and Twitter.
– – – – – – – – –
Tania's book helps new moms. If you're planning to write a book someday (or already in the process) who will your book help?