Women Branching Out: Victoria Prozan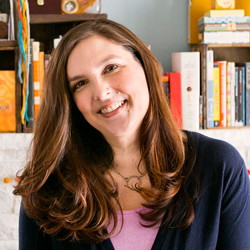 Very happy to welcome Business Storyteller Victoria Prozan to the Women Branching Out interview series.
I've been biz crushing on Victoria for about a year now, since I first heard her say, "Creativity is our superpower." Music to my ears!

Victoria uses her own creative superpowers to help entrepreneurs brand their businesses and build beautiful customer experiences.
Here's Victoria …
Tell us about you and your business. Who do you love to serve and why?
My turn-on in life is creative expression. Not simply my own, but diving into how others imagine, create, and communicate.  And to me, that is what being an entrepreneur is all about. To express our message and passion. My business focuses on two ways we can communicate our vision and value. Branding and Customer Experience.

I love to serve entrepreneurs who are in this business-building thing for the long haul. Those who understand that every day in business is an adventure that can best be measured, not only in profit, but in relationships and experiences. Ambitious women who know patience, persistence and self-acceptance are the foundation of success.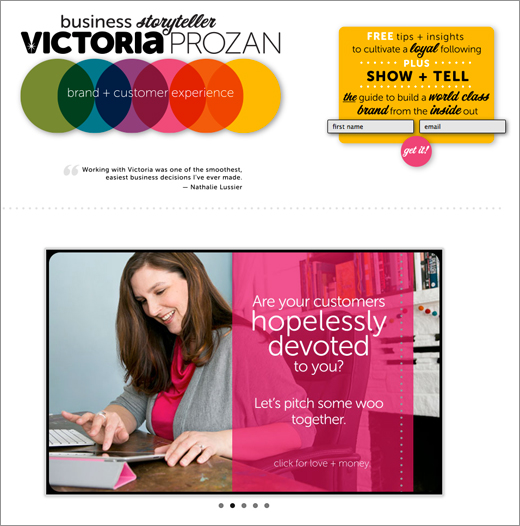 What is The Superluxe Naming Experience?
It's my unique branding process based on my own personal creative methods. It's a series of prep exercises to look at your business from both a creative and an analytical point of view. Then I use my brainstorming powers based on your homework, before we have our session. And then, when we are both ready to haul-branding-ass, we come together in a 90 minute session in which we create tons of names, tag lines and other branded language that will move your business to the next level. The goal is for you to walk away *on fire* about your business, brand and the future they will create for you.

---
What's the biggest myth about brand names, tag lines, and product names that keeps entrepreneurs spinning their wheels?
There's a lot of conventional knowledge out in cyberspace that says "yes, do this" or "no, no, no, never!" in regards to building your brand.  And while there are definitely smart practices and tried + true advice that needs to be considered, the most important part of branding is that it MUST turn you on first!
If your names, tag lines, websites, logo, copy etc. light you up every time you say, read, or introduce yourself, THAT is super powerful! There is nothing more irresistible than someone who is enthusiastic, right? So find that message, vision, raison d'être within your business, then build a brand around that! Ooh la la! 😉
One key piece of advice:
The more meaning you can pack into the fewest words, the more accessible your business becomes. Clarity is important, but over describing for fear of not getting your message across can dilute your power. Simple is harder than it looks because it means you need to edit, edit, edit. Sometimes we get overly attached to what we've created and editing it back can be painful. But when you can bring out the inner editor in yourself, your entire business will profit.
And don't think of editing just in relation to words. Everything in your brand — visuals, images, copy, tag lines — keep pruning it back, season after season. Just like the trees and bushes in your yard. Getting rid of the riffraff allows room for new growth and ideas when they come up.

---
You've helped tons of entrepreneurs name their businesses, products, and services. How does it feel when you and the client create just the right name?
Delicious! Spine tingling! But, truth be told, it's not always a lightening bolt kinda moment. We each have a different way of creating, processing and deciding.
So, I like to remind people when we do run into frustrations — an unavailable domain, words on the tip of our tongue that just don't come on demand, whatever is blocking the entrance —  to breathe deep and remember getting to the finish line is a *when*, not an *if*. Creativity is not a linear process and those loops we sometimes have to run, are just as amazing and imaginative. I'm a big believer in everything happens for a reason. Those blocks will lead you to your right branded language, without a doubt. Trust the creative process.

---
What is customer experience (CX) and why is it so important for online businesses to embrace it right alongside marketing and branding?
CX is a macro view of your business through the eyes of your customers (and potential customers). So branding is part of Customer Experience, but there's so much more.

I'm looking to start a conversation online about the importance of quality and excellence as we produce our offerings and communicate with our audiences. And when I say quality and excellence, I *do not* mean perfectionism. No ma'am!
At the heart of good CX is seeing and acknowledging your customers, every step of the way. Knowing what they need before and better than they know themselves. Anticipating how you can make your business delight them at every turn.
Commerce online is evolving. I think most of us are burnt out on more, more, more. More content, whistles and bells in info products. More weeks, modules, hoops to jump through in group coaching. Simple is the new black. Being able to hone in on exactly what we need in the moment, digest it and move on to the next focus.
Strip down to the core value and knowledge you offer and then polish the hell out of that. Make what you offer accessible, engaging and mind blowingly great! Like Seth Godin says "Be remarkable!" Customers are sacred, act accordingly.

---
What brands are great examples of customer experience done just right?
Some of my favs these days are:
Method. Never has soap made me so happy!
Chipotle. "Life is Burritoful!" is the messaging on their receipts. Such a little detail, but it sums up my love for their brand, ethics and business model.
Moo. Just got another round of business cards printed and every step was a delight.
Mailchimp.  I love that cheeky monkey and his sassy messages.
Zingerman's. A small business in Ann Arbor, Michigan that does *everything* right. Seriously. They are my CX heroes. When I visit or order online, it's like going to Disneyland. Sigh.
---
How has having your own business empowered you?
Where I once allowed others to define who I was, on a personal level, I now understand that I need to lead myself to success. I was waiting for permission to speak up and shine. And all that leads to is more waiting, doubts and frustration.
My mantra this last year has been "other people's expectations are none of my business". That is crazy liberating!
I'm more confident than I've even been. I no longer surround myself with negativity — my own or others'. I wear my ambitions proudly. I want to impact the world, in my own unique way. If someone doesn't get it, puts it down or mumbles about it behind my back, no worries. My world keeps turning.

---
If you had to pick just one book from the resource lounge to be required reading for all business ladies, what would it be?
Daniel Pink's A Whole New Mind rocked my world. Go read it now 🙂 It will give anyone lots of insights into the importance of stellar CX, in addition to tons of other important business insights. He lays out the future of business and how creativity is the key to making money. Hot stuff!

---
Finish this sentence. I believe…
I believe that we already have everything we need for success baked into who we are. Our job as entrepreneurs is to learn how to best showcase and communicate that value. Simple, but not at all easy, but we're all up for the task!

---
Victoria Prozan is a Business Storyteller who helps entrepreneurs bring an honest voice to both their brand and customer experience. When you raise the bar on your own business, offering and brand, you eliminate the competition. Strip away the whistles and bells, stop trying to keep up with the Entrepreneurial Joneses and redirect that energy to making the your quality — in every way that can be measured — stellar. You can find Victoria at her website and on Twitter, Facebook and Google+.
---
Have any mind blowing customer experiences lately? What made them so good? Share below!