Think about all the content you consume in a day: emails, blog posts, YouTube videos, Facebook status updates, Tweets, webinars, online courses, calls, TV, radio, e-books, books, magazines, and more.
Content consumption
You are a content consumer and so are your ideal clients. As content consumers we often digest information better when it is delivered in chunks and sections.
Taste Tests
We like to snack, scan, skim, and jump into the content where it looks interesting. We look for entry points, indications of where to start, and clues about where to go next. For the most part this happens so automatically that we don't even notice … unless those cues are missing.
If those entry points are missing and we're faced with a solid block of gray text, we get bored. Suddenly we've skipped through an entire blog post or e-book without processing anything and then we decide to head out to Facebook to find something tastier to snack on.
Content creation
Chances are, in the course of running your business today, you'll switch roles and instead of consuming content you'll be the creator. But before you hit publish, stop for just a few minutes and think about how you want your audience to experience your awesome content. Adding just a few tasty entry points will keep your audience moving smoothly through your content instead of snoozing.
See the difference?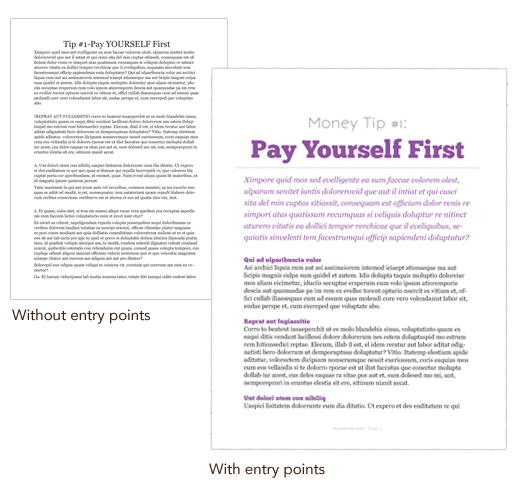 Entry points
There are many different types of entry points that you can include, depending on what format your content takes. Here are some examples of entry points you could use in an e-book.
Entry points you can use in an e-book/PDF freebie:

chapters
sections
introductory paragraphs
headings
subheadings
pull quotes
lists
charts
photos/illustrations
photo captions
sidebars
calls to action
What entry points will you include in the content you create today?
I've used a few different entry points in this blog post. Headings (h1, h2, etc.), a list, an illustration, and, below, a call to action. If I've done my job well, you've dipped in at the entry points, read all the way to here, and learned something you can put into action today.