Finding Images for Your Brand: 12 Stock Photography Sites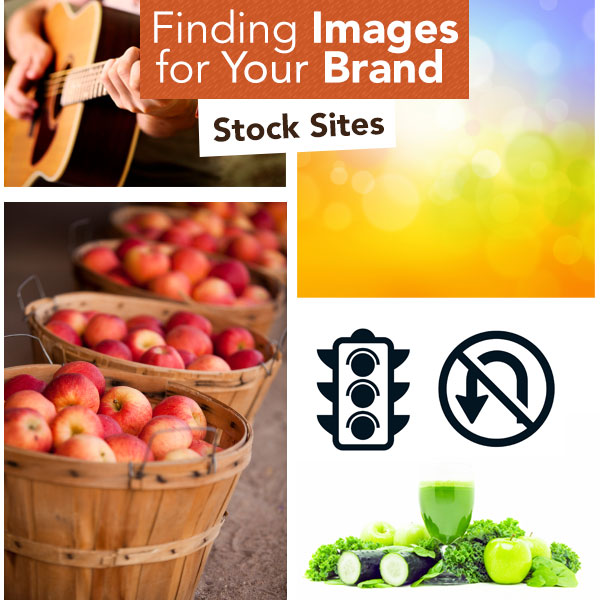 Images from istockphoto
Feeling Good About Your Brand Images
Working with images in all their forms (photos, illustrations, symbols) is one of the most enjoyable parts of building a visual brand. Who couldn't spend all day looking at beautiful photos of beach sunsets, smiling babies, and ice cream cones?

Choosing just the right photos and illustrations can play a huge role in how your brand feels to your ideal clients, and how you feel about your brand.
Over the next couple of weeks I'll be sharing some resources for finding photos and illustrations for your brand. We'll look at: paid stock photography sites, creative commons licensed images, free for commercial use sites, public domain images, and free illustration/icon sites.
Then, I'll circle back and talk about how to select the best types and styles of images for your brand. If you need help figuring out what images would best fit your brand there's a step-by-step discovery process included in Online Branding Basics.

---
Paid Stock Photography Sites
Let's start by looking at stock photography sites where you can purchase images.
Stock photo websites compile a huge inventory of photos and illustrations (and video clips) in a wide variety of styles. You can purchase rights to use those photos, illustrations, and videos in your marketing and branding materials.
Understanding Licensing
There are two main types of stock photos licenses you can purchase: royalty free and rights managed.

Royalty free images: you pay once to use the image.
Rights managed images: you pay per view or use (for example if you want to use an image on a t-shirt to sell you have to pay more).
Always check the individual licensing agreements for each stock photo service before you purchase! Each stock site has different terms of use.
Pricing and Cost Considerations
All stock photo services also have different purchasing processes and prices. Some sites offer package pricing, others offer monthly/yearly subscriptions, and others allow you to purchase images one-at-a-time.
When you're deciding where to purchase images, you'll want to consider your budget, the number of images you need, whether you need high resolution images (for print projects), and whether the site's image style matches your branding.
---
Pros and Cons of Using Stock Images
Pros of using stock images
1) Professional looking images at lower cost than hiring a professional photographer.
2) Easy to search and find images.
3) Lots of variety of images.
4) Good quality images, available in high resolution.
Cons of using stock images
1) License restrictions can be prohibitive.
2) You'll see the same images used by other brands.
3) Some stock photos have a certain look that says "stock" perfect smiling faces, for example.
---
12 Stock Sites to Explore
Shutterstock
Dreamstime
Fotolia
iStockphoto
Bigstockphoto
123RF
Can Stock Photo
Getty Images
Alamy
Veer
Corbis Images
PunchStock
Search Tip: When you're looking for the perfect image search more than one stock site to find a better selection.
---
Want more DIY design resources like these delivered to your inbox weekly? Sign up below for the Jewels Branch newsletter!