Staring at words on the screen and trying to figure out how to design them so they look as good as they do in your mind can be overwhelming and frustrating. Even veteran designers get creative blocks when faced with a page full of text.
I use these 3 steps to break through creative blocks to design interior pages that are both useful and beautiful. Give these tips a try when you're facing page design dilemma.
#1: Sketch It Out
When you put pen to paper it frees up serious brain power. Just drawing out where you want the different elements of content on the page (before you even open up a software program) will make your interior pages come together more quickly. You'll be able to clearly see what kind of design elements and specific pieces of content you need to pull it all together in a nice package.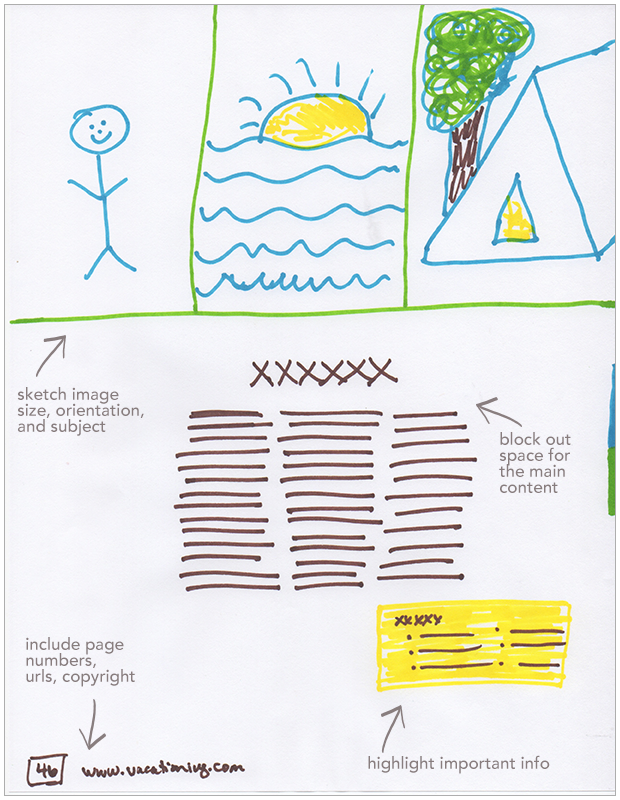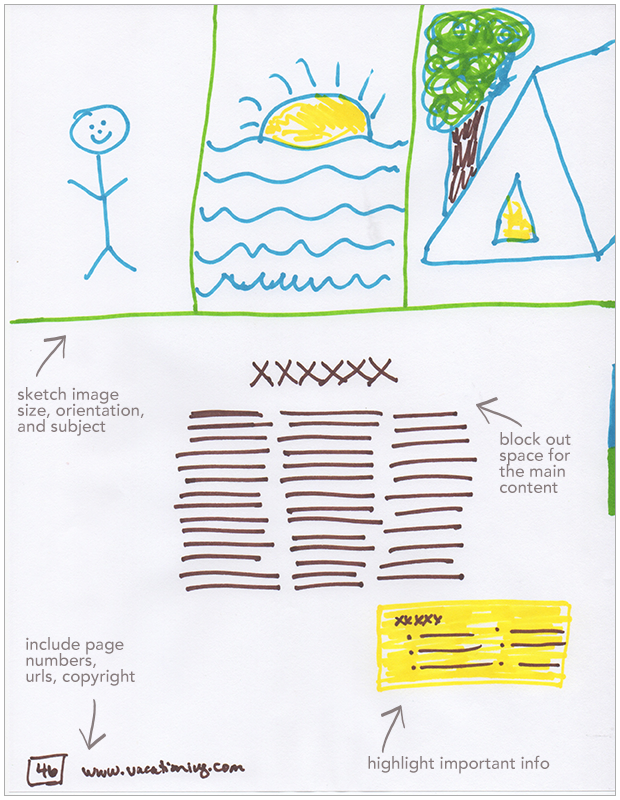 TIP: Colored markers make it fun! Also, do more than one sketch, to see how all the elements could fit together. Then scan your favorite sketch, place it in our document, and design over the top of it.
---
#2: Get inspired
It's not where you take things from—it's where you take them to. ~ Jean-Luc Godard
Start, and keep adding to, an inspiration file just for document design. Make a Pinterest board or start a folder on your computer. Collect examples of pdfs, opt-ins, magazines, flyers, catalogs, etc. that strike your fancy.
When you're designing your own documents, you can go back through your inspiration file, soak it in, and follow the creative sparks that come.
TIP: Look for inspiration on Pinterest, Behance, Designspiration, search for book design, magazine design, brochure design, flyers, etc.
---
#3 Follow a formula
There's no need to reinvent the world of document and publication design each time you start a new project. Examining how other documents are put together will help you write and structure your content, and decide what design elements you need.
If you're designing a recipe, look at how other recipes are structured in cook books and magazines. If you're designing a fashion layout, look at how that's done in your favorite magazine.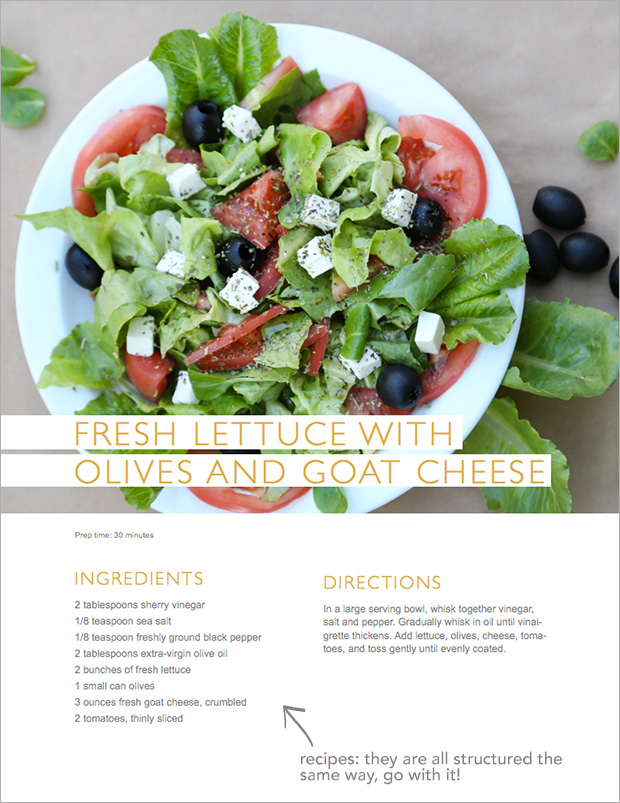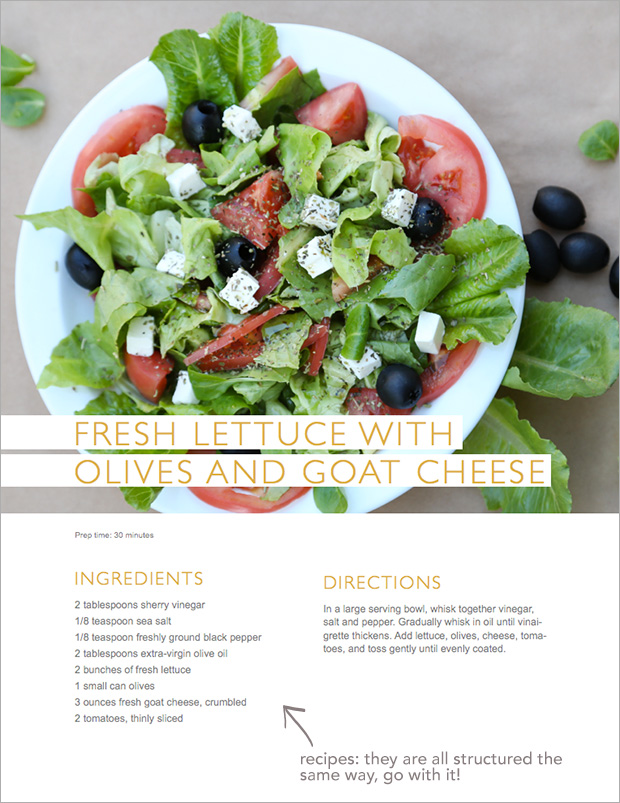 TIP: Keep it simple, deconstruct the elements that make up the content and design and use that formula to guide your own design project. For the recipe page above there are only 5 elements: a photo, recipe name, list of ingredients, directions, and prep time.
---
p.s. Feel free to laugh at my fancy drawing skills!
We've talked about how to make your e-book covers shine, now it's time to talk about designing interior pages.
Before you start designing the interior pages of your ebook, opt-in, course materials, or other documents, take a moment to answer these questions. Your answers will help you craft more cohesive, well organized, and effective documents.
#1: What elements of my overall brand style can I pull into the design?
Your interior pages should match the colors/fonts and design styles you already have in place in your branding. When your reader flips through the pages in your document they should feel like they are in your world. Keeping your documents aligned with your overall branding (or product specific branding) makes you look 100% pro.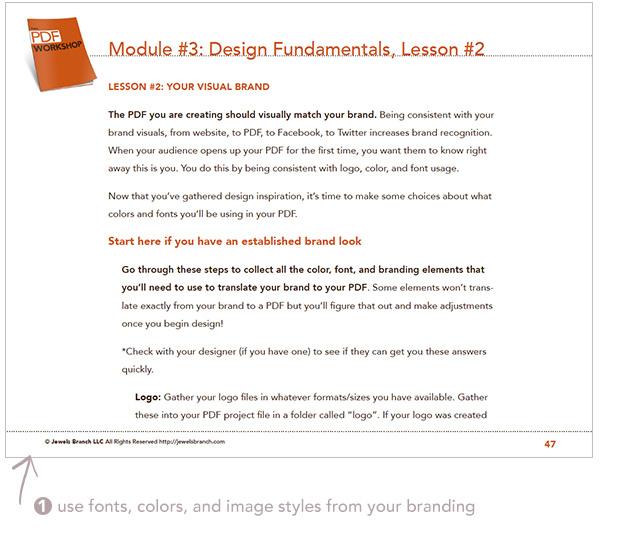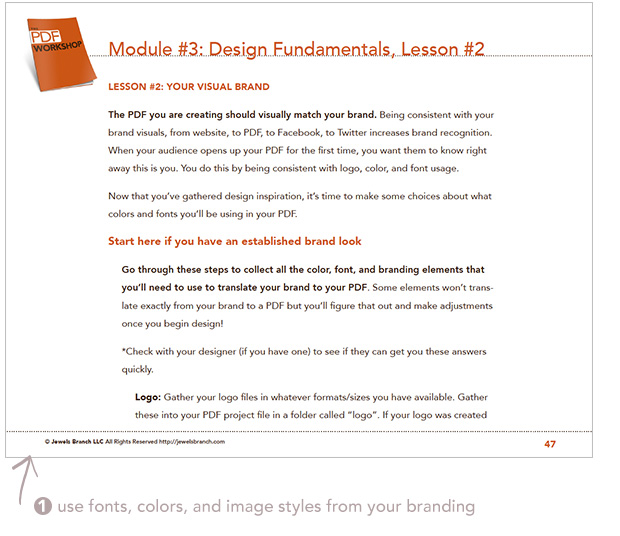 ---
#2: How do I want my readers to feel when they are interacting with this document?
Different types of documents should elicit different feelings.
Designing an e-book to introduce your audience to your way of thinking about the world? You may want them feel inspired, heard, and rejuvenated. The design might include full page photos and typography that showcases your words.
Designing a business contract or intake forms? You may want the reader to feel confidence, clarity, professionalism. The design will be less flashy and more about organization and readability.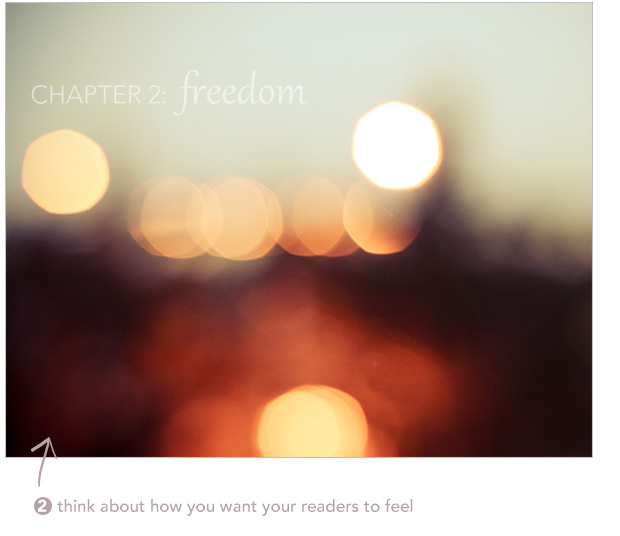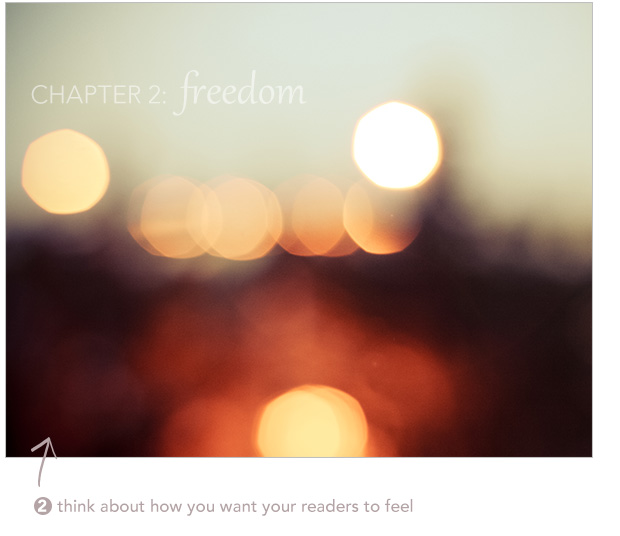 ---
#3: What is the specific content of this page?
While many of the pages of your document will have the same basic template, some pages need special treatment. Is this page a form to fill out, an infographic, an "about me" page, a chapter opener, a recipe? Consider the content of each individual page when you are designing and adjust the look of the page accordingly.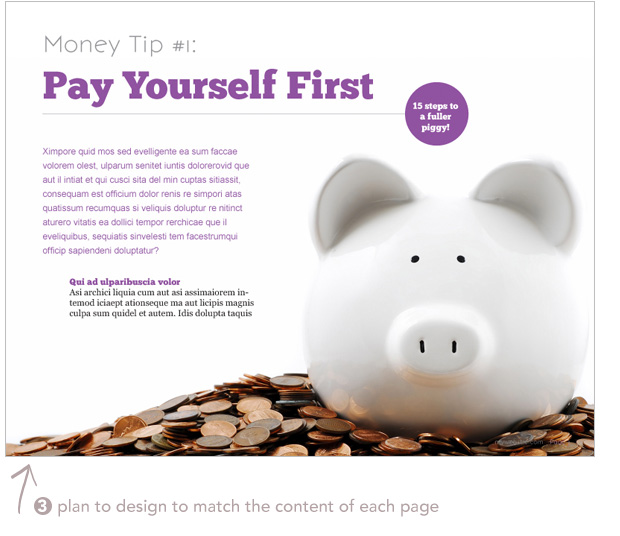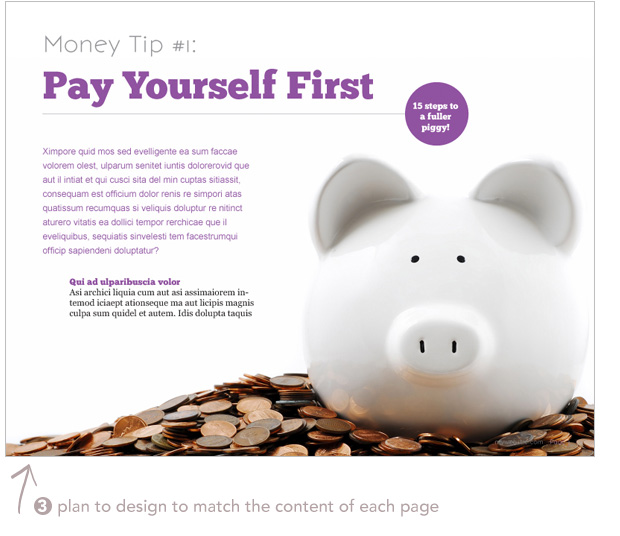 ---
#4: Is a call to action need on this page?
If there's a specific action you want the reader to take on the page then you'll want to design that page so that the call to action is 100% clear to them and stands out on the page. Most pages in a simple e-book won't have a call to action, but if you want your readers to take action, "Email me for a free consult" or for course materials "Homework Assignments" don't be shy about getting their attention.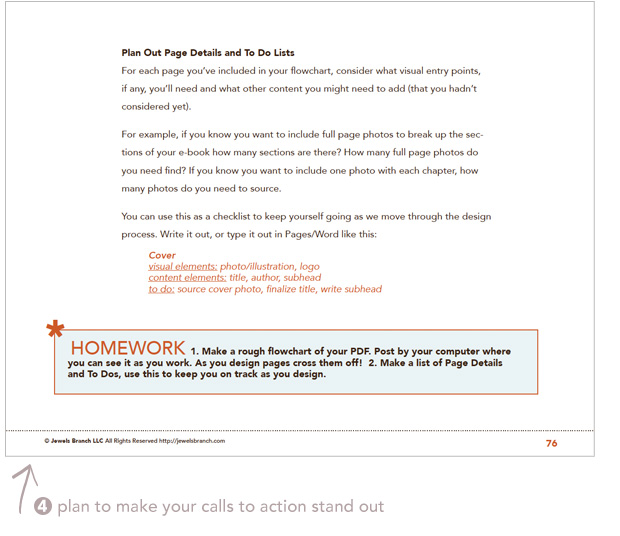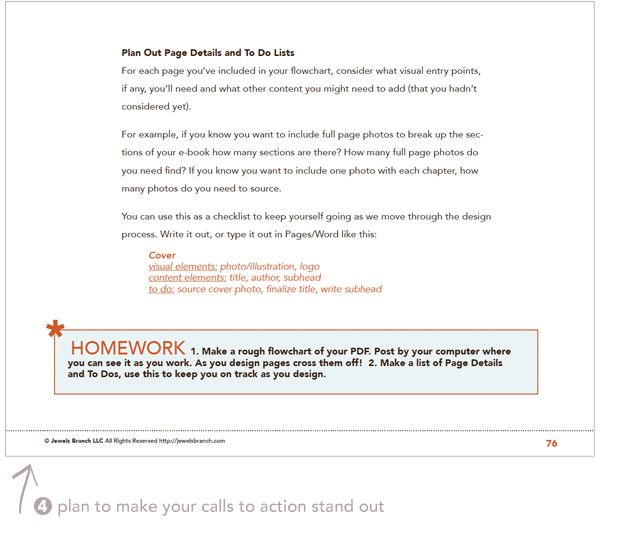 ---
Have questions about how to get started designing your e-books and other pdf documents? Comment below and I'll answer!
Need more resources to help you learn how to conceive, write, design, and produce your own PDF documents? Check out the e-book resources page.
Jewels Branch Showcases feature work created by members of Jewels Branch's creative community.

---
Whiskey & Whimsy Retreat: Welcome Packet Design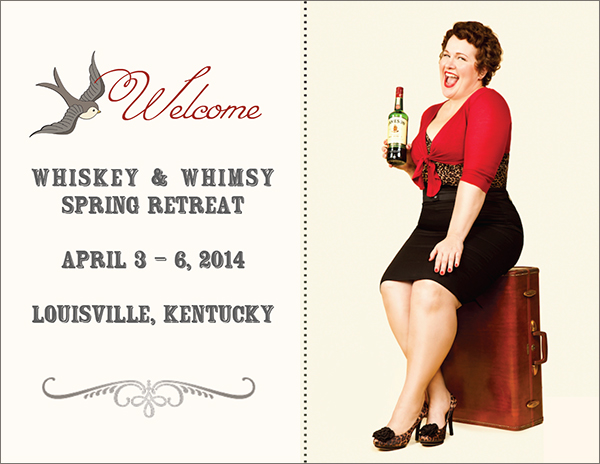 ---
Kerrie created a beautiful welcome packet for her upcoming retreat with design and software skills she learned at Jewels Branch.
Kerrie's retreat Whiskey & Whimsy is a one­-of­-a­-kind girls getaway … on the Kentucky Bourbon Trail. If you're on the lookout for an adventure this week, you're in luck… the Whiskey & Whimsy retreat starts April 3rd!
Kerrie has more adventures up her sleeve so keep an eye on Whiskey & Whimsy for details of upcoming retreats, local Chicago events, and soon, a virtual book club!
---
Ready for your own showcase?
You can learn how to create your own logos, promotional graphics, ebooks, and more at Jewels Branch. Come on over and start telling the story of your business through design.
---