Finding Images for Your Brand: Public Domain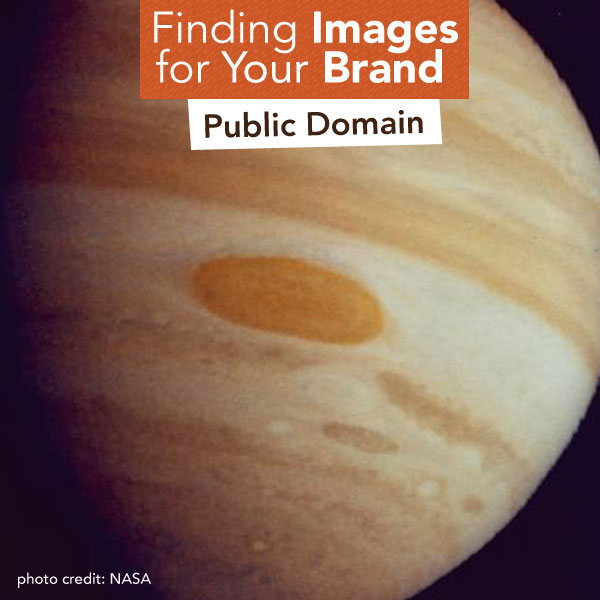 What Does Public Domain Mean?
Public domain means that a work (photo/illustration, book, map, sheet music) is no longer protected by copyright. For the purposes of this post, we're talking about US copyright only.
Copyright protection can be removed for a variety of reasons. The copyright may have expired because the work was published before 1923. The work may be in the public domain because whomever created it dedicated their work to the public domain. The work may be public domain because it was created by a government organization (though not all government works are public domain).
Using Public Domain Images
For the most part, you can use public domain images freely without restrictions. This means that there's wealth of images: historical, space, nature, sports, wildlife, national parks, Civil War, NASA, World War II, and more waiting for your creative projects. You just have to find them!
Important caveats:
Some images request photographer/creator credit.


Some images restrict usage for commercial projects which might suggest endorsement of a product, company, or position. For example you can't use a public domain photo of a person in an advertisement for hair gel.

 You'll want to avoid public domain works that include any trademarked aspects (like a photo of a building with a trademarked logo on it).
Some images require a fee for use in commercial projects.
Always, always do your due diligence. Source public domain images from sites that clearly indicate the status of their images and have a clear explanation their terms of use. Check each individual image for any specific use requirements. When in doubt consult a lawyer.



---
Pros and Cons of Using Public Domain Images
Pros of Using Public Domain Images
Access to awesome historical images.
Free or low cost.
Few restrictions on usage.
Cons of Using Public Domain Images
It can take a lot of time to find the photo you need.
It can be hard to determine if the image is actually public domain.
Image quality and resolution may be poor.
---
3 Resources to Start Your Public Domain Searches
Public Domain Sherpa: Links to many, many public domain resources, plus in-depth explanations of public domain and checklists to help you determine if the work you're considering is in fact public domain. Consult this source for the best information on this topic!

Gimp Savvy's Photo Archive: Makes searching public domain images from the National Aeronautics and Space Administration (NASA), the National Oceanic and Atmospheric Administration (NOAA), and the U.S. Fish and Wildlife Service easier.

Wikipedia: Public domain image resources: Huge list of public domain resources.
---
Choosing just the right photos and illustrations can play a huge role in how your brand feels to your ideal clients, and how you feel about your brand.
Read more of the Finding Images for Your Brand series here: 12 Stock Photography Sites, 5 Free for Commercial Use Stock Image Sites, Creative Commons Images. In a future post I'll provided resources for illustration/icon sites.
Then, I'll circle back and talk about how to select the best types and styles of images for your brand. If you need help figuring out what images would best fit your brand there's a step-by-step discovery process in the Online Branding Basics course which is included in all subscriptions to Jewels Branch.
---
Want more DIY design resources like these delivered to your inbox? Sign up for the Jewels Branch newsletter!