Finding Images for Your Brand: Creative Commons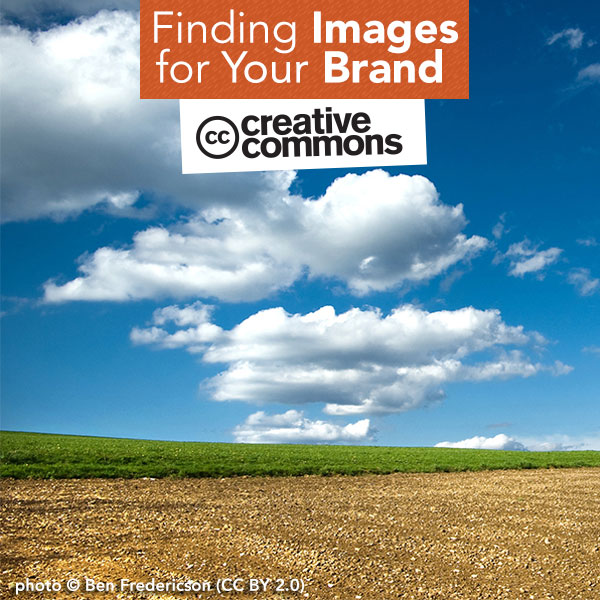 Creative Commons (CC) Licensed Images
Let's take a closer look at how you can use free Creative Commons licensed images in your brand's creative projects.
Creative Commons allows artists and photographers to choose how to license their work for public use. There are many variations of the CC license: from Attribution (which allows you to use their work for just about anything, as long as you give them credit) to Attribution-NonCommercial-NoDerivs CC BY-NC-ND (which allows you to share their work, but not alter it or use it commercially, so you can't use it in your business branding) and many more licenses in between.
You can read all about the different license types here:
http://creativecommons.org/licenses/
!!!! When you find a CC photo or image that you want to use always check to verify that it is in fact CC licensed. It should clearly say which license it grants. Then, you can follow the rules of that particular license. Pay close attention to attribution requirements and commercial vs. non-commercial use limitations. If your design is being created for your business blog it is a commercial project.
---
Pros and Cons of Using Creative Commons Images
Pros of using Creative Commons Images
1) Free.
2) Lots of variety of images.
Cons of using Creative Commons Images
1) License restrictions can be prohibitive for commercial use.
2) Limited resolution and size.
3) Adding attributions adds clutter to designs.

---
Search for Creative Commons images here:
Creative Commons
Flickr
Compfight (Has a WordPress plugin to make it easier to use images on your blog, too!)
Photo Pin
Pixel Perfect Digital free stock photos that are CC licensed
---
Choosing just the right photos and illustrations can play a huge role in how your brand feels to your ideal clients, and how you feel about your brand.
Last week I shared some resources for finding stock photos and illustrations. In future posts I'll provided resources for free for commercial use sites, public domain images, and free illustration/icon sites.
Then, I'll circle back and talk about how to select the best types and styles of images for your brand. If you need help figuring out what images would best fit your brand there's a step-by-step discovery process in the Online Branding Basics course which is included in all subscriptions to Jewels Branch.
---
Want more DIY design resources like these delivered to your inbox? Sign up for the Jewels Branch newsletter!