Mad Libs and Magazines: Inspiration for Blog Posts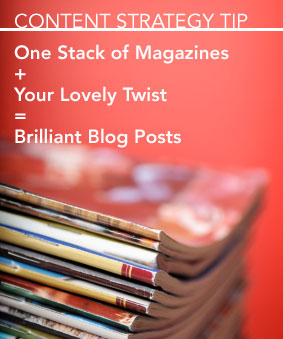 As you are building your online business you'll produce an amazing amount of content: blog posts, Tweets, Facebook status updates, ebooks, video scripts, program materials, sales copy, the list goes on and on.
Here's a trick for coming up with blog post topics for your editorial calendar.
You can also try this tactic when inspiration isn't striking and you need a quick blog post topic.
Content Strategy Tip: Pick up a stack of magazines and use their cover lines to create fill-in-the-blank formulas, like Mad Libs, to spark post ideas.
Here are a few examples to get you started.
Cover line:
The Novelist's Survival Kit (from Writer's Digest)
Mad Libs style fill-in-the-blanks template:
The _____ Survival Kit
Twist to fit your niche:
The Weight Loss Survival Kit
The Product Launch Survival Kit
The New Mom Survival Kit
The Solopreneur's Survival Kit
Cover line:
Story Essentials: What Every Writer Should Know (from Writer's Digest)
Mad Libs style fill-in-the-blanks template:
_____ Essentials: What Every _____ Should Know
Twist to fit your niche:
Weight Loss Essentials: What Every Woman Should Know
Product Launch Essentials: What Every Entrepreneur Should Know
Breastfeeding Essentials: What Every New Mom Should Know
Outsourcing Essentials: What Every Solopreneur Should Know
Easy, right?
Now, let's see what you can do. Post a comment with your twist on one of the cover lines above (or an alternative cover line from one of the magazines you have on hand). I'd love to see what you come up with!
p.s. This is a great thing to do while you are waiting for doctor's appointments, oil changes, etc. There are always magazines on hand and often they are ones you've never seen before. Fresh inspiration for your brain.