Website Design, Copy Writing & Marketing
Shawna Huntley: life coach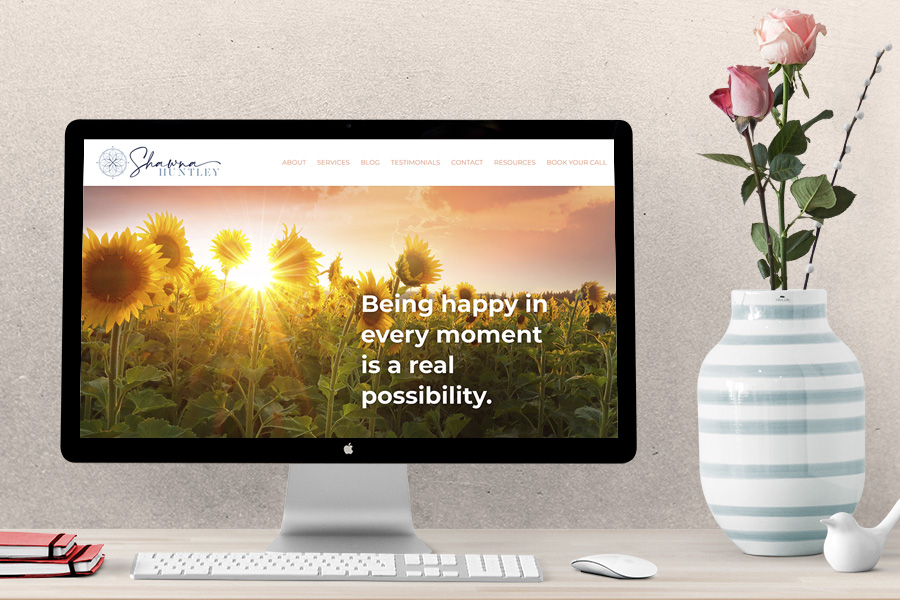 When life coach Shawna Huntley contacted us she had been working on DIY-ing her site for a while. She was looking for professional help to finally get her site done and launched. Not having her site live was keeping her from reaching the goals she'd set for herself to expand her coaching business and start regularly blogging. She knew it was time to get the help she needed with her site so she could focus on the work she loves: help her clients create the lives they want. Click to see Shawna's new site.
Content Strategy and Copy Writing
We helped Shawna assess her business goals and organize her site structure and content to support those goals. Part of our copy writing process includes interviewing our clients. So, we chatted with Shawna to gather source materials and capture her brand voice. Then we wrote her site's home, about, and services pages.
WordPress/Divi Site Design
Our goal with the site design was to reflect Shawna's welcoming personality and her warm, open approach to life coaching. Shawna's existing logo and brand photography set the starting place for the design. Using style boards (shown below) allowed us to collaborate with Shawna early in the design process, incorporate her design feedback in a streamlined way, and translate her vision of the site into a reality.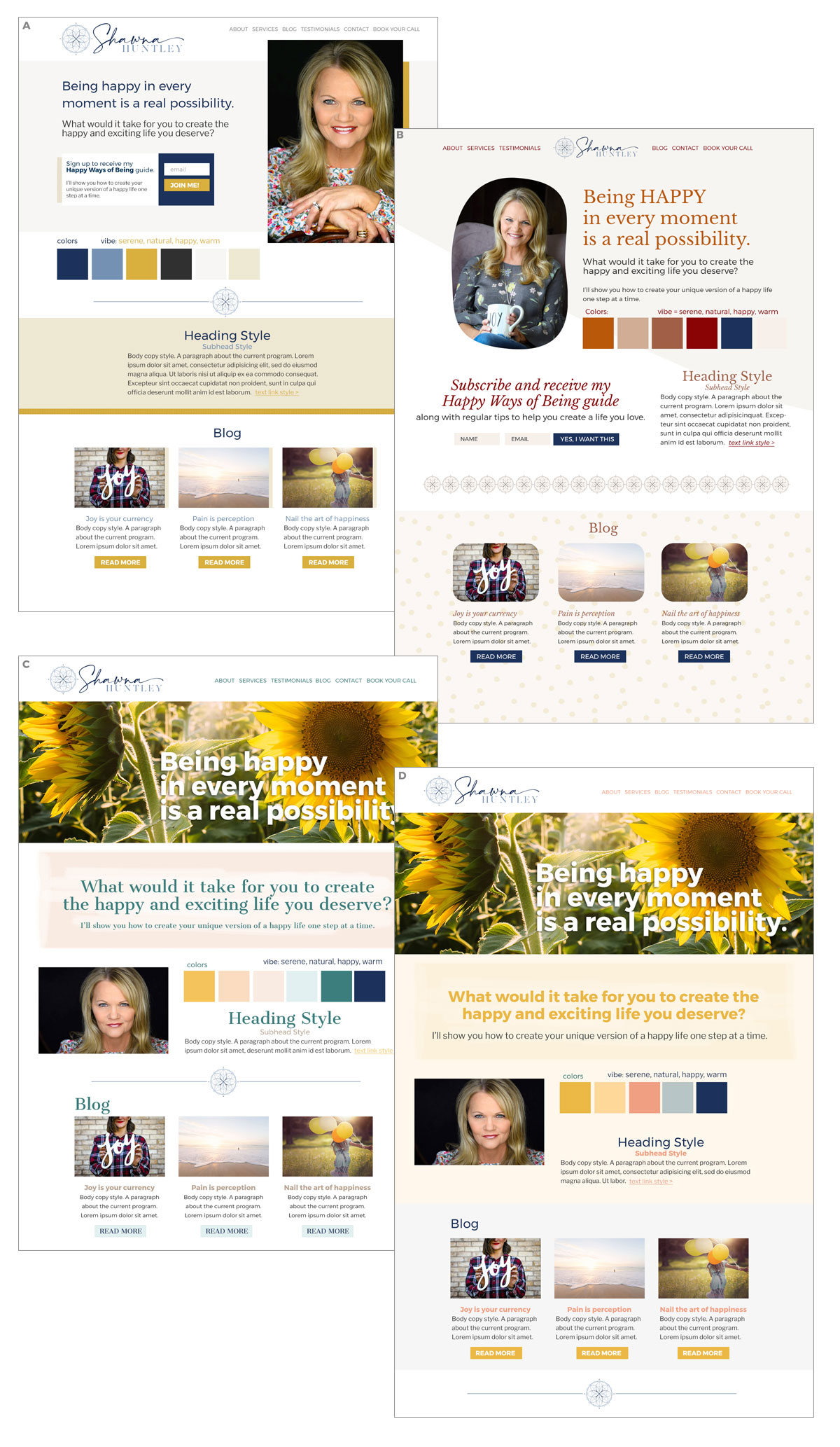 Opt-in Design and Mailing List Setup
We designed a one-page pdf opt-in freebie to match the site style. You can sign up for Shawna's Happy Ways of Being guide here. In addition, we created a document template in Canva. Now Shawna can use that template to keep her future marketing efforts on-brand. We designed an email campaign header image, styled Shawna's email template to match her branding, and set up her opt-in welcome sequence in ConvertKit.
About Shawna
Shawna's a pro at helping her clients uncover hidden possibilities, bust through obstacles, and make satisfying changes to their lives. You can learn more about Shawna's life coaching services here.
What would updating your site, or launching your very first website, do for your business dreams?
Reach out and let's chat about your business.
Branding & Website Design
Kristen Herwitz: Business lawyer for women entrepreneurs at Herwitz Law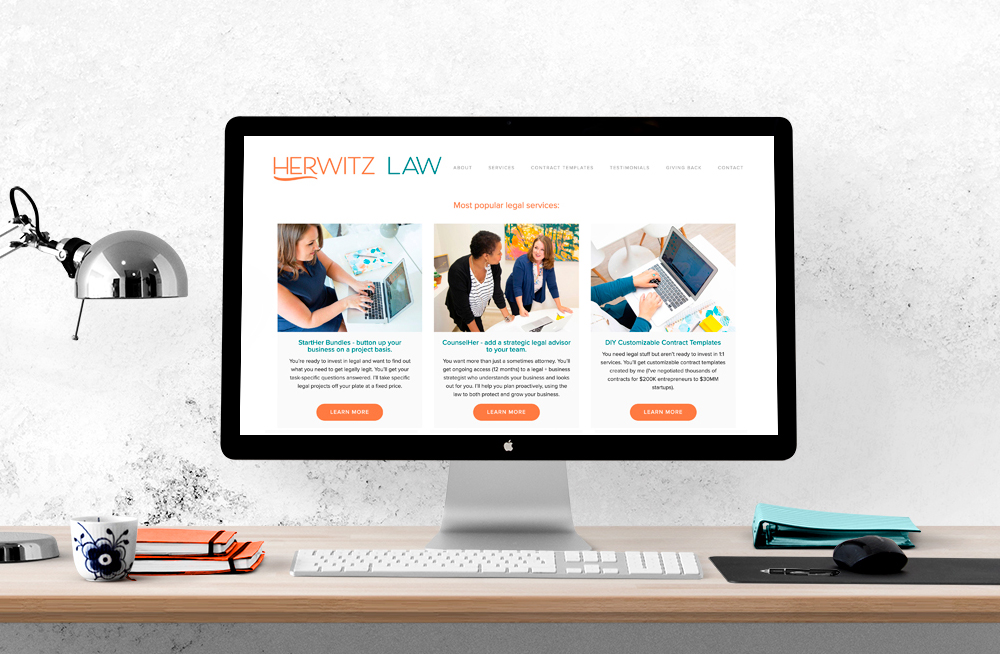 Logo Design
We worked with Kristen of Herwitz Law to create a new logo, sub-marks, and brand style to represent her personality. Kristen works with womxn-led, mission-driven small businesses. Herwitz Law is not a typical, traditional law firm. For example, Kristen's approach to law is transparent, inclusive, and kind.

Squarespace Site Design
While going through the logo design process with us, Kristen decided to engage us to redesign her Squarespace site, too. Click to see the new Herwitz Law website. Our goals with the site redesign: to incorporate her new visual brand and to better showcase all the legal services and products Kristen offers. We provided guidance for her brand photography, which was beautifully shot by Keri Vaca.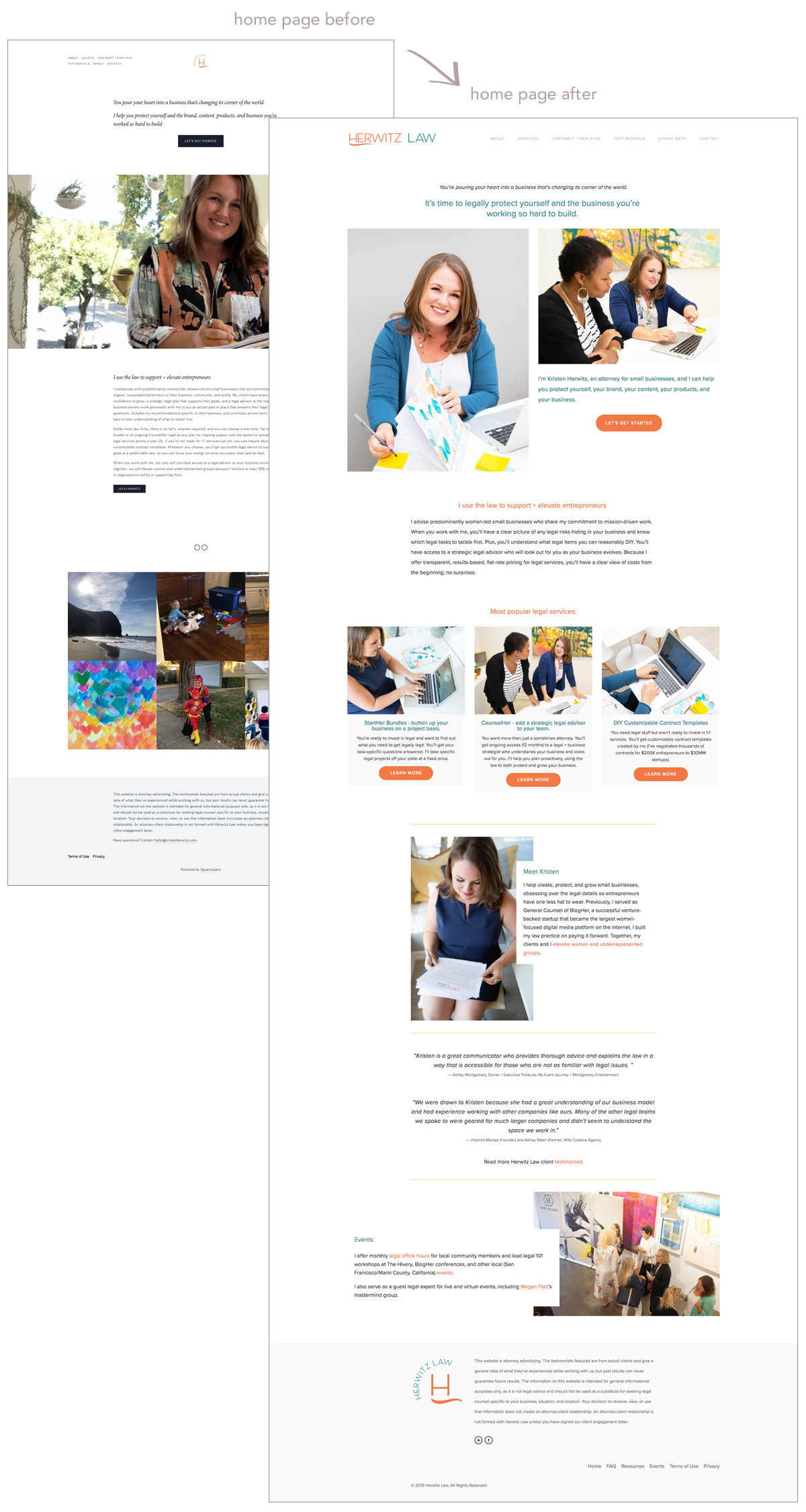 Content Strategy
Next, we helped Kristen assess her business goals and organize her site structure and content to guide visitors to her offerings. After that, to ensure alignment with her brand and current business goals, we reviewed and edited all copy. Kristen's site was optimized for search engines, too.
About Kristen
Kristen's site showcases her expertise in small business law and her transparent, accessible approach. In addition to providing issue-specific legal advice to small businesses, Kristen provides ongoing strategic legal and business advice to clients through her CounselHer service. For those looking for DIY legal contracts, Kristen also offers customizable contract templates. Kristen hosts monthly legal office hours and leads legal 101 workshops at The Hivery in San Francisco, California.
What would updating your site, or launching your very first website, do for your business dreams?
Reach out and let's chat about your business.
Prioritize Your Business Projects in 15 Minutes with this Printable Planner
Use this monthly project planner to help prioritize your business (and life) projects. Make a plan so that you'll know exactly what steps to take to keep your business (and life) moving forward. Less second guessing and more doing!
Imagine the Possibilities
Download the calendar, commit to taking one tiny action per day, and see how much progress you can make.
Fifteen minutes of focused action, every day in February = more than 7 hours of work on one of your most important projects! Above all, taking action will help you feel better about how you spend your time!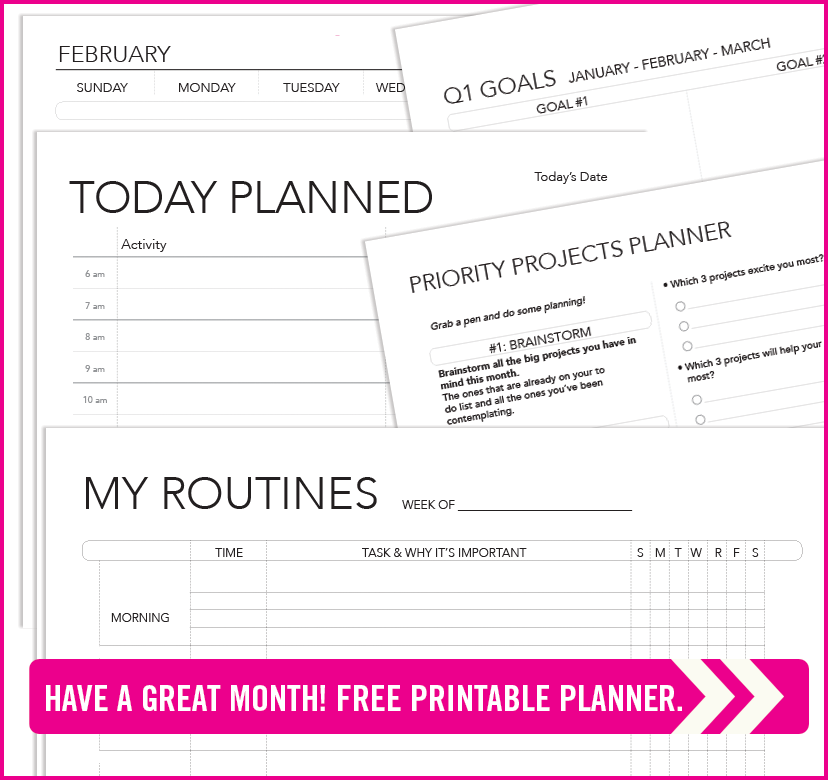 The February calendar pdf includes 14 printable planning worksheets:
"Priority Projects Planner" to help you sort through all your projects and decide which are most important in February
February calendar with space to write out your top three tasks for each weekday
Q1 Goals worksheet to help you keep track of your first quarter goals (for instance "grow my list") and actions steps needed
"Tiny Steps Tracker" to help you track daily progress on your top three projects
"Achieving My Goals" fill in the bubbles worksheet, so you can visually see your progress toward a specific goal
"Good Habits" worksheet to track any habits you are trying to incorporate into your life this month (exercise, walking, etc.)
"This Week" worksheet to help you plot out what needs to be done each day of the week
"Daily To Do" worksheet with lines for tasks to be completed and checked off each day
"Project Plan" worksheet to help you plan next steps to take in your project and due dates for those steps
"Mini Weekly To Do List" which you can print and cut in half to make a tiny reminder sheet for your desk
"My Routines" to help you stay on track with any New Years resolutions you've made
"Big Brain Dump" worksheet, where you can write out all the things that are currently taking up space in your brain
"Today Planned" worksheet with a by-hour breakdown of the day, activity, project, and location
"My Weekdays Planned" worksheet with a by-hour breakdown of the week, day-by-day so you can see big picture what your weeks looks like
Speed up Your Planning
In addition, watch this video to see how to use this monthly project planner to choose your three most important projects for February!

---