Online Resource Roundup: August 2013
Check out this awesome list of online classes, programs, and resources offered by entrepreneurial women to help you live your best life. If you have an online offering available that supports women entrepreneurs please share in the comments. If you'd like to be included in future roundups, please fill out this form for consideration. Thanks!

---
Spotlight
This month we're shining the spotlight on …
Shine: 28 days of listening to your inner wisdom
& claiming your truth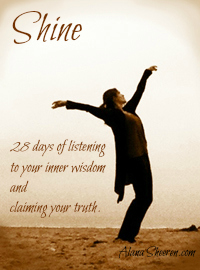 With: Alana Sheeren
Price: $44
Description: 28 daily emails provide bite-sized practices that support you in connecting deeply to your truth as you let go of what's keeping you stuck and allow your unique light to shine brightly. The private Facebook community offers judgment-free support. Access more ease, grace and radiance now!
More Info
Sales Close: August 26, 2013
Congrats, Alana!
---
And now, on to the full list…have fun, grow, learn, explore, live!
~~~AUGUST~~~
Business Growth & Personal Development
The Itchy Soul Holistic Faith & Business Playground
With: El Edwards
Price: $365/year
Description: The Itchy Soul Faith & Business Playground is for women entrepreneurs who want to build a thriving business at the same time as stretching and growing their faith muscle. Live Q & A calls every week, weekly inspirational audios, daily accountability, monthly book club and lots more.
More Info
Sales Close: Early bird ends August 30, 2013
Health & Beauty
5 to 9 Jumpstart
With: HeatherLeigh
Price: $98
Description: The three week program that will dramatically improve the way you live when you're not on the clock. That's when all the fun happens anyway, right?! If you are ready to feel more energized, more organized and more fit, then this program is for you.
More Info
Sales Close: August 31, 2013
---
~~~SEPTEMBER~~~
Business Growth & Personal Development
The Push Up Entrepreneur: Create A Business That Lifts You Up, Separates You From The Status Quo, And Fills Your Bank Account
With: Sylvie Matthews
Price: FREE
Description: All over the world, female entrepreneurs are rising up to create their own economy, allowing them the freedom they long for, yet the learning curve is really steep! You will see that this summit has the potential to revolutionize the way you are building your business by filling cracks in your foundation.
More Info
Sales Close: Launches August 12, 2013 Opt-in through September 9, 2013

---
~~~OCTOBER~~~
Business Growth & Personal Development
Qpractice NCIDQ Study Plan
With: Lisa League
Price: $37 – $327
Description: Qpractice is an online training and prep program to help designers study for the NCIDQ Exam, a credentialing exam for certification and licensing for interior designers in the US and Canada.
More Info
Sales Close: October 2013
---
~~~Ongoing~~~
Business Growth & Personal Development
2013 Create Your Incredible Year in Life and Business workbooks
With: Leonie Dawson
Price: $9.95
Description: Create your incredible year in life or business with the 2013 Create Your Incredible Year workbook + planner. Massive miracle-inducers, these workbooks will make your life + business dreams come true over the next 12 months!
More Info
---
The B Word for Artists
With: Laura C George
Price:$450
Description: The B Word for Artists is designed as an all-encompassing course giving artists the tools they need to build an online presence from the ground up. (Psst – that "B Word" is "business"!) If you're overwhelmed with building a business around your art and don't know what to do next, this is the program for you!
More Info
---
Body Loving Homework E-Course
With: Mara Glatzel
Price:$127
Description: The Body Loving Homework E-Course is a powerful compilation of lessons, writing prompts, and tools that invite you to become an active participant in your life. This E-Course is designed for anyone who is ready to invest in themselves by taking the time to truly get to know themselves, and start to build a life that they love from the ground up.
More Info
---
Coaching Practice in a Box
With: Sarah Yost
Price:$247
Description: This is a comprehensive guide to starting your coaching practice. It's designed for coaches in the first 6 months of their business and will save them at least $1000 and a year's learning curve.
More Info
---
Delegate to Accelerate
With: Alyssa Middleton and Amy Wright
Price:$247
Description: A 5 module, go-at-your-own-pace e-course to find, hire and train a virtual assistant to take tasks off your plate and let you enjoy your business again. Videos, handouts, checklists and fill in the blank templates teach you to delegate tasks to your team to accelerate your business growth and profits.
More Info
---
Designing Basic Logos in Photoshop
With: Christie Halmick
Price: starting at $49/month as part of the Jewels Branch Creative Community
Description: Learn how to create basic logos for your business and your products in Photoshop. Includes font combination recommendations, typography tips, and easy-to-use templates to get you started.
More Info
---
Ebook Kickstart Kit
With: Kris Emery
Price: $49
Description: The Ebook Kickstart Kit holds the all the tools you need to start writing your ebook. When you're tired of rewriting your plan & have deleted more draft chapters than you can remember, learn where to start & how to move forward. With a beginner's self-publishing resource & 12 weekly follow-up emails to keep you motivated!
More Info
---
Fearful to Fierce…Feminine Fierce
With: Mariah Neeson
Price: $475
Description: I help women step out of the 'shoulds' that have led them to a dead end and into the life they've been longing for by identifying what's holding them back and creating actionable steps to move forward.
More Info
---
Graphic Design Basics
With: Christie Halmick
Price: starting at $49/month as part of the Jewels Branch Creative Community
Description: Learn basic design fundamentals to boost the clarity of your visual messages. Covers font, photography/illustration and color basics for branding your online business.
More Info
---
iCoach Digital Magazine
With: Stacy Nelson
Price: Free
Description: iCoach Network is an International Network of Life & Business Coaches built on the principles of collaboration, cooperation & support. As one rises, we lift each other up. Each month receive a beautiful digital magazine written by our Coaches specifically to inspire your Life & Business. Different theme each month!
More Info
---
The Inner Circle for Health Coaches
With: Cathy Sykora
Price: $517.00
Description: Inner Circle for Health Coaches offers Health Coaches tools to grow their businesses and present themselves to the world in a professional way. It includes the exclusive 3-6-9-12 Month Program for Health Coaches, supplemental specialty modules, how-to tutorials for health coaches, a mastermind group, a collaborative recipe book
More Info
---
Jewels Branch Creative Community
With: Christie Halmick
Price: Starting at $49/month.
Description: As a creative member you get access to a growing library of self-paced digital courses and the Jewels Branch creative community. Learn graphic design software, branding, content strategy, and more at your own speed (no more overwhelm!). Get support from other entrepreneurs on the same journey as you. Get constructive, helpful feedback from a professional graphic designer and content strategist.
More Info
---
Love Potion: Creating Wild Customer Attraction
With: Stephanie Peterson
Price: $39
Description: The messages your business projects out into the world determine exactly what you get back. Learn how to demonstrate the true, unique value of your products, and you can realistically have the profitable, fun, fulfilling business you signed up for.
More Info
---
Online Branding Basics
With: Christie Halmick
Price: starting at $49/month as part of the Jewels Branch Creative Community
Description: Learn why branding is so much more than your logo. You'll learn the basic brand elements your business needs to have in place before you begin to design your brand visuals. Then you'll explore the world of visual communication through vision boarding to define your brand's style. You'll pick color palettes, fonts, and develop an initial style guide for your brand, which you can use to work with designers or as a starting point for developing your own brand elements.
More Info
---
The PDF Workshop
With: Christie Halmick
Price: starting at $49/month as part of the Jewels Branch Creative Community
Description: The PDF Workshop is a digital workshop that will teach you how to conceive, write, design, and produce your own short PDF documents in iWork Pages (Mac) or Word (PC). Learn the graphic design skills you need to make beautiful, on brand e-books, worksheets, recipe books, digital products, and more.
More Info
---
Photoshop Basics for Online Business
With: Christie Halmick
Price: starting at $49/month as part of the Jewels Branch Creative Community
Description: Learn the basic Photoshop skills you'll need in online business. This course lays the groundwork for all kinds of creative projects. When you're done you'll have a firm grasp of the program and be ready to jump into specific branding projects. We'll cover: the Photoshop user interface, menus and tools; file formats, sizing, and resolution; how to work with layers and type; how to save your files for use on the web, and more. Exercise files included.
More Info
---
Restore Your Heart
With: Claire Gillenson
Price: $225
Description: Are you feeling lost? Heart broken into a million pieces? Appear to be thriving outwardly but grieving and feeling frustrated inside? I believe loss is not just about life and death, it is about every disappointment we've ever held onto. Learn how to heal past loss and find your way back to a life you were meant to live.
More Info
---
Rocket Your Revolution Self Study Course
With: Erin Giles
Price: $149
Description: A 6 week online e-course that helps you create a business that doesn't just boost your wallet, but boost your impact on the world so that you can get more fans, fun and fulfillment.
More Info
---
Share the Love
With: Meg Appleby
Price: $1 for first month, then $10 month
Description: Share the Love is an online community that helps women entrepreneurs build their influence, build their confidence & build their business!
More Info
---
Take Flight with Facebook
With: Sophie Bujold
Price: $197 CAD
Description: An online program designed to help travel professionals kick their Facebook shame to the curb and start engaging like a pro.
More Info
---
Track This!
With: Brittni Mehlhoff
Price: $27
Description: Track This! is packed with actionable worksheets, charts, and questions designed to help you figure out what your true (and very specific) goals are when it comes to your business, and how to stay on track and accomplish those goals once they are set.
More Info
---
Tech Quickie Session
With: Jessica Williams
Price: $15
Description: Instead of spending HOURS researching on Google, you can jump on the phone with me and get major clarity around your tech problem in 15 minutes.
More Info
---
Finances
7-Day Money Made Easy Mini-Program
With: Leah
Price: FREE
Description: With one email per day over the course of a week, I'll guide you through creating a set-it-and-forget it system for your money. You'll get access to my secrets for conscious spending, saving on autopilot, getting out of debt, and earning more money
More Info
---
The Fiscal Flamingo
With: Taynia Aarnink
Price: $67 to $147
Description: The Fiscal Flamingo is a smart + sassy financial program to navigate your journey from big spendah to dynamite saver. This is not your typical finance get-out-of-debt program. Because finance doesn't have to be boring.
More Info
---
Getting Started With Conscious Spending
With: Mindy Crary, MBA, CFP
Price: FREE
Description: The single-greatest indicator of your future wealth is clarity around cash flow. Since budgeting SUCKS, find out the little-known steps to getting more satisfaction from every dollar.
More Info
---
The Path to Profitability
With: Yu-Fen Chang-Pett
Price: $388
Description: This is a 30-day 1:1 business financial mentoring program. This program is specifically designed for start-up and solo entrepreneurs who are ready to get their business finances organized and create a profitable business model.
More Info
---
Health & Beauty
12 Day Detox
With: Cathy Sykora
Price: $49
Description: You will… Lose up to 5 lbs. Have brighter skin. Have a lighter mood. Experience carb & sugar cravings disappearing. Have a body that is cleansed of old toxins.
More Info
---
21-Days of Vitality
With: Cheryl Bigus
Price: $47
Description: My 21-Days to Vitality eCoaching program is designed for you to work on each day, on your time and at your pace. Here is what will be covered: Weight Management, Cravings, Energy and Mental Clarity, Emotional Balance, Stress Management, Mindset for Success
More Info
---
The Cut The Crap 7 Day Guided Cleanse
With: Carol Galanty
Price: $45
Description: Cut the crap out of your diet, give yourself a big energy boost, improve your focus and sleep like a baby by cleansing your mind, body and soul for 7 days. (There is an optional juice delivery service or you can make your juices yourself).
More Info
---
The Deluxe Mix & Match Meal Chart
With: Lacy
Price: $9.95
Description: A PDF chart designed using the Mix and Match Rule to help solve or prevent a picky eating problem for kids. The chart contains almost 400,000 different healthy, balanced meal combinations!
More Info
---
Kitchen Detox
With: Valarie Grossman
Price: $249
More Info
---
Kick It Kickstart :: Be a Smoke-Free Hottie
With: Cara Citrowske
Price: $395
Description: I offer an ongoing 30 day 1:1 coaching program for women who want to end the pack mentality and become smoke-free hotties. Each woman will receive personalized support via four 1:1 coaching calls, Smoke-Free Hottie Success Secrets workbook, unlimited email support, and membership in a secret Facebook group for extra support.
More Info
---
MINDSET Alignment Program
With: Jennifer Sparks Berthelot – SWIFTKICK Fitness and Lifestyle Coaching
Price: 14.95
Description: A 12 week Journal and Planner with Companion Workbook and WEEKLY Video Support Series that takes your through an alignment process to create the life of your dreams. Wellness tips, quotes, tools, videos, coaching all combined in a Planner
More Info
---
Paleo Power Lunch
With: Stormy Sweitzer
Price: $27.50
Description: Paleo Power Lunch: Easy, Filling & Delicious Workday Meals is a strategic cookbook with a set of how-to videos and quick guides designed to help you create meals that power your active and busy life. Recipes are based on Paleo dietary principles and are naturally free of dairy, grains, legumes, and processed ingredients. All resources are electronic so you can easily download and use them wherever you need them.
More Info
---
Recovering Beauty: Sacred Rituals To Clear Emotional Weight
With: Lisa Claudia Briggs, MSW
Price: $47
Description: Digital Home Study program/retreat (145 pages) for women who feel everything and take it "all" on.. a completely different approach to heal emotional eating and body related issues.
More Info
---
Reinvention Session
With: Paige Lysaght
Price: $25
Description: Feeling stressed, stifled, and stuck? Schedule a Reinvention Session for a powerful week-long coaching experience to learn how to upgrade your routine for health and happiness.
More Info
---
Season to Run
With: Jeanne Andrus
Price: $197/$347
Description: This program is perfect for you if you never thought you could be a runner, if you've tried and failed to be a runner, or if a 5k (or longer!) is on your "someday" list! Season to Run is a ZERO to 5k running program that teaches you everything you need to know to become a runner and supports you every step of the way! Minimum age – 9, maximum age – 95!
More Info
---
Sexier You: styles for your silhouette guide
With: Hanna Ashbaugh
Price: $25
Description: Sexier You: styles for your silhouette guide is a how to dress for your body type. If you want to look 10 lbs lighter in 10 seconds, know exactly what to wear for your silhouette and know your must have wardrobe piece, you'll love Sexier You. If you're on camera as an entrepreneur or want to stop looking for wardrobe that "works."
More Info
---
Xen Strength Yoga with Weights Teacher Training
With: Danielle Diamond
Price: $599
Description: This online teacher training program will certify you to teach a level 1 Xen Strength Yoga with Weights class. It contains a membership site with 20 videos and a manual with descriptions of every pose, and instructions on how to teach them. Yoga with Weights is emerging as the hottest new hybrid class, why not be the first to teach it in your area?
More Info
---
Life & Relationships
The Busy Parent's Guide to Photosanity
With: Alethea Fitzpatrick
Price: $397
Description: Stop taking disappointing photos, and start capturing the fleeting moments of your children's lives, so you can save time, be more present, and more fully experience every precious second! Includes 12 video lessons and a 200+ page e-book.
More Info
---
Gentle Sleep Coaching Package
With: Kate Gardes
Price: $325
Description: Help your baby or child learn to sleep peacefully through the night, in a gentle, family-friendly way. A 90 minute coaching session to develop an individualized plan that works for your family and your parenting philosophy. Six 20-minute follow-up calls to tailor the plan to your child's progressing needs and to support you as you help your child learn this essential life skill. Get your family the sleep you need to be happy and healthy!
More Info
---
Live in Love in Laugh in
With: Claire Wade
Price: £54.99
Description: Live in Love in Laugh in is an ongoing programme for those who are facing health challenges that mean they're stuck at home or in hospital and are missing out on life. I create fun virtual events including parties in your pyjamas and virtual vacations to help them escape reality, make new friends and look forward to life.
More Info
---
You. Me. Getting past being frozen
With: Cindi Schultz
Price: $657
Description: This exclusive service is tailored to you. One hour of conversation to help you get past being stalled or paralyzed. When you're silent but don't want to be, when you have a choice to make but are struggling, when you need a sounding board but don't find that support in your current situation – this hour is yours.
More Info
---
Professional & Career Development
Coaching Business Jumpstart
With: Rebecca & Ellen
Price: $147
Description: We're teaching coaches all about how to leverage their expertise to stand out from the crowd. Lean to talk about coaching in a way that has potential clients jumping for your card, and learn to craft premium packages and services that clients beg you to sign up for. Making great money as a coach CAN be easy, and we show you how
More Info
---
Soul Work & Creativity
1st Monday Morning Dial-Up Love-Ins
With: Andrea
Price: Free!
Description: I'm inviting fellow lovebugs to love-in with me, loving-kindness style, on the 1st Monday of every month. It's a guided meditation that only takes about 20 minutes. Since emotions and moods are contagious anyway, let's shift the balance towards ones that make us more open-hearted and open-minded!
More Info
---
Become Your Own Psychic
With: Denise
Price: $97 for the 2 Week E-Course and $125 for the 4 Week Weekly Phone Course
Description: Your 4 Lesson E-Course builds a solid and practical foundation for developing your psychic abilities. Receive a new lesson in your email each week for 2 weeks.
Desire Personal Training? Enjoy the 4 week phone course option. Enjoy a weekly 30 min call to discuss each emailed lesson.
More Info
---
Bling Your Brilliant Idea
With: Cara Moulds
Price: $275/$1500
Description: Are you stalled with a divine idea that wants to be born? Get individual coaching and consulting to get out of the muck that's weighing you down. 1 Carat Bling and 6 Carat Bling options for creating an online program or retreat, branding or opt-in ideas, writing an e-book, crafting a speech or presentation, or whatever brilliant idea is swirling within you!
More Info
---
Create-YOUR-Story Brand to Design Workshop
With: Amy
Price: $500
Description: The 'Create Your Story' brand-to-design workshop is a heart-centered, mind-elastic kind of creative experience, carefully sculpted to help you make sense of your inspirations, craft your great unique story AND translate all this into a boutique-level brand concept that gets your Mary-Jane heels clicking with excitement while accelerating your business momentum to fun-fair giddy levels.
More Info
---
Creative You 8 Week Online Course
With: Kathie Holmes
Price: $347.00
Description: Creative Ability Network has been designed for the woman who wants to live the best life possible. As women we tend to live our lives for others and forget our own needs. Our Creative You course helps you to unlock your inner creativity and turn it into a business you love.
More Info
---
Healthy & Happy Is A Choice: A Spiritual Workbook on Radical Self-Care and Self-Love
With: Rosa Conti
Price: $24.95
Description: A 47-page spiritual workbook designed to celebrate our personal selves, and remind us of our important and purposeful place in this space and time. It offers practical, spiritual, and loving guidance on finding our way back to 'center' through inspiration, self-reflection, and reuniting with our human-spiritual connection.
More Info
---
What the Hell is Energy, Anyway?
With: Limitless Megan
Price: Free
Description: A free 4 week class with short video lessons that get right to the practical on what the hell "energy" is and how it works. The class is designed to help take energy from the Woo Woo to the Real World.
More Info
---
Please share with anyone who would benefit from this information.
If you'd like to be included in the next roundup, please fill out this form for consideration. Thanks!