Brand and Be Seen: Financial Coach
Brand and Be Seen is a series of blog posts offering brand style guides for fictional brands to inspire you to create your own beautiful brand. Feel free to use the font combinations and color palettes as you wish. Happy branding!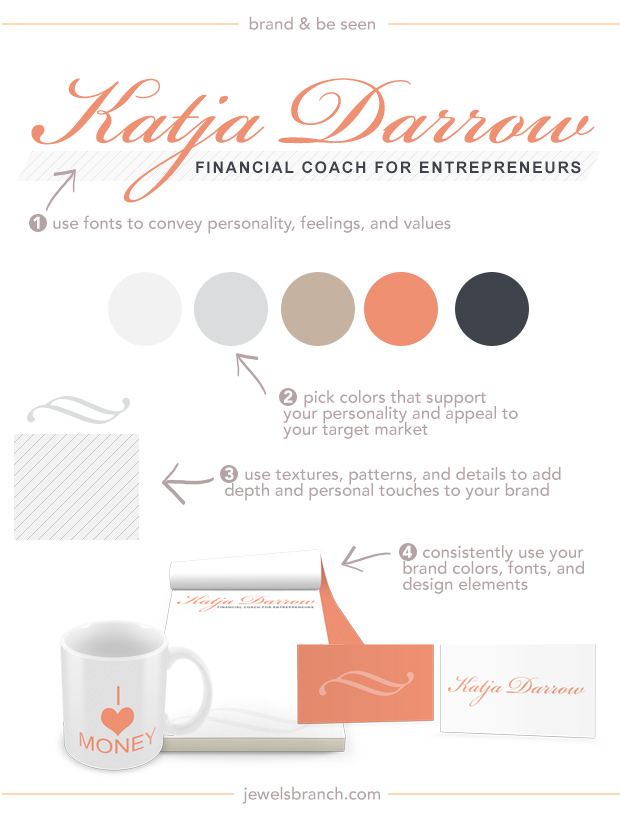 About the Brand
Katja Darrow helps entrepreneurs manage their finances. She has a thing for pinstriped suits, consistency, and money. Her clients choose her because she helps them understand financial basics in fresh ways and helps them implement systems so their financial bases are covered automatically.
Details:
Logo: Bickham Script Pro
Tagline: Arial
Hex Colors: #efefef, #d2d5d5, #b8a38f, #e77b5f, #2f333b
Design Elements: flourishes and patterns available in Photoshop.
---
More Brand and Be Seen…
---
Learn how to choose fonts and colors to best tell your brand story and build a website to match in The Brand Workshop or work one-on-one with Christie Halmick of Jewels Branch to brand your business and website.